Growing up Saputo, and now sharing wisdom with other families
Raised with feet firmly on the ground, Danielle Saputo today is a legacy coach, family advisor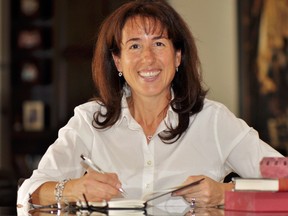 Article content
Danielle Saputo was the third generation of an enterprising family whose name is well-known in Canada and beyond.
Article content
Founded in 1954 with $500 and a bicycle, Montreal-based Saputo Inc. has grown into one of the top 10 dairy processors in the world.
Ms. Saputo knows first-hand the stresses and challenges that are facing multi-generational business families, and after earning a bachelor of commerce degree and a graduate degree in institutional administration, as well as attending the Rotman School of Management at the University of Toronto and the John Molson School of Business in Montreal, she became a certified legacy coach and family advisor.
Canadian Family Offices spoke with her about what her childhood taught her and how she works with other enterprising families.
What was it like growing up Saputo?
If you would have asked me that as a child, I would have said, 'Why would it be any different than anyone else?' Being that the business already existed several decades before I was born, it just was what it was and I knew no differently.
In Grade 10 I remember a new girl with a locker beside me made the comment, 'It must be difficult being you.' I was really taken aback. The question really baffled me, and so I said, 'What do you mean by that?' And she goes, 'Well, how do you know people are your friends because they're really your friends or because you're a Saputo?'
I think that was a shift for me to look at relationships a little differently. But those first years, I felt no different than anyone else and didn't realize how privileged we were. We just had a very loving, united family.
Article content
The credit goes to my parents. They tried not to differentiate us from our neighbors or anybody else around us. We grew up with the culture where family was first, with respect for each other. There was a level of humility and frugality, and celebration was definitely a value we always had around us. Growing up with such a beautiful family culture and a set of values really had us with two feet on the ground, and at a very early stage we learned the value of a dollar.
How did that experience lead you to the career you have today?
I think it all started when I came across that proverbial saying, 'shirtsleeves to shirtsleeves in three generations.' It made me stop because I have three girls of my own.
We had a very loving, united family. The credit goes to my parents. They tried not to differentiate us from our neighbors or anybody else around us.
I thought, what do I need to do as a parent to make sure my own children are not the ones to flounder all that my grandfather and father have worked so hard to create? That really was my catapult.
What is a legacy coach and family enterprise advisor?
A legacy coach is a coach who really takes into account the question: Are you living today the legacy you want to be remembered for?
I find too many enterprising families or families of wealth tend to leave everything in the paperwork. They deal with their lawyers, they deal with their accountants, they deal with their insurance people, and on paper they think they have it all planned out. But it's after their death that the legacies are left.
My interpretation of a legacy coach is asking, 'Are you living today, are you having the impact on the loved ones around you, with the stories they can tell about you now while you're living, so that when you pass, your legacy continues because of how you're living today?'
Article content
The family enterprise advising part is helping families come together, where I become the accountability partner to those intentional conversations on wealth, on the human factor of the family – that wealth is much more than just your financial assets. It's also the social assets, the network, your intellectual assets, as well as your human assets, which is every member of the family.
What interests you about working with enterprising families?
I feel I've been able to gather decades of knowledge, and if I can pass it on to another Canadian family to help them overcome the proverbial shirtsleeves-to-shirtsleeves in three generations, that's where my heart is. That's been my push and my focus forward – to help another family get through some hard conversations, and hopefully put them in a much better position to stay united as a family, even when wealth is a large part of the picture.
What are some of your goals in working with an enterprising family?
Most business families very much have the focus on the business. The business is what pulls them forward. Stepping back, standing above the forest rather than being beside the tree, that perspective of your family is just as important. Your family needs even more time than the time you put in your business.
I've dealt with lots of families, for example, who sold off the business and now realize, 'Oh my, we've never looked at the family as a unit. What do we need to do for the family to stay strong and united for more generations to come?'
Article content
If there's one goal I have it's to bring a little perspective to that and allow families to take a moment to focus on the true needs of every family member. And have everyone have the opportunity to be seen and to be heard, so as decisions are made on their financial wealth, it also benefits every other part of the social, intellectual and human assets of the family.
What are some of the recurring challenges you see?
Really taking the time. Continuity planning is having these intentional conversations. Just having a yearly meeting is not the same as creating conversation through shared experiences throughout the year.
The things I often see come up is one generation finds it hard to start because of a fear of entitlement. There's a question of balance between how do I make my child autonomous but at the same time a family member?
Another big one is when we start the conversation of who is in your family circle. Who do you want sitting at the table? The big question is often, 'Do we include the married-ins?'
What is your best advice to business families?
When you succeed in a business and create financial wealth, very often the focus remains on the financial side.
If your family is part of your planning, try to take the perspective of having your family at the center of your decisions, rather than the financial assets. If that switch can be made, I think that is one step closer to overcoming the fears, the problems that tend to come up.
When you put the family in the center, have your purpose and know your values, then anyone who comes into your family, like married-ins, become part of that culture and keep you strong and united together.
This interview has been edited and condensed.
Get the latest stories from Canadian Family Offices in our new weekly newsletter. Sign up here.