What to consider when investing in blockchain technology
The technology has potential to transform countless industries, but is novel and difficult to understand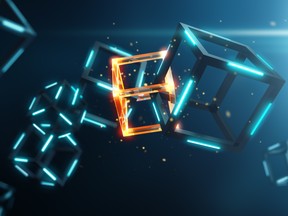 Article content
Warren Buffett's oft-quoted, "Never invest in a business you cannot understand," applies for many when considering investing in the blockchain technology already underpinning cryptocurrency and with potential to transform countless sectors. But because of its potential, it might be time to start understanding this technology and how to capitalize on it.
Advertisement
This advertisement has not loaded yet, but your article continues below.
Article content
Blockchain is not an easy thing to understand, but it's new, it's growing and it's getting more important across a wide range of industries. For investors and the professionals who advise them, the challenge is how to be strategic and grab a part of this promising technology and, because of its novelty and complexity, how much of a portfolio to allocate to it.
"High-net-worth investors need to know about which industries blockchain is going to have a huge impact on. It's happening already today in companies that have to manage huge supply chains, and there's a huge market in things that are represented and bought and sold as NFTs," says Kunal Bhasin co-leader of KPMG Canada's blockchain services practice.
NFTs are non-fungible tokens — digital representations of something real. For example, a work of art sold as an NFT gives the buyer a digital code certifying uncontested ownership of the artwork — the code cannot be altered and it is stored in the cloud, so if one server is hacked, it will exist somewhere else.
Research firm CB Insights' report on blockchain for the third quarter of this year found that global venture funding to blockchain (and cryptocurrency) startups reached US$15 billion in the first nine months of 2021, up 384 per cent year over year from 2020. There was nearly US$1 billion in funding to startups in Canada that are building the digital infrastructure to safely and permanently store data and records in the cloud.
Advertisement
This advertisement has not loaded yet, but your article continues below.
Article content
Investing in art-based NFTs has gained some of the most attention, sparked by sales such as a spectacular Christie's auction of a digital work by artist Mike Winkelmann, or Beeple, for US$69.5 million.
There is also an emerging blockchain market for up-and-coming artists and other creative people, and presumably, the savvy high-net-worth investors who can spot them. In November, a collaboration between artist Andrés Reisinger, Grammy award-winning musician RAC and Britain-based poet Arch Hades (her pseudonym), sold for US$525,000, making Hades the highest paid poet in the world.
Blockchain art can be an astute investment because in today's hot market it can have a high resale value, says Kareem Sadek, partner in risk consulting and also co-leader in blockchain services at KPMG Canada. Buyers can enjoy the art they buy, "but they can also take something they purchase for $10,000 and flip it for much more a few weeks later," Sadek says.
Art and poetry are far from the only ways to invest in blockchain. Blockchain's growing presence in other industries and sectors is poised to be more and more significant, experts say.
Investors can fund or take positions in startups that are building the digital infrastructure that underpins blockchain; there are also blockchain exchange traded funds (ETFs).
In addition, one can also look at players in different sectors that are already using it effectively, Sadek says.
Sectors that rely on transparent information that can be shared widely and not tampered with benefit from blockchain, he explains. Financial management, insurance and banking are obvious ones, as well as manufacturing and logistics, where managers have to keep track of data coming in from around the world.
Advertisement
This advertisement has not loaded yet, but your article continues below.
Article content
But there are other less obvious sectors to watch to see how blockchain is changing them and whether this brings opportunities.
"Think about digitally tokenizing real estate, for example," Sadek says. "A typical investor might invest in property as something physical. But if real estate is tokenized, an investor can own a digital fraction of the property."
This makes it easier for assemblers of huge, multibillion-dollar developments to raise money by selling digitally-recorded fractions of the investment to many buyers.
Blockchain can also streamline fundraising for large institutional projects such as concert halls and stadiums, Sadek adds. Investors can contribute seamlessly, whether it is a tax-deductible donation for an opera house or a for-profit investment in a new sports venue.
Those who analyze and follow blockchain say there is no optimal percentage of blockchain-based investments to have in a portfolio, because the technology is still relatively new and even good new businesses can be risky.
Investment in blockchain can be highly lucrative, but, as in any investment strategy, even wealthy investors should only put in money they would be prepared to lose if the market takes an ugly dip.
Nevertheless, blockchain is increasingly important to all kinds of industries and sectors because it lets everyone know who owns what and what they are doing, says Andreas Park, professor of finance at the University of Toronto's Rotman School of Management.
Advertisement
This advertisement has not loaded yet, but your article continues below.
Article content
"Any form of transaction can be done on the blockchain better than it can on any other infrastructure. That doesn't mean that it's faster; its virtue is that it's commonly owned, not by a government or one corporation," he explains.
"It's still experimental in some ways; people are trying to figure out how to use it," Prof. Park adds. Even so, blockchain's decentralized and tamper-proof record keeping has already made it a valuable tool for companies managing large supply chains during the COVID-19 pandemic.
Walmart Canada noted in a September 2020 release how it adopted a supply chain platform to settle invoices and payments. This led to a 97-per-cent reduction in disputes with carriers over invoices and payments, the company said.
What's coming next in the blockchain world? Bhasin says to watch for a push toward standardization, a set of common rules for how data is entered, recorded and verified.
Another move to watch, says Sadek, is blockchain's role in the growing metaverse — the virtual world where our avatars are virtual versions of ourselves living vicarious online experiences.
Companies are already investing in the metaverse, buying virtual businesses and setting up stores and making sales, he says. And just as blockchain investment opportunities are growing in the real world, in the metaverse there is virtually no limit.
Get the latest stories from Canadian Family Offices in our weekly newsletter. Sign up here.