Seven things to keep in mind managing wealth in 2022
As economic growth continues despite the ongoing pandemic, volatility is the name of the game, experts say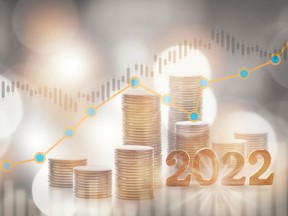 Article content
The coming year is shaping up to have continuing economic growth, although with a maturing market, even as the world continues to grapple with the effects of the COVID-19 pandemic, according to wealth and asset managers, such as Citi Global Wealth.
Advertisement
This advertisement has not loaded yet, but your article continues below.
Article content
Even if the indicators point in the right direction, investors and their advisors will need to be especially attentive and nimble. Shifting market conditions, persistent low interest rates, the extension of the pandemic and new opportunities mean that portfolios should be flexible, experts suggest.
Here are some things to watch for:
Remember the basics
No matter what happens in 2022, it is still important to diversify and hedge. "You have to be humble enough to say that no one can predict the future 100 per cent. You want to have some assets that do well no matter what the picture is," says Wayne Kozun, chief investment officer at Forthlane Partners in Toronto.
Inflation
The Bank of Canada and other central banks are concerned about inflation but still think it will subside to a more acceptable level of around 2 per cent in the last half of 2022. While higher inflation sticks around, it is not a good idea to hold too much cash because it loses some value. But keeping some cash is necessary — depending on comfort level, target about 5 per cent of holdings — to take advantage of buying opportunities.
Markets
U.S. markets roared in 2021 and may still rise, but there may be better opportunities in Canada and other markets that still have room to grow.
Energy and ESG
Energy prices have climbed, which fuels inflation but also strengthens producer countries such as Canada. At the same time, the push for stronger ESG — environmental, social and governance practices — is serious and affects risk and the value of equities and property. Commercial real estate is expected to do well in 2022; over the long-term the most valuable properties will be energy efficient ones and those that have real plans to move to net zero carbon emissions.
Advertisement
This advertisement has not loaded yet, but your article continues below.
Article content
Political risk
The world is volatile now and that is not going to change in 2022. Financial experts agree that flare-ups can change anything whenever they happen. Tensions between the United States and China and between Russia and Ukraine, which draws in Europe, the United States and Canada could trigger economic change that cannot always be predicted.
Supply chain
Is COVID over? Not yet is the short answer and no one can predict accurately when the pandemic will no longer be a factor in the economy. So will other weather and climate-related curveballs. "The devastating floods in British Columbia and uncertainties arising from the Omicron variant could weigh on growth by compounding supply chain disruptions and reducing demand for some services," the Bank of Canada says. This means it may be too soon to say when sectors such as entertainment and hospitality will be stronger — eventually it will happen but it's hard to say when.
New opportunities
With Web 3, cryptocurrency, decentralized finance and other technologies nipping at the heels of traditional financial institutions and even large technology firms, many high-net-worth investors are asking themselves what role digital assets should play in their portfolio. While rapid growth and future-proofing against the potential impact of these technologies is one consideration, the other concern is the risk and volatility involved in this sector.
SOURCES: Colliers, Bank of Canada, Citi Private Bank, Simple
Get the latest stories from Canadian Family Offices in our weekly newsletter. Sign up here.