Millennials drive online art investing
While global art sales overall contracted last year because of the COVID-19 pandemic, there was also a record boost in online art sales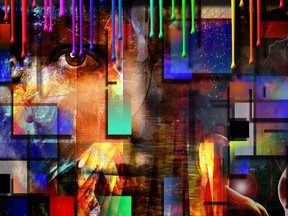 Article content
The art world has become even more accessible throughout the global pandemic thanks to increased interest and ability to purchase fine art online.
Article content
According to Art Basel and UBS's Art Market Report 2021, online sales of art and antiques reached a record high of US$12.4 billion last year, doubling in value on the previous year and accounting for a record share of 25 per cent sales of the market's value.
Art investors and collectors can now build their collection form the comfort of their couch, as the global pandemic drastically kickstarted the world of online art purchases. And they want to. The same report identified more than 80 per cent of art collectors were interested in exploring an online purchase.
Protecting your art investment could include commissioning a fake
So while global art sales overall contracted last year because of the Covid-19 response, there was also a huge boost in art buyers that were introduced to online art sales. And those in the industry say they are confident this change is permanent.
The author of the report, cultural economist Clare McAndrew remarked that conditions were right for the serious uptick in online sales. "The art market was uniquely placed to struggle with the realities of the COVID-19 pandemic in 2020 as it is populated by mainly small businesses … But the crisis also provided the impetus for change and restructuring, the most fundamental shift being the rollout of digital strategies and online sales, which had lagged behind other industries up to now."
Article content
Christie's auction house was one of the major benefactors of the online shift after launching its online auction platform, ONE, just a few months into the pandemic. The main event on July 10 last year was a live auction streaming in real-time from Hong Kong, Paris, London and New York, which garnered US$420 million in art sales.
It was ambitious, but the timing was perfect, says Bonnie Brennan, president of Christie's Americas.
"Our online sales in 2020 were up by 262 per cent," says Brennan. "That was a record total for us in that channel. Unlike previous years, we had more than 200 online sales last year, and the online channel or those online sales contributed more than 10 per cent of what our overall auction totals were for the year."
Similarly, Sotheby's reported that in the period from January to August last year, online auction sales tripled to US $285 million, despite sales being down 25.3 percent from the same period in 2019.
And it is not just the sales that have gone online. While digital marketing was alive and well in the art world, it was not used quite as extensively as it was in other industries – until now.
Social media continued to be a key channel used by the art market to try to reach new audiences and generate sales, and roughly one third of collectors purchased art using Instagram in 2020, according to the Art Market report.
And both traditional art buyers, who would be frequent visitors to brick and mortar auction houses and galleries, and the new art purchasers, who may see this as a diversified investment opportunity, were drawn to the necessity, the convenience and the ease of the online experience.
Article content
"I think the statistic is something like 90 per cent of our traditional client base really started to be engaged with us digitally," says Brennan, agreeing that the digital channel has also brought many newcomers to the art world.
"Online sales are a great way that we have met new buyers in 2020," she explains. "Over 35 per cent of our buyers were new to us with really strong online activity. The age of those buyers – there's a great concentration of millennials. That's your 23- to 38-year-old range."
Likewise, 30 per cent of Sotheby's online sales are coming from new clientele (those who had never transacted with the auction house before), 30 per cent of whom are under 40.
The projection is that online art sales will continue to move online and buying and selling platforms like Artsy will continue to see big increases in activity. The platform, which sells art from emerging artists in the hundreds of dollars to pieces from the likes of Banksy, reported a 300-per-cent increase in gross merchandise value (GMV) throughout the pandemic.
Newcomers and new platforms are likely to drive growth in art investing.
Get the latest stories from Canadian Family Offices in our weekly newsletter. Sign up here.