Look to pension plans on how to handle commercial real estate in portfolios
'Anyone buying now should be thinking not in terms of months or even years, but decades'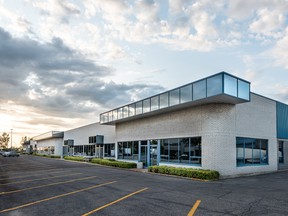 Article content
With inflation and interest rate hikes, tense global geopolitics and price hikes from Russian sanctions, as well as ongoing economic repercussions from the pandemic, high-net-worth individuals and family offices seek solid long-term investments. This is where commercial real estate can come in.
Article content
The devil is in the details. What are the best regions and sectors for commercial real estate investments in these volatile times when changes can be sudden and hard to predict?
"Most high-net-worth families already have some real estate component in their portfolios," says Lorne Shillinger, Greater Toronto Area (GTA) Family Office Leader and National Leader for the KPMG Canada Real Estate Tax Network.
"Wealthy families find that the best approach is to treat these holdings the same way that pension plans treat their real estate — if commercial property is good for the Ontario Teachers' Pension Plan, it's good for a family office," he says.
At the same time, Shillinger and others note that the commercial real estate sector is not a monolith. It includes retail, office, industrial and logistics/warehousing properties; the markets and values for different types of commercial holdings will vary, and the different sectors within commercial real estate keep changing and evolving during the pandemic.
"Consumer expectations of traditionally designed spaces have changed, and there will likely be a massive shift in the functionality of homes, offices, shopping centres and healthcare spaces," according to Emerging Trends in Real Estate 2022, a report last fall produced by PwC US and the Urban Land Institute (ULI).
Article content
In the third quarter of 2021, Canada's national office vacancy rate rose to 15.7 per cent, higher then levels reached during the burst of the dot-com bubble in 2000 and the global financial crisis in 2008-9, according to CBRE's Q3 2021 Quarterly Statistics Report . The outlook improved in the fourth quarter, but then the omicron variant arrived, leading to new lockdowns, shopping restrictions and work-at-home orders in Canada and elsewhere.
Yet, even though once-predictable property markets are in "a bubble of uncertainty," the PwC report found late last year that investors are more confident in decisions about real estate that year than they were at the end of 2020.
"Property investment is top of mind for institutional investors in both traditional and alternative sectors as risk remains low and interest rates stay attractive," it says. Three quarters of the survey's respondents say they are more confident about long-term strategic investment in commercial property now, compared with fewer than half at the end of the previous year.
"Commercial real estate is holding its value and growing at an impressive rate. Canada's fundamentally strong economy, our impressive immigration rates and many other factors make this an asset class that has long term benefits, says Benjamin Shinewald, President of BOMA Canada.
"Prices remain strong across the board. Toronto, Montreal and Vancouver continue to have record high prices. It's connected to record high immigration and migration of people from other parts of Canada," he says.
Article content
One potential soft spot in the real estate market is in retail properties, as consumers have faced lockdowns or restricted shopping and more people shop online, Mr. Shinewald adds.
"But other sectors have done fine. And, real estate is the quintessential long game, so anyone buying now should be thinking not in terms of months or even years, but decades."
Commercial real estate makes sense for high-net-worth investors for a number of reasons, agrees Victor Cotic, Colliers Canada senior vice-president, national investment services.
"First, real estate is a hard asset. Historically, hard assets are good hedges against inflation. Secondly, real estate generally doesn't have the volatility of equities; property values aren't going to go up and down 20 or 30 per cent in a day the way some equities do," he says.
Investors also benefit from current low interest rates through financing, because the borrower gains from the rise in value of the property while paying down the debt. "A lender might finance 50 to 70 per cent of a transaction but the property buyer gets 100 per cent of the capital appreciation," he says.
There is also the steady income that comes from rent, Cotic adds. Even in the Greater Toronto Area in Q4 2021, where vacancy rates were a relatively high 8.7 per cent, the net asking rent for office space was $24.57 a square foot, according to Colliers' National Market Snapshot.
A hike in interest rates can have a "negative impact" on commercial real estate, Cotic concedes. But to a large extent, central banks have already indicated what rate hikes they anticipate, making it easier for investment planning.
Article content
The Bank of Canada's key lending rate remains low, despite rising to 0.5 per cent this month, as do U.S. rates. According to Trading Economics, The Bank of Canada has forecast that its rates will rise sometime in the middle of 2022, rising to as high as 1.5 per cent by the middle of 2023, while the U.S. Federal Reserve is likely to hike rates several times this year.
What happens to interest rates will depend a lot on inflation, and together these factors affect whether it will be a good time to borrow to buy or build commercial real estate. Canada's inflation rate has surpassed 5%, well above the target rate of 2 per cent that central bankers consider to be healthy for the economy, and this high rate may lead to interest rate increases.
"But in commercial real estate other factors are at play beside interest rates and inflation — density, transit proximity, climate change risk, demographics, and so on. Also, inflation may drive up costs to acquire and improve real estate, but it also pushes up rents," Shinewald says.
"Looking at how these factors affect commercial property is not … simple."