Investing in farmland, the alternative asset with a sustainable upside
Whether as an agricultural investment or for future land development, farmland can diversify a portfolio with a non-correlated asset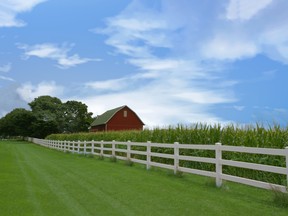 Article content
With both real estate and food prices climbing relentlessly, investors may find growth opportunities in actual growth — by investing in farms and agribusiness.
Article content
"There's only a finite amount of farmable land in Canada, and there's absolutely an opportunity for family offices to invest in agriculture," says David Guthrie, national agribusiness sector leader at KPMG Canada, based in British Columbia's Fraser Valley.
In fact, farmland and agriculture are intrinsically worthwhile for investors to consider from different perspectives — as real estate, as an increasingly high-tech business and for good, old-fashioned farming, he explains.
"When farmland is next to urban areas, for example near Vancouver, there's upward pressure on land prices as planners and developers look to ease urban sprawl. On the other hand, we need the land to grow good, healthy food for Canadians," he says.
"I would put farmland and agriculture into a portfolio as an alternative investment, to diversify the portfolio. You don't want every single investment in a portfolio to be correlated, so farm and agriculture can be used as an uncorrelated asset class," says Patricia Saputo, chief financial officer of Montreal-based family office firm Placements Italcan Inc. and co-founder of Crysalia, a family business advisory.
It's not necessarily an either-or situation as to whether to keep a farm investment as farmland or buy it for future development, Saputo adds.
"Some private equity firms will buy land from farmers as a long-term real estate investment. They lease the land back to farmers, which frees up cash flow for them. The buyers get long-term rental revenue, as one would from any real-estate investment," she explains.
Article content
Another reason for a high-net-worth investor to consider investing in agriculture is to make a positive environmental impact, Saputo adds. Family office investors, particularly younger family members, are putting more emphasis on finding investments with good environmental, social and governance (ESG) scores by analysts.
Even if farmland is purchased expressly for farmland, its value is growing and signs are that this will continue, said Professor Grant A. Wilson of the Hill and Levene Schools of Business at the University of Regina, in the online publication The Conversation in 2020.
"According to Statistics Canada, the average price of farmland per acre in 1988 was $464," he said. "In 2018, the average of farmland per acre in Canada exceeded $3,000 … Based on this historical data and the future outlook, investment in farmland is promising."
Wealthprofessional.ca reports on research by Veripath Partners, a fund specializing in Canadian farmland investment, showing that Canadian farmland is a strong source of potential inflation protection. In the 1970s, the value of farmland in Canada rose 275 per cent in real terms and was one of the only assets to outpace the consumer price index.
Using Statistics Canada data, Veripath also found that when real interest rates were lower than 4 per cent — and they are near zero now — farmland went up in value an average 11.3 per cent in the years when it rose, which was 97 per cent of the time. (In years when real rates were above 5 per cent, farmland rose only about a quarter of the time.)
Article content
Many high-net-worth investors are also increasingly looking for impact investments, whose products and services provide objective benefits to society — and healthy food fits into that model.
The 2021 UBS Global Family Office Report found that more than half (56 per cent) of their respondents engage in sustainable investment, with increasing interest in agriculture as part of an impact portfolio.
Investors who are drawn to agricultural-type investments often tend to be people who grew up on or near farms, says Eric Gilboord, CEO of Warren Business Development Center Inc., which works on business transitions with family offices and other high-net-worth investors.
"That's not always the case but it's something I've noticed. That being said, people who are interested in this sector tend to look at what's popular in the food industry when they're considering investments," he says.
"They look at what people are buying in grocery stores and ordering in restaurants. A few years ago, for example, quinoa was popular. Now it's beets — you see beet-flavoured chips, for example — and plant-based meat substitutes," he says.
Gauging trends
An investor or family office executive doesn't need to be a food or farming expert to determine what type of farmland or agribusiness is a good bet, Gilboord adds.
"Smart investors see trends; they look at them more closely and then they do what smart investors do — they find someone who knows more about it than they do and get their opinions and advice."
Article content
An increasingly significant area of agriculture is indoor and vertical farming (growing in high-rise buildings), KPMG's Guthrie says.
"You don't need 10 acres to grow lettuce anymore. You can grow it in a container and you can grow it indoors in a cold climate," he says.
Investors can also consider the growing field of agriculture technology, Saputo says.
"There are all kinds of aspects to consider. For example, scientists are looking at ways to reduce the output of methane that comes from cattle and other livestock, for example by changing their feed," she says. Innovators in Canada and elsewhere are also looking at growing methods such as no-till agriculture, which lessens the need for fertilizer, and agri-forestry, which leaves trees to co-exist with farmers' fields.
"We're also seeing more rooftop farming, which can make a lot of economic sense," Saputo adds.
"With rooftop farming you can reduce your carbon footprint because you're right in the city. You don't have to use preservatives because your customers are right there; you use space that would ordinarily go unused, and you reduce your transportation costs," she says.
Farming is one of the oldest economic pursuits in the world, she notes.
"But there are always new ways of doing things in any industry, so for investors it's a matter of looking at who's being innovative, who are the disruptors," Saputo says.