Supporting public art can be rewarding way to give back meaningfully
Toronto and other cities are making it easier for donors to give neighbourhoods more sense-of-place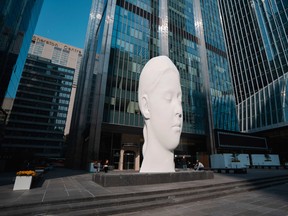 Article content
Turn a corner in Toronto's financial core and there's the head of a young girl, three storeys tall, who immediately carries you away from yourself.
Article content
The white marble and resin sculpture of the meditative girl with her eyes closed and chin relaxed, situated among a cluster of glass office towers, emanates serenity.
But the flatness of the work plays with your vision. As you walk around, the top of her head seems to elevate, in response to the soaring towers. It's a clever illusion, in contrast to a neighborhood that is otherwise all business.
Last year, Oxford Properties unveiled the $2-million public artwork, called Dreaming by Barcelona artist Jaume Plensa, who has installed a number of similar sculptures internationally, all conjuring a Buddha-like calm. Paid for by Oxford, the sculpture was part of the property company's $650-million revitalization of its towering Richmond-Adelaide Centre office blocks standing behind the girl.
Yet the statue has also been, unofficially, an unveiling of sorts for the city's push to install more public artwork and to make it easier not just for developers to get involved, but for more philanthropic groups and donors to sponsor new works throughout Toronto.
For wealthy families, it's another way to give back to a city meaningfully. Sponsoring a park bench with a little plaque in remembrance of a family patriarch or matriarch is a beautiful, useful gesture. But sponsoring even a small mural or just a temporary art piece gives that little bit extra to a neighborhood, an added sense of place, just as Dreaming does on a large scale.
Article content
Recently, the City of Toronto launched a new program, ArtworxTO, as part of its 10-year public art strategy to provide one place for the public to learn more about Toronto's diverse collection of public art. It includes online maps and detailed information on the city's trove of public art pieces. And for those interested in financially supporting art projects, big or small, the ArtworxTO office is the hub for that. (An easy way for prospective backers to express an interest is simply to email artworxto@toronto.ca.)
Not just the downtown core
The idea is to streamline the process of matching financial support with projects, especially those away from the downtown core, an area that already has a disproportionate share of public art.
"From a fundraising standpoint, we are the entry point. So, if there is an individual or family who's interested in a particular project — or interested in exploring how they might support public art in the city — they can contact us and we will direct them to the right place," says Bonnie Hillman, president of A&C Inc.
Her public relations firm has been working with the city primarily to secure backing from corporations and large foundations to get ArtworxTO up and running. The prominent Weston Family Foundation, for instance, was interested in supporting the program's tech backbone.
We call it an open-source initiative, so we try to make it very easy for people to partner with us, whether they are art institutions or individual philanthropists and foundations who want to get involved.

Pat Tobin, City of Toronto
That focus will now shift to a potentially wider range of donors and philanthropic groups who may be interested in offering support. "ArtworxTO includes lots and lots of programs that have partnerships with existing organizations. So it's a big project," Hillman says.
Article content
Many works in the downtown core, such as Dreaming, are part of Toronto's Percent for Public Art Program (also typically known as a "one per cent" program), with a certain fraction of development costs promised for public art. This is normally secured from property owners during the planning and development approval process.
The problem is that public art then tends to cluster downtown and can sometimes be less about neighborhood or city priorities and more about developers' interests, says Joe Sellors, project lead for ArtworxTO. The city wants to push more public art out to the rest of the city.
And as Pat Tobin, director of arts and culture services at the City of Toronto, notes, "Our working tagline is 'Putting the public in public art.' So, it's all about public engagement. We call it an open-source initiative, so we try to make it very easy for people to partner with us, whether they are art institutions or individual philanthropists and foundations who want to get involved."
Sometimes cities overpromise
What tends to kill initiatives like this, Tobin says, are cases of cities overpromising. The aim now is to be much clearer and concise about matching community projects and artists with backers, almost as if choosing from a menu of options.
"A family could come in and say, 'We have a historic relationship to North Scarborough. It is where we first set up. And we also have an interest in Indigenous work and artists. But we also want to make sure that whatever we do contributes to beautifying a streetscape or helping community service organizations. Could you give us a project in North Scarborough with Indigenous artists that has those outcomes?'
Article content
"We can probably pull that together given the number of people [community groups and artists] who have applied to our grant programs and given the fact that we're really focused outside the core," Tobin says.
Of course every public art project is unique, and each has its own path to being realized. Public art can be a relatively small, utilitarian piece (such as artist Rolande Souliere brilliantly turning a cautionary warning for cyclists and pedestrians entering an underpass near Toronto's Lower Don River into a work that also references Indigenous footpaths and trails), or it can be city-changing (such as the 14 bronze statues of cartoonish, laughing men, A-maze-ing Laughter by Yue Minjun, which since 2009 have revitalized a beautiful but staid corner at Vancouver's English Bay Beach and were made permanent by a $1.5-million gift from Lululemon founder Chip Wilson).
Public art isn't, however, simply a wealthy donor or family foundation dreaming up a piece they'd like to see and a place they'd like to put it.
"It's not a custom [process] like, 'Gee, I really care about this artist, and I'll pay to have them put in a park.' No, this is a curated experience," says Hillman at A&C, adding that the City of Toronto is very committed to working with curators and artists from diverse backgrounds who previously "had not necessarily been able to be included in some of the big art institutions."
Article content
But still, there are no hard and fast rules, apart from a kind of unspoken aspiration to install works that become a point of pride.
Criticism in Calgary
Tobin at the City of Toronto points to Vancouver artist Ken Lum's emblematic Monument for East Van, a large sign that lights like neon at night and simply copies the design of "EAST" and "VAN" written as a cross that kids in East Vancouver had for decades drawn on jean jackets and as a graffiti tag. (Lum could have added the word "RULES" underneath to make it even more au fait. It's that popular.)
In Calgary, though, some public art pieces have had the opposite effect. The city has suffered such extensive criticism of some recent large works, particularly two that are situated next to roadways and stick out from the flat terrain, that the administration of the public arts program has been handed over to a third-party arts organization, Calgary Arts Development.
The city still has those who champion public art, such as the prominent real-estate businessman John Torode, who found a home in Calgary's East Village for a piece depicting an upside down church (a small-scale model of a traditional wooden prairie or New England-style church by New York artist Dennis Oppenheim, rendered upside down with its spire lodged into the ground like an arrow). However, recent projects in Calgary have been highly community focused, such as the development of a Vietnamese community piece in the east side of the city.
Article content
For curators, artists and particularly financial backers, the emphasis must be on the public good of a piece, especially for large-scale installations, says Patti Pon, president and chief executive of Calgary Arts Development.
"When you're talking about public art, that whole public sentiment to me is really important," Pon says. "That's what makes this different than if you were to go to a gallery or a museum, as an example, and wish to make a donation or do a sponsorship. In that case, it doesn't always have to be about the public good. In our case, it would."
Get the latest stories from Canadian Family Offices in our weekly newsletter. Sign up here.