Remembrance Day is every day for these foundations
Long after the poppies have been put away, these philanthropic organizations encourage people to make lives better for those in the military, their families and veterans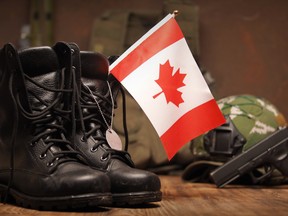 Article content
Back in 2017, Rick and Lillian Ekstein from Thornhill, Ont., began discussing how they could give back to Canada, the country they loved. Both are first-generation Canadians whose families had fled the Holocaust in Europe and landed in Canada penniless. And although Mr. Ekstein remembers growing up modestly, after decades of hard work and good fortune in the lumber industry, his own family now lived very comfortably.
Article content
It was time to find a cause to support and make life better for other Canadians, too.
After six months of intense discussion, the couple decided to focus on the country's military, an institution they deeply respected. Then Ms. Ekstein had an epiphany: Her husband had once travelled extensively for business while she was at home keeping their family life running. It wasn't always easy.
"We hear a lot about the men and women in uniform," she said. "But what about their families who are sitting and waiting at home? What if we do something for them?"
So the Eksteins stepped up at Christmastime and sent $75 Visa gift cards to approximately 1,500 families who had spouses, fathers or mothers deployed overseas. The accompanying note read, "On behalf of a grateful Canada, and Rick and Lillian Ekstein, thank you for allowing your men and women to do what they do to defend Canada."
Their foundation, Together We Stand (TWS), was born.
Yet, unlike some family founders who struggle to get their adult children excited about their newest philanthropic passion, Mr. Ekstein had no problem engaging his own kids. His daughter, Stephanie Shapiro, helped out part-time at first.
"And she quickly fired me and decided that she could do a much better job," he says, laughing. "But she has grown this organization significantly in both scope and impact."
Article content
Impact is exactly what a handful of foundations and charitable organizations are aiming for when supporting Canada's military, not just on November 11, but year-round. As poppies are unpinned from lapels, the organizations continue to support Canada's more than 639,900 veterans and families, many who struggle with physical disabilities, mental health challenges and those related to transitioning to civilian life.
Ms. Shapiro, now TWS's chief operating officer, likes to remind people that Remembrance Day – and the foundation's work – are still very relevant today.
"Often we forget about more recent events like Afghanistan. Our veterans can be our own peers and are often our own neighbours. They're not just the 101-year-old men and women we see on TV being celebrated," she says.
Since 2017, Together We Stand has expanded to launch new programs and bring awareness to the challenges military families face, from housing shortages to the difficulty spouses encounter when building their own careers. Between frequent moves and fear for their parent's safety, children from military families experience double the rate of mental health issues compared to those from civilian families.
To shine light on these issues, the foundation helped create Military Family Appreciation Day on the third Friday of September each year, with a unanimous consent motion passed by the House of Commons in 2019. The initial $75 gifts have also morphed into a Holiday Care Package program, supported by corporations and private donors. And during the pandemic, the foundation launched Operation Emergency Fund for families who need emergency childcare, housing, mental health services or food in the pantry.
Article content
Corporate donors, private foundations and citizens donate to the cause, says Ms. Shapiro. "I think what they really like about our programming is that its unique. It's not offered by any other organization, and we can measure the impact."
True Patriot Love
Janice O'Born is also passionate about making life better for members of the Canadian Armed Forces, veterans and their families. She attended the first gala hosted by True Patriot Love Foundation (TPL) back in 2009, now a national charity. That year, as business leaders and dignitaries looked on from their swishy tables at Toronto's Convention Centre, ropes dropped from the ceiling as soldiers zipped down them. The night was a hit and wallets opened.
"When TPL first started, I really don't think that they knew the success that that it was going to be," she says. After the gala, more influential Canadians realized how many men and women were deployed overseas. "TPL brought that to the forefront and made us aware of how the military serves. And they do. They serve."
Ms. O'Born, who grew up in a military family in Britain, runs the charitable division of her family's company, The Printing House, and sends a poppy to every employee each year. With a long history of philanthropy and volunteerism on arts and hospital boards, she is also this year's recipient of the Patriot Award at TPL. In the early days she rallied the business community. She still fills one or two tables with different friends each year. Her enthusiasm is infectious.
Article content
This year's gala was virtual for the second year in a row, but despite that, the foundation's signature fundraising event continues its tradition of dazzle for a good cause. Fancy outfits were encouraged while supporters gathered together at homes with catered food and wine delivered. Each "celebration box" also contained a red rose to represent the table for fallen soldiers. Veterans, artists and even famed Canadian author Margaret Atwood created art-covered helmets to be auctioned off.
Our veterans can be our own peers and are often our own neighbours. They're not just the 101-year-old men and women we see on TV being celebrated.

Stephanie Shapiro, Together We Stand
But at its core, the event is about making life better for military and their families. Among other programs, the foundation runs expeditions that pair business leaders and veterans. The team, led by a guiding company run by fellow veterans, travels to places as far flung as Antarctica, Baffin Island and Italy. Think sea kayaking off Newfoundland and white-water canoeing in the Northwest Territories.
The sponsored expeditions not only raise funds, but veterans receive business mentors and an innovative way to ease back into civilian life. That support is vital when transitioning out of the military, says Meighan Bell, chief development officer.
"When you're looking for a job and you're a bomb diffuser, how does that translate to real life?" she asks.
Families who wish to offer funding and support to military foundations have options, and all it takes is a phone call. At Together We Stand, Mr. Ekstein says he and his daughter are happy to have conversations with other family offices and answer questions about military families' needs. Funding can be directed to specific programs.
Meanwhile Ms. Bell hopes more families consider supporting veterans past Remembrance Day, whether they are funding a camp for military kids or creative arts programs for veterans suffering from PTSD.
"A lot of our supporters are silently supportive," she says. "We don't have a wing of a hospital you can put your name on, but we have lives you can change."
Get the latest stories from Canadian Family Offices in our weekly newsletter. Sign up here.