How to avoid fallout from a donor scandal
For foundations and charities, it is important to screen donors for criminal activity, or just plain bad behaviour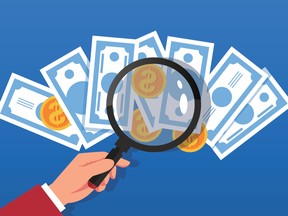 Article content
When a donor gives money to a good cause, making sure it's a win-win situation takes a lot of work.
Article content
Summed up, it is a matter of due diligence. That is a term often applied to the steps a buyer takes, but when it comes to philanthropy, due diligence is something both the giver and the receiver need to go through.
"The fallout of bad PR by accepting a donation that is not values-aligned can be massive," says Ryan Fraser, certified financial planner with the Quiet Legacy Planning Group Ltd./Quadrus Investment Services in London, Ont., and a volunteer with the Canadian Association of Gift Planners, which works with donors.
"I know of a church that accepted a large sum of money from a convicted murderer — as you can imagine, the parish community was torn apart by the ethical quandary," says Fraser, who has also written a book called Driven by Purpose about donors and their legacies. An organization that accepts questionable gifts without doing research also runs the risk of turning off other donors, both current ones and prospective, he adds.
"Mistakes in this space can lead to clawbacks and unplanned PR or legal fees, and can jeopardize an organization's long-term reputation, and subsequently future fundraising campaigns. For example, it could be damaging for a nature organization to accept a gift from the owner of a company known for generating high levels of greenhouse gases," Fraser says.
Article content
The expectations from large-scale donors about what happens after they give can cause huge problems, says Eva Khabas, certified public accountant and founder of Tax by CPA in Richmond Hill, Ontario.
"One of the most famous examples is the London School of Economics (LSE). It turned out they accepted a gift from a donor from another country, and it turned out that the donor was involved in nefarious activities," Khabas says.
That may be putting it mildly. In 2009, the London school accepted a gift of $2.6 million in today's dollars from Saif al-Islam Gaddafi, son of Libyan dictator Muammar al Gaddafi, who was later deposed and killed during the Arab Spring uprising.
An official inquiry later found that "due diligence was, at best embryonic," that some of the donation may have come from funds acquired by the younger Gaddafi through bribes and that LSE's director bore responsibility for not being more careful. The school director subsequently resigned.
From the donor's point of view, as well, "you want to make sure you're giving to a charity that does due diligence on its donors," Khabas says, because one dubious donation can tarnish legitimate gifts.
Charities are now beefing up their due diligence procedures to help make sure the gifts they receive are in sync their own organization's environmental, social and governance (ESG) practices, says Arundel Gibson, family advisor, philanthropy and impact at KPMG Canada.
Article content
The fallout of bad PR by accepting a donation that is not values-aligned can be massive.

Ryan Fraser, the Quiet Legacy Planning Group
It can be collaborative, Gibson explains: "Many businesses have employees dedicated to gift giving and due diligence who work to ensure that the gift is in line with ESG policies [for both the giver and receiver]."
Wealth-X, a firm that provides research on high- and ultra-high-net-worth individuals and families, has just published a due diligence guide for potential receiving organizations. Due diligence now has "new complexities" it says in its guide, released in July, listing three important trends.
The first is social media. "It's one of the most prominent emerging issues that we're seeing," says Tom Hill, head of diligence solutions at Wealth-X and co-author of the guide with David Garcia, Wealth-X director of business development.
Due diligence researchers need to scour the Web for "highly publicized instances of social media misbehavior among well-known individuals who have or are planning to donate to non-profit or higher education organizations," the report says.
The second is what Wealth-X calls "donor deception" — giving money or establishing a legacy under mysterious or false pretences or even a fake name. Deception is on the rise, Hill says.
"We've seen a couple of cases where the potential donor has used a fake profile when contacting the organization about making a donation," says Hill. "This is not only alarming … it also represents a money laundering risk." That can happen if an individual who makes a donation under a false identity requests that the donation be returned, funneling the donation to potentially criminal destinations.
The third complexity in due diligence is the need to keep up with all the changes and trends, Wealth-X says. Business sectors such as the financial industry have long worked hard to keep their due diligence practices up to date; as KPMG's Gibson notes, it is important to pay attention to increasingly important criteria such as ESG and diversity and inclusion — among donors and receivers alike.
It is a delicate balancing act for organizations that ultimately depend on donations.
"Don't forget, though, the money is important, too," Gibson adds. "Good causes always need help."