Giving is not just for Christmas: Billionaire Michael Lee-Chin's philosophy as a parent and a philanthropist
'This is not seasonal. This is how I live'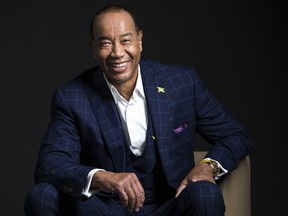 Article content
Five minutes into conversation with Jamaican-Canadian billionaire, businessman and philanthropist Michael Lee-Chin, it is clear that it is the adoption of a marathon-like training – in thought, word, and professional practice – that has made Mr. Lee-Chin successful over the course of so many decades, and it is also why his family and corporate mantra put prosperity and empathy for others on the same level.
Advertisement
This advertisement has not loaded yet, but your article continues below.
Article content
It is this belief system, along with Lee-Chin's belief that philanthropy is something imbued in a person's soul, that dictates his personal philosophy on why philanthropy is not just for Christmas, it's for life. A champion trains to run through all seasons and seeks to lift up their fellow athletes.
"There's a difference between being fully committed, passionate about something, and doing it just because everybody does it," said Lee-Chin, founder and chairman of privately-held investment firm Portland Holdings in Burlington, Ont.
"I will give you an experience that will underscore why we should think about our position in life, and how our behaviour will come out of that thought. About 20 years ago I was on vacation in Jamaica, and I was visiting the marina. One morning I got up and went for a walk at about 6 a.m. I came across this young man, and I stopped. I said, 'How are you doing? What's your name?' He said, 'My name is John Shaw.' I said, 'What do you do for a living?' He said, 'I'm a landscaper. I offer my services to people to cut their lawn.' So, I said, 'How often do you work?' and he said, 'Intermittently.'
"We chatted for a while, and I said, 'You know, John, you have a commodity, and an abundance of time. That is like a two-edged sword. It can feed you, or it can hurt you.' When I left, I thought to myself, 'What is the difference between me and John Shaw?'"
Advertisement
This advertisement has not loaded yet, but your article continues below.
Article content
Lee-Chin contemplated his childhood after meeting the man, and considered how they were both born on equal footing.
Lee-Chin's mother, Hyacinth Gloria Chen, an orphan, was 18 years old and unemployed when she gave birth to him in Port Antonio, Jamaica. She was taken in by the maids and helpers of the local supermarket, and for the first six months of Lee-Chin's life, they looked after both of them. When Lee-Chin was a boy, his mother sold Avon products and worked as a bookkeeper, and he says her dedication to him and his education were the key to his own commodity and time feeding him rather than hurting him.
"What's the difference between John Shaw and Michael Lee-Chin? Both come from humble beginnings," continued Lee-Chin.
"When John Shaw's children think about their future, what do they see? Do they see bright skies, do they feel optimistic? Do they think that tomorrow will be a brighter day? No. When my children look to the horizon, do they think tomorrow will be a brighter day? Yes. So, what is the difference? I am blessed. I am blessed that my mother didn't leave me, she committed her life to me. She had standards, she had values, and she led by example. She imbued those qualities in me."
His mother insisted that Lee-Chin study hard, and after graduating from his local high school, Lee-Chin went to Canada on a scholarship program sponsored by the Jamaican government to study civil engineering at McMaster University, graduating in 1974.
Advertisement
This advertisement has not loaded yet, but your article continues below.
Article content
He started his investing career with Investor's Group, and later purchased a wealth-management firm that became AIC, which he developed into a multibillion-dollar fund that he eventually sold to Manulife Financial Corp. He also set up the Berkshire Group of Companies investment and insurance firm, which was acquired by Manulife. In addition to Portland, Lee-Chin is also Chairman and Director of Mandeville Holdings Inc., a wealth-management subsidiary of Portland.
Aside from his mother's tireless commitment to his education and his own drive, Lee-Chin feels that a prosperous person is also indebted to the circumstances and environment they are blessed with, and that understanding this is behind the success of a true philanthropist.
'What are my responsibilities'
"I said to myself, 'I have a voice in the system and power in the marketplace, for reasons that had nothing to do with me. Therefore, what are my responsibilities to the John Shaws of the world? Should it be there for something seasonal, or should it be something I live for every day?'"
Today Lee-Chin also leads by example in terms of encouraging others' philanthropic acts, especially when it comes to teaching his own five children. He says that he has put as much work into creating a strong scaffolding through the building of his family as he has in the building of his corporate world.
"I can't leave my children to their own devices, because there are too many distractions that will make them go off the straight and narrow," said Lee-Chin with an infectious grin, sipping tea in his office.
Advertisement
This advertisement has not loaded yet, but your article continues below.
Article content
"I have to be constantly reinforcing framework. Our basic framework, the family's mantra, the corporate mantra, is ' prosperitus cum caritate ' – prosperity with care. Do well, and do good. As a parent, I have to make sure I teach them how to do well in life. At the same time, I have to teach them to do well for others in life. They have to wear their consciousness by being humble, by being uplifting, and by being empathetic."
Choosing causes
When it comes to choosing causes to support, Lee-Chin says entrepreneurs must look within to find causes they can truly believe in. If the personal connection isn't there, the support will wane.
"I think about things that I'm passionate about [such as] education," said Lee-Chin. "I'm here, because I had the good fortune of being educated. Had I not been given the opportunity to be educated, I would not be here. The support for education, especially for people who are underprivileged, is a passion. With education, you have to go even further, because education is industrialized, it's not tailored to each person.
This was the impetus behind the Michael Lee-Chin Family Institute for Corporate Citizenship at the Rotman School of Management at the University of Toronto, which helps current and future business leaders integrate sustainability into business strategy and practices by developing and disseminating research, tools and study materials.
"Corporate social responsibility is important to me," explained Lee-Chin, who added that he doesn't seek professional counsel when it comes to making gifting decisions. "Corporations should realize that also. Be humble, be respectful, and be caring enough, and empathetic enough, to recognize that their doing well is a function of many things that they had nothing to do with, therefore they have to share. I don't need a professional advisor to tell me that. These are things that emanate from my basic philosophy. My philosophy is translated into the gifts I make."
Advertisement
This advertisement has not loaded yet, but your article continues below.
Article content
Lee-Chin has also donated to other universities and to hospitals, notably the Joseph Brant Hospital in Burlington.
When a commitment derails
But, as with any marathon training, running on personal instinct can still have its pratfalls, and Lee-Chin is not shy about airing his financial injuries. When making large donations, like the $30 million one he pledged to the ROM in 2003, circumstances and payment schedules can change.
"I got ambushed, personally, with the ROM, and I'm not afraid to talk about it. I'm not ashamed of it. I got ambushed by the financial crisis. I made a huge commitment … not knowing that in 2008 the financial crisis would hit me right in the head. I had to renegotiate the terms. I had to struggle to make payments, struggle to make the payments at the renegotiated terms, but I did it. I completed it. It's a function of your commitment. If you're committed to something, you're going to see it through to the end."
His ability to see the commitment through was due in no small part to his direct approach. While he says life is never linear, one's communication with the organization they are donating to must always be direct and honest, especially if payment scheduling shifts.
"You have to have the conversation. Be open, be as transparent as you can. Life is not linear. When you make a commitment, when you get married, you don't know what's around the corner. You just have to stick with it, and wrestle it to the ground. Don't give up. This is not seasonal. This is how I live. I'm conscious of where I'm coming from. I'm conscious of the fact that I'm standing on the shoulders of many people who have gotten me here. It's a consciousness and a humility."
Get the latest stories from Canadian Family Offices in our weekly newsletter. Sign up here.