Christina Sorbara cherishes relationships born of a devotion to philanthropy
She throws her whole self into a multifaced approach to fundraising, workshops and 'relationship management'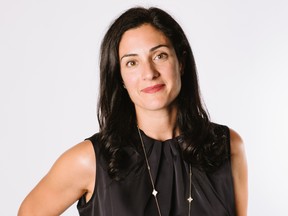 Article content
Growing up in a family that embraced charitable giving, Christina Sorbara has always been committed to helping others. This philosophy played out in the family's real estate development firm, the Sorbara Group of Companies, and the philanthropic foundation the family created.
Article content
As time went by and Sorbara took a closer look at the way donations were dealt with in the corporation and the family, she found new ways of doing things.
"I take a different approach," says Sorbara, 43, who is vice-president of corporate knowledge for the Sorbara Group, which was started by her grandfather Sam in 1942 and today is based in Vaughan, Ont. She's also chair of the Sam Sorbara Charitable Foundation, set up in 1983, which serves as the main vehicle for the family's community engagement and generosity.
Sorbara took on the role about 15 years ago, after years of watching her father Edward and the company "create an effective and meaningful philanthropic relationship with their community."
Many donors feel uncomfortable getting too close to organizations they support, says Sorbara, who takes a different approach. "The money's valuable to the organizations, but the organizations want you to then share their message" with your family and wider communities, she explains. "When I learn something incredible about an organization, I tell everybody."
Sorbara became the ideal candidate to take on the "relationship management" of the foundation's biggest pledges, which she still does, happily adding it to her job. "For me, I never feel like I'm working. Those relationships and learnings have enriched my life and now my children's lives."
Her instinct for giving began "when I was a little kid," she says, with her parents taking their children along to volunteer at Meals on Wheels or attend charity events. At Christmas, her father provided them with money to be given away to a cause or institution they first had to research thoroughly.
Article content
Sorbara was always keen to learn about new causes and encouraged her brothers to do the same – or to allow her to do it on their behalf.
When she was 10, she remembers that her mother Marisa on her 40th birthday asked for donations to go to the Hospital for Sick Children in Toronto, in lieu of gifts. SickKids was a focus for the family; Sorbara volunteered there as a candy-striper one summer as a teen. When she turned 25, she invited guests to a walk for breast cancer, which her godmother suffered from, raising $25,000. And when she herself turned 40, Sorbara brought 200 women to a luncheon and lecture that raised $50,000 in donations for SickKids.
"I felt so good. … That's how my parents taught me," Sorbara says.
At the same time, her experience and practice of philanthropy differs considerably from previous generations. For example, today women have more opportunities to sit on boards; indeed, she serves on three. Among them is the board of the SickKids Foundation, where she leads a "super-ambitious initiative" to raise $20 million from the development industry. The money is for the construction of a new patient support centre at SickKids, but her ultimate goal is to bring in new long-term donors – generations of them – to the hospital.
This "multifaceted" approach is part of every fundraising endeavour for Sorbara, but it's not always the norm for her contemporaries. With busy lives and at arm's length from the family foundation, her siblings and cousins have different philanthropic capacities, she says, so "I look for opportunities anywhere for my family members to get involved."
Article content
The best part for Sorbara is the administrative work and the relationship management involved. She's part of a women-in-philanthropy group that meets monthly to learn about trends such as using technology to encourage employee engagement.
Through one of these workshops she learned about Troop, an initiative that helps employees get involved in their companies' giving. The Sorbara Group formed a partnership with the organization that allows employees to vote each month and decide which of the "tangible needs" in their communities should get support.
Sorbara says it helps that she works on both the family's corporate and philanthropic sides, ensuring the Sorbara Group's giving can be strategic.
The company's donations are intended to give back to the areas where it does business, such as Vaughan, with major gifts to Mackenzie Health, which operates two hospitals in the region. In Fergus, Ont., where the company is building the Storybrook and Summerfields communities, it has supported the obstetrical/surgical inpatient unit of Groves Memorial Community Hospital, right next door.
"We are showing our commitment to the community our purchasers have chosen to raise their families in," she explains.
Sorbara encourages philanthropy among the next generation, including her children Massimo, 9, and 8-year-old twins Viviana and Romeo. Massimo has already attended the SickKids Foundation's Giving 101 program, which educates youth ages 8 to 18 about philanthropy. The kids get involved in fundraising and volunteer activities both with their mother and on their own. In winter they all fill bags with warm hats and mittens and deliver them to homeless people.
Article content
They are among the fourth generation that will become part of the Sam Sorbara Charitable Foundation, which "straddles the family and the business," she says. As its lead, she's making sure the foundation has structures and funding models to fit new generations.
"It's all a work in progress," says Sorbara, who's done a "deep dive," with the help of consultants, to streamline its philanthropic endeavors. The idea is to ensure there are flexible options for the different generations and individuals to make donations through it or in their own names.
She suggests that those involved in foundations come up with "a playbook that relates to you," for example setting out the strategic connections that can come from their giving programs.
The Sorbara Group's giving practice has evolved under Sorbara's leadership. During the holidays the firm holds a food drive at its headquarters, where staff bring in donations of food and other necessities for the Vaughan Food Bank. She and the superintendent of the office tower take big bins of the items in the back of a pickup truck to the food bank, and then spend time there chatting with its director.
"It takes 10 minutes out of our day, and the director and volunteers feel validated for the work they do," Sorbara says. "Philanthropy is about relationships."
Get the latest stories from Canadian Family Offices in our weekly newsletter. Sign up here.