Biggest Canadian philanthropists 'give in a more quiet way'
Headline-generating donations in the U.S. have inspired wealthy Canadians to consider their own legacies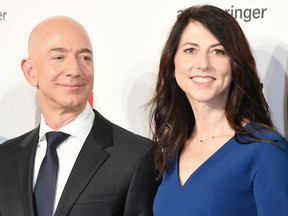 Article content
Billionaire philanthropist MacKenzie Scott gave away nearly $9 billion last year.
Article content
The American novelist and ex-wife of Amazon.com founder Jeff Bezos pledged to give away most of her estimated $60 billion fortune, saying, "I will keep at it until the safe is empty."
American business titan Warren Buffett has donated half of his estimated $100 billion fortune and is one of the founders of the Giving Pledge, which urges the world's wealthiest to commit the majority of their wealth to philanthropy. Pledge co-founders Bill Gates and his now-estranged wife Melinda have publicly promised most of their estimated $137-billion fortune to their charitable foundation.
These high-profile mega-gifts certainly inspire other wealthy donors, says Ken Mayhew, the Toronto-based president and chief executive officer of William Osler Health System Foundation, but Canadians might not see the same headlines generated at home.
"I do think people in Canada largely give in a more quiet way," says Mayhew, who is also chairperson of the Association of Fundraising Professionals Foundation for Philanthropy Canada.
His foundation often receives large gifts with a request that they not publish that information, in part because donors are leery of being inundated with requests.
"I think it's almost part of the Canadian persona," he says. "We don't tend to shine our light quite so bright, but there are certainly some phenomenal family givers."
Many Canadian philanthropists tend to make their donations over time, he says. He cites Canadian organizations such as the Rogers Family Foundation, the Weston Family Foundation, the Peter Gilgan Foundation, the McConnell Foundation and others that have made "amazing" charitable gifts, often to little fanfare.
Article content
"It's less in the form we've seen it done in the States," says Mr. Mayhew. "These things often happen quietly, behind closed doors, especially in Canada."
It was a difficult year for Canadian charitable and non-profit organizations. The COVID-19 pandemic forced many to close their doors and most in-person fundraising events had to be cancelled.
Some gave more
Donations and revenues for charities over all were down about 16 per cent last year, says Lisa Davey, vice-president of AFP. That comes on the heels of a slow decline for more than a decade in both the number of Canadians giving and the amount they give.
Yet it was not all bad news for the charitable sector in 2020. Those Canadians who do give gave more during the pandemic year, reversing that long-standing trend, according to a survey conducted by Forum Research for AFP.
"We found an increase in giving among donors, in general to almost a thousand dollars [per donor]," Ms. Davey says. "It's great to see that Canadian donors have increased their giving."
We don't tend to shine our light quite so bright, but there are certainly some phenomenal family givers.

Ken Mayhew, William Osler Health System Foundation
Grassroots donations are an important part of the charitable sector, Mayhew says, but there is an increasing dependency on mega-gifts.
At his William Osler Health System Foundation, which supports the Brampton Civic Hospital, Etobicoke General Hospital and Peel Memorial Centre for Integrated Health and Wellness, the top 1 per cent of donors provided 81 per cent of revenue in 2020.
"Proof yet again of the incredible importance and impact of philanthropy in our community and across Canada," Mayhew says.
Article content
Big gifts inspire others
In its June major-gifts newsletter alone, Toronto-based KCI Insights, a Toronto-based consult for the non-profit sector, reported more than $300 million in major gifts across the country, ranging from health and mental health to environmental and social justice organizations. In April, KCI reported more than $100 million.
Headline-generating donations of the size of MacKenzie Scott's and Warren Buffett's have certainly inspired other wealthy families and successful business people to consider their own legacies, says Mindy Mayman, a partner at Richter Family Office in Montreal.
Few have the kind of resources those American philanthropists have, but many do give in scale, she says. These mega-gifts prompt them to think differently about their legacy in their community and in the world.
"Certainly I think they have inspired people to think about that question: How much of my fortune does need to go to the next generation and how much of it should I give away?" she says. "It's very interesting to see them having gained tremendous fortunes and saying publicly, 'What do I want to be remembered for aside from my business success and having provided financial security for the next generation?'"
They feel compelled to give back
Wealthy clients want their families to be financially secure but know they have enough to do that and leave behind their own legacy, she says.
Article content
"The far majority of the clients we work with have actually built their wealth themselves and most of them did not come from wealthy backgrounds. That's important because, in recognition of the success that they've built, most of them feel compelled to give back in some way," she says.
"And so I think what we saw during the pandemic is that they saw that there was a crisis, they realized that they are fortunate and in some cases it did incentivize them to increase their giving because they knew there was great need."
During a crisis like the pandemic, wealthy Canadians have made donations to address immediate needs such as food banks, job insecurity and disaster relief.
But most have more strategic, long-term giving plans that align with their core values, whether those be environmental or in health care or global issues, she says.
In those cases, there are tax implications and potential tax advantages to long-term plans, she adds. It's also important to manage expectations and needs.
"There will always be more good causes than any one person can support," she says.