Big-money donors who target public policy walk a lonely path
Changing hearts and minds on major issues — that's the rub for philanthropists looking at the big picture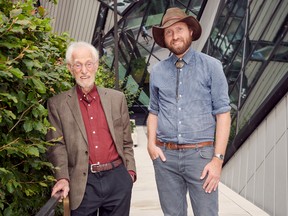 Article content
Philanthropist Allan Shiff lives a short walk from Toronto's Royal Ontario Museum — and the museum is glad for that. Shiff is involved in developing and helping to fund a major new push by the ROM to direct public attention to the climate crisis in an engaging and lasting way.
Article content
But Shiff's other target audience is a few steps farther south. He's hoping to change the minds of policy makers in Queen's Park, and that extra distance can be difficult for philanthropists to cross.
"I don't think the public has to have its mind changed that much," since the majority of us are already concerned about climate change, Shiff says, "but when it comes to actually doing something, we're a bit absent."
What's absent is that next step, the ability of the public to effect change on legislation dealing with the climate in a more concerted way.
"There are a few honourable politicians around, but so many of them worry about the next election," Shiff says. "How do we get the legislators to understand that this is a critical issue and must take a much higher profile than it is right now?"
By targeting policy change, Shiff is following a path that's not always clear for philanthropists. Often this kind of effort involves heightening the public's desire for change, which then puts pressure on politicians. It involves a more circuitous route than simply funding lobbying by environmental NGOs, which consists mainly of written reports and meetings with lawmakers, the kind of work that underfunded climate-advocacy groups usually do. It's felt, in the environmental funding community, that more pressure must come from voters.
"What I'm not interested in is for people to come, see a fantastic exhibit, tell their friends, 'You must go see it,' and that's the end of it. The purpose is follow-through. Some kind of plan where people can remain engaged, active," Shiff says. "If it's not done big and done well, then what's the point?"
Article content
Being a catalyst for change
This tone is echoed in the ROM's press release last year announcing the new Allan and Helaine Shiff Curatorship of Climate Change (named after Shiff and his late wife). It drives home the intention that this isn't just to create nice exhibits: "I believe in the power of bringing together a new movement of engaged citizens and researchers who will be a catalyst for change," Shiff says in the press release.
In general, most donors tend to like the immediate, tangible things.

Devika Shah, Environment Funders Canada
Shiff made his wealth in residential real estate and has been active in climate advocacy for years, offering support to NGOs and attending policy gatherings such as the UN Climate Change Conference in Copenhagen in 2009. "So, I'm somewhat connected and involved," he says.
"A lot of people who are highly motivated support in a moderate fashion Environmental Defence, the David Suzuki Foundation, 350.org, the Pembina Institute, etc., but I've never heard of a major, major donation. They're doing good things, but it's pretty low profile in my opinion," Shiff says.
Where are all the big donors?
"Where are other people who are concerned, affluent and can kick in more than I am? Where the hell are they?" Shiff donated $1.5-million to create the curatorial position, with matching funds from the Louise Hawley Stone Charitable Trust, but he adds that further fundraising is needed for the ambitious climate exhibits and programs.
In general, philanthropic giving to the environment typically goes toward specific projects, such as the preservation of a watershed or the conservation of an area of parkland or wetlands — clearly delineated causes, with easily observable results. You can literally put a fence around them.
Article content
Yet, these conservation projects are a tiny fraction of philanthropic giving, roughly estimated at around 3 per cent or so of all giving, say people in the environmental-funding field. Most philanthropic giving traditionally goes toward religious congregations, community services and international development. Meanwhile, philanthropic giving toward wider climate advocacy — as opposed to local conservation efforts — is an even tinier fraction compared to conservation giving.
"It's actually shocking," said Teika Newton, managing director at Climate Action Network Canada. "Anecdotally, I'm noticing that it is increasing… It's not so much single, large donors as it is people thinking about legacy gifts. And they are not necessarily huge. A larger-scale legacy donation might be in the hundreds of thousands of dollars, something like that. That would be a particularly large one. I'm not seeing the $10-million donations."
Pooling of funds
Of course, not all philanthropists are looking to fund neatly packaged conservation projects. Many understand the incremental, often underwhelming, but necessary gains of everyday policy work. For an environmental NGO to get enough money just to hire an additional lobbyist is seen as a major win, however meagre it is in comparison to the far greater number of business lobbyists, says Devika Shah, executive director of Environment Funders Canada.
Article content
"In all sectors, not just the environment, there's a smaller subsection of donors who completely understand the importance of policy change and who focus on policy change," she says. Environment Funders Canada operates as a collaborative funders' effort. This allows funding organizations such as family foundations to pool their funds together, which Environment Funders holds and uses to fund policy advocacy work done by the top climate and environmental NGOs working in Ottawa. The Clean Economy Fund is another example of a group that pools funds in this way.
"I used to work in the social services sector. Same thing. In general, most donors tend to like the immediate, tangible things, but there are enough sophisticated donors in every sector that will say, 'I'm funding you to produce that research report and then to go and meet with the [government] minister and present your findings' — and to do the behind-the-scenes policy advocacy, because that is what will shift the system," Shah says.
Winning hearts and minds is messy
Yet, "there are pieces that the environmental movement have not taken on, particularly with respect to that broad outreach to everyday Canadians," she says. "With the limited resources they [the NGOs] have, it's easier to do the policy work and the policy papers, because you can control those parameters a little bit more. The messy work of trying to win hearts and minds, and to shift culture, is hard to measure. It takes longer. It's messy.
Article content
"So, if you already have limited resources, you're going to default to the part that you can control and report back to donors easily," Shah says.
But it's that push for "hearts and minds" that Shiff is after. "What happens when a sports team gets near or in the playoffs? All of a sudden hundreds of thousands of people — I'm one of them — get excited and talk and listen and watch. Well, hopefully we can reach that kind of situation, but it's not going to be easy," he says.
In a speculative tone, he ponders Canada's war effort surrounding the First and Second World Wars. "We may not have had such tremendous support and participation without a phenomenal propaganda plan. It was huge. It was positive. It was the right thing to do, but I'm afraid we may not have had this kind of support without that massive push," Shiff says.
So, where's the push to fight the global climate crisis, he asks? "Here we have the fires and the floods," which anyone would see as a massive call to action, Shiff says, "but it's just not as effective as it should be. It's a tough one."