What the future holds for family offices in Canada
Funda Dilaver, Senior Vice-President of Family Office Services at CEOS Family Office, writes that in recent years, single-family offices and multi-family offices have gone through a surge in their numbers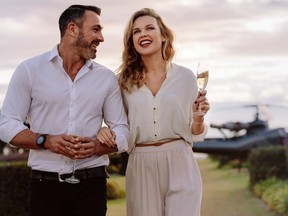 Article content
The roots of family offices may be found in the sixth century, when a king's steward was responsible for managing royal wealth, according to EY Family Office Guide. The modern history of the first family office dates back to the 19th century, pioneered by J.P. Morgan, a financier and art collector, followed by the Rockefeller Family. Family offices started gaining popularity in the 1980s, and the 2000s have seen a boom in their numbers.
Advertisement
This advertisement has not loaded yet, but your article continues below.
Article content
Traditionally, family offices were created for a single wealthy family with the sole goal to centralize the management of the family fortune. Typically, families with a fortune of at least $100 million (ideally $300 million at least) have single family offices (SFO), however the majority of SFOs have more than $1 billion of family wealth under management.
In modern days, the landscape of family offices has changed; multi-family offices (MFOs) began to surge to help those families whose worth is not billions of dollars, but who need high-quality advice and access to qualified specialists, investment advisors, lawyers, notaries, accountants and tax specialists. Those families enjoy the relief of gathering their personal assets under one roof and obtaining advising services for a fraction of the price of maintaining a single-family office (had they enough fortune to have one and have easy access to multi-disciplinary services).
However, not all MFOs are created equal. While quite a few offer a full range of services in house, many of them will outsource the main services, such as legal, accounting, tax and more.
Why there is an increase in the need for family offices?
The 2020 Wealth X report on Ultra High Wealth (which covers individuals who have a fortune of more than $30 million) shows that there is a global increase in the number of wealthy individuals. In Canada alone, the number of ultra-wealthy has reached 11,285 individuals, with a total combined wealth of $1.2 trillion in 2019. Canada is the fifth country in the world with the highest number of ultra-wealthy. The country also ranks seventh for very high-net-worth (between $5 and $30 million of wealth) with more than 73,000 individuals falling into this category.
Advertisement
This advertisement has not loaded yet, but your article continues below.
Article content
Combine an increase in the number of wealthy families with an increase in complexity regarding asset management, volatile markets, tax legislation, reconstituted families, cross border assets and families, and the need for professional management and advice in all those matters is evident.
Teaming up with a high caliber multi-family office will help achieve the objectives that are set out by families and family offices. According to the 2016 UBS/Campden Wealth Global Family Office report, intergenerational wealth management, consolidating accounting, tax and estate planning services, family unit, family education, philanthropy and concierge services are the objectives of a family office, listed in order of importance.
Challenges for the family office industry
As laid out in the UBS/Campden report, it is difficult to meet the expectations set out by the wealthy and combine all the services under one roof. Finding and retaining the level of professional talent to keep costs at a lower level and to increase profits without compromising the quality of services offered are challenges that the industry is facing now.
This is further complicated because the client demand shapes the business models; ultra-high-net-worth and very high-net-worth individuals seek comfort, reassurance, privacy and discretion, and for the business to offer a tailored approach to each individual family member.
What are the solutions and where do we go from here?
Advertisement
This advertisement has not loaded yet, but your article continues below.
Article content
According to Lisa Gray, the author of The New Family Office: Innovative Strategies for Consulting to the Affluent, the businesses which can transform their identities from investment management consultants to wealth optimization consultants will have the advantage of long­-term competitive superiority.
The future of multi-family offices that provide a full service with multi discipline professionals and that can differentiate with a human, holistic approach looks extremely bright. Especially in an era of artificial intelligence, access to personalized, top-notch service and privacy become a challenge, for example when the big accounting firms claim to service high- and ultra-high-net-worth individuals — and on the contrary outsource individual tax returns to India, to Morocco or to other Asian countries where the labour is cheap and mass production is the norm.
In these conditions, the key to remain superior and competitive passes through an independent service offering by specializing in investments, accounting, legal and tax counseling and philanthropy. Happy client rhymes with successful business.
This content was supplied by PBY Capital Limited, a distributor registered as an exempt market dealer with securities regulatory authorities, servicing family offices and their professionals. For more information, visit: https://www.pbycapital.com.
PBY Capital is a member and content provider of this publication. The opinions and information provided in this article are solely those of the writer and are not to be construed as personal, legal, accounting, taxation, or investment advice, or as an endorsement of any entity.