What to do when Dad dominates every family conversation
Managing the dynamics of wealthy families is a delicate dance of tact and diplomacy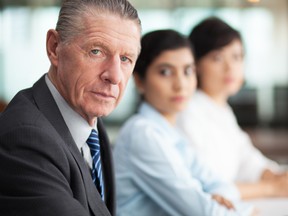 Article content
As chief executive officer of CEOS Family Office, Eric Lapointe helps clients manage considerable wealth for current and future generations. It's a role that requires tact and diplomacy in addition to financial acumen, he says, because "people are not always logical" when it comes to fortunes and family dynamics.
Article content
Typically, high-net-worth Canadians turn to family offices when their affairs have grown too complex to manage on their own, or, as the Harvard Business Review once stated, they have made "enough money to cause family tension."
From an administrative standpoint, the appeal of family offices is that they are one-stop shops that help clients manage their financial affairs. They offer tax and estate planning; insurance, wills and trusts; asset management; and legal and accounting services. And they handle the intergenerational transfer of wealth.
On the human side, family office practitioners work with clients to develop some sort of governance structure to guide decision-making, conflict resolution and communication strategies. Having the forums and processes in place to balance competing interests can often – but not always – mitigate the potential for rifts, said Lapointe, whose firm in based in Brossard, Que.
Some families establish formal councils to decide whether family-owned enterprises should reinvest profits in the business or distribute dividends. Who should replace Mom as the boss, a family member or an outsider? How should the multi-millions from the sale of the family firm be invested? Should the slacker sibling who messed up his life receive a larger inheritance than his responsible, successful sister because "he needs it more?"
The clout and success of these councils depend, to a large extent, on how much decision-making authority the matriarch or patriarch have actually relinquished.
Article content
"There is no one rule for family meetings," but creating channels for family members to regularly communicate with each other is critical, says Tom McCullough, chairman and CEO of Toronto-based Northwood Family Office and an adjunct professor at the University of Toronto's Rotman School of Management, where he leads a program on family wealth management. "You want to head off disputes if you can."
Some families are effective at ensuring all voices are heard; there's a vibrancy in the room. But if Dad dominates every conversation, the very people he is counting on to continue the family legacy might disengage, said McCullough.
I have had first generations who refer to their 'kids,' who are in their 60s, wondering if they are ready.

Tom McCullough, chairman and CEO, Northwood Family Office
Investment strategy is a common source of friction.
For the older generation that built the wealth, "it's not about the next hot investment – quite the contrary," McCullough said. The majority of clients at Northwood are successful entrepreneurs who took risks throughout their working lives to build their businesses. But now, having sold their businesses, they are more risk-averse. They want the capital protected and invested for the long term.
Financial education is a key component of the services that family offices provide, to ensure that everyone has the knowledge to make informed decisions and that the youngest members understand "the traps you can fall into if you follow Robinhood to do trading or Reddit or Elon Musk on bitcoin," Lapointe said.
Family heads, understandably, do not want their children and grandchildren to squander the money they worked so hard to accumulate. On the other hand, some entrepreneurs wait far too long to transfer the management of family wealth to the next generation.
Article content
"I have had first generations who refer to their 'kids,' who are in their 60s, wondering if they are ready," McCullough said. This is frustrating to offspring who have the interest and capability to take over, he added.
It can be hard for patriarchs, whose "push, push, push" personalities drove their business success, to share, collaborate and include others in decision making, McCullough acknowledges.
"Our message to the patriarchs is 'you need to make a shift' and we'll help them along. To the other family members, we'll say 'be gentle [with your parents] because they don't know how to do it.'"
Some first-generation wealth creators have the opposite problem: No logical successors are waiting in the wings to step in as heads of the family.
The offspring took flight because their parents gave them the freedom to look beyond the family enterprise and pursue their own interests, says Toronto-based Ed Giacomelli, market leader for Canada with the Chicago-based Family Office Exchange, or FOX.
"In encouraging them to do what they want, they [the parents] also need to make them aware of what responsibilities they are going to have in the future," Giacomelli said. In the absence of any succession planning, "the next generation can be in their 50s, suddenly they receive an estate worth hundreds of millions of dollars and they are not ready for it."
FOX is a network of ultra-wealthy families who have the resources to create their own, exclusive in-house family offices. FOX facilitates the exchange of best practices in governance, sustaining wealth over generations and the advantages of long-term strategies in investing. It also conducts workshops on emerging issues such as cyber-risk and protecting the family's reputation (in an era when social justice issues and income disparities are increasingly in the spotlight).
Article content
In September, FOX plans a series of workshops for wealthy Canadians on how to design and structure their own single-family offices. There is growing interest from Canadians who have sold their businesses and cashed in.
When taking on new clients, family offices pore through family documents and consult the families' lawyers, accountants and tax specialists to get a complete picture, McCullough said.
They talk to the patriarch and matriarch about their family values and goals and tackle some thorny issues: What do they think about pre-nuptial agreements? If an offspring has tripled the value of the family business, should he/she get the lion's share in the will, or would it be more fair to pay a fair market rate for the CEO role that person has filled?
And, while they're at it, what else do they need to lighten the load? Many will line up tutoring for the kids, medical services, vacation planning, dog-walking, baby-sitting, career counselling and real estate services.
"I'm a CEO and a concierge," Lapointe says cheerfully.