'Try and cherish the remaining moments that you have,' and other advice for those caring for elderly family
Whether at home or in a care home environment, protecting a frail parent during the pandemic can be frightening, lonely, and at times emotionally rewarding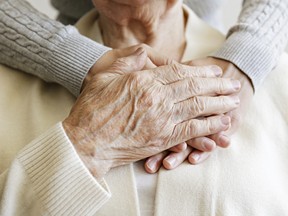 Article content
As the world faces the onslaught of the highly transmissible Omicron variant during this interminable COVID-19 pandemic, for those caring for an elderly parent, the obstacles can feel insurmountable.
Advertisement
This advertisement has not loaded yet, but your article continues below.
Article content
Reports in media outlets such as TIME , Forbes , and the BBC all indicate that caring for frail or older parents throughout the pandemic involve feelings of fear, isolation, loneliness, and powerlessness, not only for the caregiver, but also for the elderly parent.
The Government of Canada website offers tips and resources for people living with seniors, and for those helping parents who are in assisted living during this time, and the site highlights the importance of taking care of one's mental and physical health.
Scott Dickenson is the director of client services at Northwood Family Office. He works with families at various transition phases in life, and specializes in financial planning, investment management and taxation. Here, Dickenson offers his advice for protecting an elderly parent throughout the pandemic:
"The pandemic has been challenging for all of us, but it has been doubly challenging for those of us who have been caring for an elderly or vulnerable family member during this stressful time," said Dickenson. "With that in mind, I'd say the [following] points are important ones to keep in mind for anyone who continues to be in this situation."
1. Have a plan
"Understand what the family's plans are for the care of the elderly or vulnerable relative in the pandemic present and the hopefully non-pandemic future. Also understand what the plans are in the case of a worst-case scenario where the elderly family member passes away. The Wills and Powers of Attorney documents should be reviewed to make sure that everyone is on the same page, and that these legal documents reflect the current wishes of the elderly family member."
Advertisement
This advertisement has not loaded yet, but your article continues below.
Article content
2. Keep the lines of communication open
"Make sure that everyone's voice is being heard and that decisions are not being made without consulting the person being cared for. As loving family members, the urge can be to protect vulnerable relatives as much as possible, and make decisions on their behalf with this as the No. 1 goal. What can get lost in this calculation, is what the person being cared for actually wants."
3. Don't put yourself last
"This applies during a pandemic, but also anytime you are managing the burden of caring for an elderly or vulnerable relative. You're probably managing this burden on top of your other family and professional responsibilities, and the combination of these roles might feel overwhelming at times. If this is the case, make sure you're taking time out of your busy schedule for your own self-care. Make a point of doing things that make you happy and don't feel guilty about taking time out from your other responsibilities. At the same time, don't be afraid to ask for help if you need it."
4. Be patient
"Caring for an elderly parent is like anything else in life: There will be good days, and there will be bad days. To paraphrase Drake; sometimes you'll laugh and sometimes you'll cry. On those harder days, try to take a step back and remember that one day you'll also grow old and not be the same person you are today. As the saying goes, patience is a virtue."
5. Be grateful
"Having an elderly parent to care for means that you still have a living elderly parent. That's amazing! This person is one of the last remaining links to your childhood, and you should try and cherish the remaining moments that you have with them. Not everyone is so lucky."
Get the latest stories from Canadian Family Offices in our weekly newsletter. Sign up here.