The world's most luxurious airline cabins offer indulgences – and style
But dozens of international airlines have scrapped first class seats on long-haul flights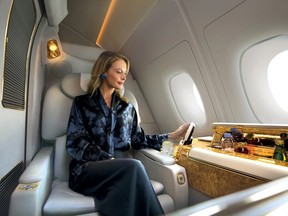 Article content
Air France's Boeing 777-300 is a bit like society in miniature. The back half of the world's largest twinjet contains row upon row of 43-centimetre-wide economy seats, 10 abreast. Moving toward the cockpit, seats widen and recline until they can recline no more — and transform into fully flat beds with real mattresses, soft duvets and proper pillows. First-class passengers' waking hours, meanwhile, are filled with a non-stop array of indulgences.
Advertisement
This advertisement has not loaded yet, but your article continues below.
Article content
While cabins like Air France's "La Premiere" are becoming increasingly opulent, they are also becoming increasingly rare. Dozens of international airlines, such as Air New Zealand, United, Turkish Airlines and, yes, Air Canada, have scrapped first class on long-haul flights, making the six luxurious cabins that follow even more exclusive.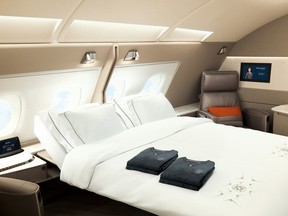 Singapore Airlines Suites
Nestled in the upper deck of the Airbus A380's front cabin, these six suites offer full-flat single beds that can be converted into doubles in the first two suites of each aisle, or stowed when not in use. Other furnishings include full-sized personal wardrobes and plush leather-upholstered chairs by Italy's Poltrona Frau. The latter can be reclined and swiveled using an electronic control panel — all the better for viewing a similarly adjustable 32-inch HD screen — with customized handbag stowage compartments, leather-lined amenity boxes and mood-lit feature walls completing the stylish package.
Designed by Paris's Pierrejean Studio, the six suites share two roomy lavatories, one of which features a sit-down vanity counter.
Canadians flying to Singapore via air hubs such as Frankfurt, London, Zurich and Hong Kong can book Singapore Airlines Suites. Likewise, direct A380 flights from Singapore to Auckland, Mumbai and other long-haul destinations offer them.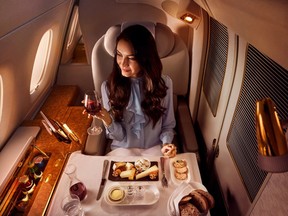 Emirates A380 First Class
No airline has redefined first class like Emirates has. In addition to luxe furnishings, stylish decor and haute cuisine on the upper decks of its A380s, the Dubai-based airline has added shower spas and onboard lounges to its fleet.
Advertisement
This advertisement has not loaded yet, but your article continues below.
Article content
Featuring illuminated cosmetic mirrors, hairdryers, heated floor panels and marble-effect sinks and floors, the two shower spas aboard each A380 are staffed by attendants who ensure they are meticulously clean and ready for guests.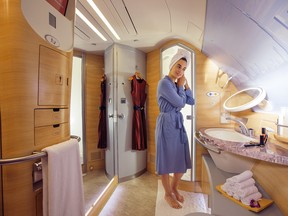 The nearby lounge, meanwhile, is home to a horseshoe-shaped bar available to as many as 26 passengers in the first and business class cabins. As well as sampling canapes and sipping fine wines and spirits, guests can make special requests of the bartender or try a signature cocktail on for size.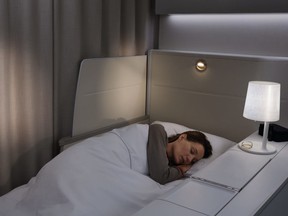 Air France's La Première
Available on Boeing 777-300 flights between Paris Charles de Gaulle and long-haul destinations ranging from San Francisco to Shanghai, the four La Première suites feature extra-wide seats that recline to form flat beds with real mattresses, extra-wide pillows and plush duvets.
Entertainment options abound, with hundreds of hours of films, games, music and TV shows available via a 24-inch HD touchscreen. A touchscreen remote control, meanwhile, provides passengers with additional information about the flight or the media being viewed.
For fliers hosting guests, an ottoman is positioned opposite, along with a spacious dining table. Speaking of dining, La Première's menu includes caviar, Champagne and foie gras alongside dishes created by Joël Robuchon, the world's most Michelin-starred chef, and Régis Marcon, who boasts three Michelin stars. More than 40 pieces of tableware, designed by Jean-Marie Massaud, completes the French dining experience.
Advertisement
This advertisement has not loaded yet, but your article continues below.
Article content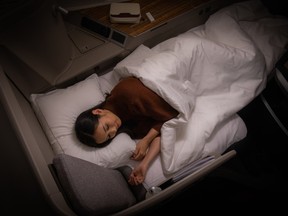 Cathay Pacific First Class
Available on several dozen of Cathay's Boeing 777-300ER aircraft, including those operating between Vancouver and Hong Kong, the six-seat First Class cabin favours a more open-concept layout than the others explored here. Designed by London-based architects Foster + Partners, the spacious cabin allows decorative flourishes, such as fresh flower bouquets and sculptures by Maria Lobo and Linda Leviton, to be enjoyed by all.
Said to offer the widest first-class seats in the skies, four of the seats offer views out of three windows. Opposite the seat is an ottoman, which is cleverly designed to double as a closet for hanging clothes or for stowing carry-on luggage. Side consoles, meanwhile, are equipped with 17-inch HD screens that can be adjusted in a variety of ways.
Seats transform into fully flat beds 205 centimetres long, with a turndown service dressing them in 600-thread-count cotton sheets, pillows selected from a menu, and spritzes of frankincense-, lavender- and marjoram-infused pillow mist from upscale British toiletry-maker Bamford, which also equips the two first class lavatories.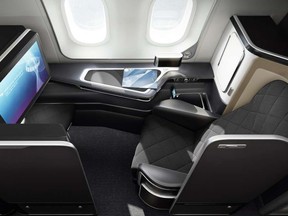 British Airways First Class
The eight private suites in BA's 787-9 Dreamliner aircraft feature plush seats that convert into fully flat beds with foam and microfibre mattress toppers and 400-thread-count bedding. Passengers leaving these luxe cocoons can show off Temperley London loungewear and slippers, or head to one of two lavatories to make use of a seven-piece luxury skin and body care collection from Elemis.
Advertisement
This advertisement has not loaded yet, but your article continues below.
Article content
As one might expect, afternoon tea stands out among the gourmet meals, with freshly baked buttermilk or fruit scones combining deliciously with clotted cream and strawberry preserves. And the Queen herself would likely approve of the crockery, cutlery and glassware from William Edwards, Studio William and Dartington.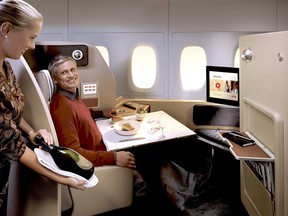 Qantas First Suites
Moving down under, Qantas's roomy first-class armchairs in its A380 aircraft are equipped with embedded controls that adjust seat positioning, activate in-seat massage and inflight entertainment, and adjust lighting and window shades.
Like other first-class cabins, an ottoman can be used to accommodate dinner guests, who may be impressed that the menu was developed by the Australian chef, restaurateur, author and TV presenter Neil Perry. A sommelier is also on hand to advise on wines and Champagne pairings.
At 212 centimetres, the armchairs-turned-beds are among the longest in the skies, with Sheridan bedding, a pillow menu and a cotton woven throw designed to ensure restful slumber.
Get the latest stories from Canadian Family Offices in our weekly newsletter. Sign up here.