The surgery solution for people unhappy with their Zoom face
Many cosmetic surgeons attribute the rise in requests to the pandemic, from video calls to stay-at-home recovery time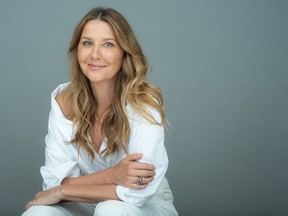 Article content
An international boom in cosmetic surgery has shown no signs of slowing down since the onslaught of COVID-19. From facelifts to breast augmentations, the new Zoom culture has people scrutinizing their appearances from the waist up in a way they never have before, and some don't like what they see.
Article content
Steven Levine is a top New York plastic surgeon whose clients include actresses, supermodels and socialites. He recently told The Cut that the explosion of Zoom culture has him taking an unprecedented increase in facial surgery requests from his most affluent clients, including same-day offers to fly him to remote locations to complete a face lift.
The American Society of Plastic Surgeons recently revealed the "pent-up patient demand" on cosmetic procedures.
According to the report, throughout the pandemic, 11 per cent of women surveyed indicated they are more interested in cosmetic plastic surgery or non-surgical procedures now than prior to the outbreak, and that figure is 24 per cent among women who have already had a procedure. Additionally, 35 per cent of women who have previously had at least one cosmetic surgical or minimally invasive procedure indicated that they plan to spend more on treatments.
The report further gave numbers for the top five cosmetic surgical procedures performed in 2020, with nose reshaping at 352,555 procedures, eyelid surgery at 352,112 procedures, facelifts at 234,374 procedures, liposuction at 211,067 procedures, and breast augmentation at 193,073 procedures.
Here in Canada, there is little data available but interest is greatest in Botox procedures, according to monthly search volumes reported by Statista. As of January, this was followed by searches for rhinoplasty.
Article content
Mitchell Brown is one of Canada's top plastic surgeons. He says he has seen a significant increase in requests for breast surgery since the pandemic broke.
"High demand procedures include breast lifts and reductions along with natural breast enhancements, whether through the use of small implants, fat or a combination of both," said Brown, who opened his practice, Toronto Plastic Surgery, in 1995. "Facial aesthetic treatments continue to focus on wrinkle reduction, but the main theme today is 'volume.' Using fillers or fat, maintenance of volume throughout the face is clearly a key to maintaining a youthful appearance and prevent premature aging."
Vancouver area plastic surgeon Mathew Mosher, former president of the Canadian Society for Aesthetic Plastic Surgery, recently reported that trends show a huge increase in cosmetic procedures and surgery, telling media outlets that facial treatments and surgery are on the rise with the average client between 35 to 50 years old who is working from home. Mosher reported an increase over the past year in non-surgical body contouring and liposuction with people wanting a quick fix due to weight gain.
Sandy Skotnicki is the founding director of the Bay Dermatology Centre. She started the centre in 2006, and says she has seen more clients than ever seeking cosmetic enhancements.
"The number of cosmetic procedures has skyrocketed from the Zoom effect," said Dr. Skotnicki, who is also Assistant Professor at the University of Toronto, Department of Medicine in the Divisions of Dermatology and Occupational and Environmental Health.
Article content
"But I also think self-care was never as important. If you can't travel and eat out you work on yourself. Laser enhancements from resurfacing, red and brown reduction, wrinkle improvement, skin tightening and fat reduction [have become more popular], and all injectables, from fillers and Botox to thread lifts [have too]."
The most well-to-do clients of Amy Newman Brown also want a non-surgical approach and are sticking their necks out for her new luxury beauty treatment, Soke, a hydrogel mask for the decolletage. Newman Brown, who is also Dr. Mitchell Brown's wife, founded Soke Beauty in an effort to educate her clientele about the different treatment requirements of the skin on their chest, neck and face.
Although Newman Brown had already spent three years researching and developing her product, the brand has been brought to the forefront since the explosion of Zoom culture during the global pandemic. Newman Brown says her wealthiest clients still opt for Soke whether they have explored cosmetic surgery or not.
"Our Soke chest and decolletage treatment is perfect for that Zoom Sweet spot," said Newman Brown. "During the pandemic we were all on Zoom, which clearly highlighted areas of our face and body we may have not noticed before. The beauty of Soke is you can actually be at your desk, or even on Zoom and no one would know you are having a treatment. Our next product will be Soke for the neck which I expect will be very popular. I do find most women are purchasing both the chest and the eye at the same time. The Soke Eye is becoming quite popular with men."
Article content
Whether minimally invasive or fully surgical, Dr. Brown does not anticipate that the cosmetic wish list will shorten anytime soon.
"People have been locked down, they are not travelling, and they are spending less on traditional areas of lifestyle and entertainment," said Dr. Brown. "Many people are home and have time and privacy that didn't previously exist. For those that had been thinking about aesthetic surgery, the pandemic has presented the opportunity both in terms of disposable income and time to be at home and recover."
And for those considering their first cosmetic procedure, whether under the knife or under the syringe, Dr. Skotnicki has some tips.
"I believe that cosmetic procedures should start slowly," she said. "Work on the one thing that bothers you the most. Once this is better and you have more confidence with procedures and the results most patients are keen to do the next thing on their list. It also helps to get a ring light and keep your screen [angled] above your head … some non-dermatological advice."
Get the latest stories from Canadian Family Offices in our weekly newsletter. Sign up here.