The lost children of wealthy business families
If subsequent generations resist the transition into a family enterprise or expected role, they can often become directionless, experts say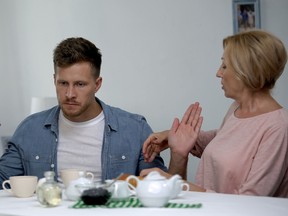 Article content
Children of wealthy families can feel lost and directionless in spite of – and often because of – what should feel like a clear direction into the family business or into traditional positions in the family hierarchy.
Article content
As these children emerge from world-class universities, those who resist the transition into the role they have seen their parents and grandparents occupy successfully both in business and society can often become directionless, experts say, leading to mental health difficulties and a sense of disconnect from their parents or more successful siblings.
Known commonly as "failure to launch syndrome," the phenomenon of the 20- to 30-something "child-adult" is not limited to wealthy children. But in ultra-high-net-worth families, not making the full transition to adulthood is something psychologists are exploring in order to help wealthy families support their offspring without stigma or threat to their family's reputation.
"Often young people from ultra-wealthy families feel entitled to their wealth and not motivated enough to find their own path," says Minni Sharma, a registered psychotherapist who specializes in relationships. "I always recommend therapy for these young individuals to sort out their goals and find out what motivates them. A purpose is often a good driver for success."
The traditional structure of the many wealthy families can lean on the side of old-fashioned values, where preserving intergenerational wealth and societal reputation is integral, can take its toll on young people who are growing up in an era that can reject these principals, Sharma adds.
Article content
"The expectation to continue with the family business or higher education for wealthy families can cause higher rates of depression and anxiety," says Sharma. "The private-school mentality and its markers of success are often based on income, not happiness. Straying away from the family business, or not becoming a CEO or lawyer, can cause upset in the traditional structure. Becoming a musician or artist is frowned upon and often seen as a hobby, not a career. Going to a reputable university in a challenging program is more often the expectation. This leads 20-something-year-olds to feel inauthentic and less satisfied with their life."
Specialists say children can feel like they are unable to surmount the pressure of Ivy League educations and living up to their family name.
Jeanne Foot is a certified international addiction and recovery specialist and founder of The Recovery Concierge Inc. "Failure to launch" as a term might diminish what a young person is feeling as they lose motivation, she says.
"For the child who completes their education, it may feel overwhelming to find their role in the family hierarchy, especially when a parent has accomplished great wealth or success, as to whether or not they can achieve the same greatness," says Foot.
"There may be a lack of respect due to nepotism – something the younger generation may have to battle with. Sometimes there can be an expectation that the eldest, siblings, a son, will assume a role in the family empire, which is implicit for them to 'take over' and it may be something that they may not wish based on their values or whether there is the capacity to carry a particular position. You cannot dismiss the emotional impact it will have between parents and children and [siblings] as to what is fair and equitable."
Article content
For women, the pressure and expectations can be doubly-confounding, as mythologies surrounding femininity and womanhood are being challenged and reshaped as society evolves.
"Young women from ultra-wealthy families face different challenges than their mothers did," says Sharma.
"In our 'on demand' culture, with rampant social media presence, there are expectations of how a woman should look and the success markers are much higher. This can result to added pressures that manifest in eating disorders, depression and anxiety."
She adds, "This is the first time in history where women are financially independent. This change has caused some confusion around women as traditional stay-at-home moms and philanthropists versus being full-time career women. The roles are still being defined, which may cause added stress for young women from ultra-wealthy families."
As our society has changed and evolved for women over the past century, Foot says that cultures will vary, and some family businesses and corporate cultures may still operate through outdated paradigms that might work against female executives and employees.
"Today, women are educated, competent, and known for multitasking, so as to why they can't do both is up to whether the family has evolved beyond traditional patriarchal norms," says Foot.
"There may be an expectation for women to have their own families, and there can be a perceived inequity between siblings if there are males in the family. The males can be expected to take over a role within the family [business or family office], and inequity emerges between the two siblings. If the female does not play a role in the family [enterprise], is she disinherited for the growth that her brother may have built? Or does she receive financial remuneration while her sibling is building equity in the business even if she doesn't work but is still a beneficiary of the company? Money is always emotional, never logical."
Article content
Lin Sternlicht is a therapist, family consultant and co-founder of Family Addiction Specialist based in New York City, where high-net-worth clients and their families struggling with addiction and other emotional and life issues receive support and guidance. She says the desire to be autonomous is a growing momentum among children of the ultra-wealthy, and she has seen an increase in clients seeking help to grapple with this shift.
"In recent years the number of young adults struggling to become independent has increased substantially, failing to find meaningful work or excitement in a particular career field," says Sternlicht.
"As such, young adults of UHNW families are often either moving back in with their parents or continu to be financially dependent on their parents completely if they do live on their own. The result of being overly financially dependent on parents without a sense of meaning or purpose for their career leaves them feeling shameful and depressed, and reduces their self-confidence and self-esteem."
Another aspect of this phenomenon is the emotional impact that threatens the family foundation Sternlicht adds. She says that the prospect of children building their own future outside of the traditional family structure can be painful for parents, grandparents and other family members.
"The hurt that this can bring to family members is realized by the child, which only serves to exacerbate their feelings of guilt and shame," says Sternlicht. "When their own future ambitions do not align with the family values or family expectations, they end up feeling chastised, isolated and having a sense of rejection. When their ambitions go against the family value system, they get distressed and lonely, and it can create conflict within the family."
Article content
Working with parents is crucial when it comes to therapy, Sternlicht says. While parents naturally lean toward protecting their offspring, providing their child with excessive financial support and emotional support has often contributed to their child's low resilience and their failure to focus on what they want to do with their future. Setting new boundaries is what Sternlicht aims to teach.
"Parents who come to us often have no other choice," says Sternlicht. "They come to us in crisis because they have let their child's problem progress without getting professional help, and they can no longer avoid natural consequences such as their child's low mood, anxiety, substance abuse, suicidal ideation, or other such result that failure to launch can bring.
"Keeping their family legacy intact is no longer their first priority, although through the recovery process their legacy can still be salvaged. Shortly after initiating the therapeutic process, parents often realize that getting their child help does not have to come at the expense of the family legacy – they are not mutually exclusive."
Ensuring that this topic is alive and approachable within family traditions as well as family business is essential to removing the stigma surrounding failure to launch syndrome for future generations, Sharma says.
"The families that are seeking change are the ones who advocate for mental-health support for their children and family," says Sharma. "That may be in the form of psychotherapy, business coaching, etc. Joining a family office that is well rounded in their support [financially and psychologically] is key to keeping their family healthy and continuing their legacy."