Take your Canadian ski vacation to the next level
Dine under a glacier or hop on a helicopter (or snowcat) on these domestic getaways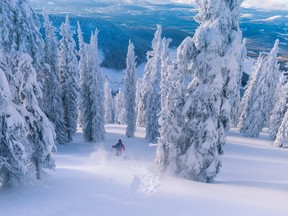 Article content
For Canadians hoping to resume their sun-and-sand getaways this winter, the federal government's recent reinstatement of an across-the-board advisory against non-essential international travel must feel like deja vu all over again.
Advertisement
This advertisement has not loaded yet, but your article continues below.
Article content
The good news: Domestic ski vacations remain much less problematic, with many Canadian resorts and tour operators providing well-heeled guests with unique snowy experiences, such as the nine explored below, that go above and beyond standard-issue ski trips.

Heli-skiing out of Panorama Mountain Resort, B.C.
Fun Canadian fact: Around 90 per cent of the world's heli-skiing takes place in British Columbia, where operators host guests in venues ranging from remote lodges to four-season alpine resorts. Among the latter, Panorama is home to RK Heliski, which uses Bell 212 and ASTAR B2 choppers to reach 1,500 square kilometres of Purcell Mountain slopes, glaciers and forests. As Canada's loftiest heli outfit, RK is famous for the fluffiness of the 11 metres of snow that typically blanket its enormous tenure each winter, as well as for being within easy walking distance of luxe lodgings and fine dining in Panorama's world-class resort village.

Heli-skiing from a yacht sailing out of Bella Coola, B.C.
There's next-level skiing, and then there's the all-inclusive "Soar and Explore" package from Bella Coola Heli Sports and Maple Leaf Adventures. Over the course of eight days, up to eight guests awake in luxurious cabins aboard the helipad-equipped MV Cascadia catamaran before joining their ski guides in a private chopper bound for a Connecticut-sized swath of the remote Coast Mountains. Evenings are spent dining on gourmet fare, receiving massage treatments and admiring views of the world's largest fjord network from the soothing confines of an on-deck hot tub. With the 138-foot Cascadia moving to a new mooring site every day, guests never see the same view twice.
Advertisement
This advertisement has not loaded yet, but your article continues below.
Article content

Heli-skiing out of Valemount Lodge, B.C.
Named one of the five most luxurious ski lodges in the world by Ski magazine, CMH Heli-Skiing's 10-suite Valemount location almost entices guests to skip guided helicopter excursions to the Cariboo Range east of Jasper National Park. But with 500-plus runs spanning snow-choked glades, thrilling couloirs and wide-open glaciers, Valemount's surroundings are irresistible to powder-seekers, even with a fireplace-equipped lounge, opulent dining room, spa and sauna waiting back at the lodge.

Backcountry skiing to Skoki Lodge, Alberta
Banff National Park's Skoki Lodge may sound rustic — there's no electricity or running water — but its plush accommodations, top-notch cuisine and candle-lit ambiance apparently kept the Duke and Duchess of Cambridge happy during their honeymoon in the summer of 2011. In winter, the 11-kilometre trail linking the historic lodge to Lake Louise Ski Resort is typically negotiated on touring skis — all the better for conquering the various climbs and thrilling descents — and new arrivals are welcomed with hot beverages, hearty soups and fresh-baked pastries.

Guided backcountry skiing out of Sun Peaks, B.C.
Anyone looking to escape lift lines, earn their turns and revel in pristine mountain scenery can check all those boxes at Canada's second largest ski resort. An hour's drive north of Kamloops, Sun Peaks offers one-day "Introduction to Backcountry Touring" courses that explore the fundamentals of safe backcountry travel, including terrain assessment, hazard analysis, companion rescue, equipment familiarization and powder skiing techniques, as well as one-day guided backcountry excursions that apply those fundamentals to the snowy slopes of 2,155-metre Tod Mountain.
Advertisement
This advertisement has not loaded yet, but your article continues below.
Article content

Self-guided backcountry skiing at Le Massif, Quebec
Think off-piste adventures happen only out west in Canada? Think again. A 90-minute drive northeast of Quebec City, the Le Massif ski resort is home to Mount Liguori, a pristine peak that lacks lifts and is never groomed. Accessible on touring skis, split snowboards or snowshoes, the untracked powder covering Liguori's steep, forested terrain rewards those intrepid visitors who reach one of three summits under their own power. Toasting those climbs at Le Massif's luxurious new Club Med Quebec Charlevoix requires much less effort, what with all apres-ski cocktails being covered by an all-inclusive format that's unique in North America.

Avalanche Skills Training at Revelstoke Mountain Resort, B.C.
Heading off-piste without a professional guide usually requires participants to be familiar with basic avalanche phenomena and safe alpine travel. This knowledge can be gained in a fun and friendly fashion at two-day Avalanche Skills Training (AST) courses taught by ski patrollers at Revelstoke, a two-hour drive from Kelowna International Airport (or a four-minute drive from private charters on the tarmac of the nearby city's namesake aerodrome). In groups of up to eight, participants learn how to recognize avalanche terrain, understand avalanche forecasting, plan a backcountry trip and perform a companion rescue using a shovel, transceiver and probe.
Advertisement
This advertisement has not loaded yet, but your article continues below.
Article content

Cat-skiing out of Red Mountain Resort, B.C.
After getting a taste of snowcat skiing on Red's Mount Kirkup, which can be climbed for $10 a pop in the tank-like machines, visitors to this storied resort near the U.S. border can stroll over to Big Red Cats for a full serving of guided off-piste adventure spanning eight nearby Monashee peaks. As well as encompassing some of the best glade and tree skiing on the planet — and unlike many expert-oriented heli-ski operations — much of BRC's 20,000-acre tenure is suitable for intermediate-level skiers and snowboarders.

Dining under a glacier near Whistler, B.C.
Should a romantic special occasion coincide with a Whistler ski holiday, Head-Line Mountain Holidays' unique "Blue Room" tour is sure to impress. After helicoptering over Canada's southernmost ice fields, couples travel by snowmobile, snow buggy or snow machine to a stunning complex of natural ice caves. A guided tour of the frozen labyrinth is capped by a private gourmet lunch in the tour's jaw-dropping namesake cavern. Optional add-ons include playing golf on the ice field — crevasses are presumably out-of-bounds — and extending scenic chopper flights to include volcano-top landings. How's that for fiery romance?
Get the latest stories from Canadian Family Offices in our weekly newsletter. Sign up here.