Owning a winery is the drinkable dream, but 'you'll never work harder'
Canada's wine business is booming, if you can find some land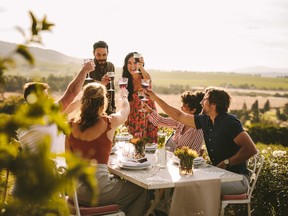 Article content
It's easy to buy into the dream.
Article content
Picture a vista of evenly spaced vines, the rich soil at their base breaking apart satisfyingly in your hands. Your past life spent in offices and meetings falls away. On the patio of your small-batch winery, in the amber of early evening, family and friends uncork a bottle of an exclusive red made on site, filling everyone with warmth and pride.
That's the ideal. Now for a swig of reality.
"Why do you want to get into the business?" It's the first question Eric von Krosigk, a winemaker and consultant in B.C.'s Okanagan Valley, asks potential clients looking to open a winery. "What's motivating you? My least favourite answer is when someone tells me they want to retire to the wine industry." The truth is, he says, "you'll never work harder."
Winemaking is of course about agriculture and manufacturing, retail and marketing. It involves distribution, tourism – with a tasting room or restaurant often on the premises – high regulation and, increasingly, climate uncertainty. Unless someone understands all of these areas, they're going to have a hard time, insiders caution.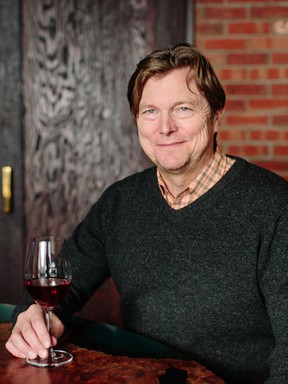 Take the wine industry in British Columbia and its unusual story. Since the 1990s, with freer trade between the United States and Canada, winemakers in B.C. had to improve the quality of their product if they wanted to survive. They uprooted existing vineyards and planted new varieties of grapes, taking major risks, but they succeeded.
Demand increased, and wineries now typically sell out their stock. In terms of market share, a fifth of the B.C. market is wine 100-per-cent provincially grown and produced (known as Vintners Quality Alliance, or VQA, certified wines). Yet B.C. wineries have a hard time increasing that market share because of the limited availability of land.
Article content
"A normal mature market would have 60 per cent at least of their own grapes in that market, and then 40 per cent imports. But will we get there? No. We don't have enough land," von Krosigk says. He sees the wine industry in B.C. less like France's and more like Switzerland's, with limited land and most of its wine consumed domestically.
It's a very inspirational industry, so people are drawn to it because they want something different for themselves.

Arnica Rowan, Terroir Consulting
With Ontario wines also reaching new heights in quality, land isn't the issue so much as provincial tax rules, which the industry argues are less favourable in B.C.'s more supportive structure. In the way Ontario wines are taxed, "they treat us as if we're an import in our own province," says Debbie Zimmerman, chief executive of Grape Growers of Ontario. The tax structure was developed when the province's winemaking was smaller in scale, she says, but it now needs to be updated for a more mature industry.
"Basically, what we're asking for is a taxation structure like B.C.'s," says Aaron Dobbin, president and CEO of Wine Growers Ontario. "To be perfectly honest, investment is going to B.C. because of that."
Land prices are high in B.C.
Yet, even with its supportive environment, entry into B.C.'s wine industry can be prohibitively costly due to land prices. "There will always be small wineries popping up, but it's become less and less because of the price of entry. Back in [the 1990s] or the early 2000s, somebody reasonably off the street, with a bit of financial acumen, could start up a small winery. It wouldn't be too difficult," von Krosigk says.
Article content
Today, prime land in the Okanagan, particularly along tourist routes, can go for as much as $380,000 to $400,000 an acre, he says, adding up to, let's say, $4 million for a field of vines and a dirt lot. Add an additional $2.5 million to build or refurbish a winery, update the equipment and perhaps add a homestead or restaurant. On top of that, a new winery requires a large, dependable cash flow from outside for at least a few years, until things are up and running. "Nobody is doing that on a wing and a prayer anymore," von Krosigk says.
These are of course only rough estimates. "There are a thousand different ways to make wine, and they're all correct, and there are a thousand different ways to start a winery," he says.
It depends on what the owners want to accomplish: How fast do they want to establish the business? What amount of grapes need to be bought from another vineyard, before the winery's own vineyards reach the right quality, which can take years? Will the winery grow by leasing additional vineyards owned by someone else?
How big do the owners want the business to be, or do they even see it as a business, or as a self-sustaining hobby?
Indeed, vanity projects can be found out there, says Arnica Rowan, partner in the wine consulting firm Terroir Consulting in Kelowna, B.C., but most vintners are attracted to the serious art and science of winemaking, and the tactile side of working the land.
"It's a very inspirational industry, so people are drawn to it because they want something different for themselves," Rowan says.
Article content
Frind Estate Winery example
The industry is welcoming to newcomers. There's little snobbery, although there are informal connections between grape growers and wineries and more than a little it's-about-who-you-know when it comes to securing grapes from other suppliers. "So, those relationships within the industry are incredibly important. And if somebody is new and doesn't have any relationships in the industry, it's very difficult to source grapes," Rowan says.
This is especially the case now with grapes in short supply because of extreme weather. Estimates are that the supply of grapes in B.C. has recently fallen by 20 to 40 per cent. Smoke from wildfires has affected the grapes as much as the heat, von Krosigk says.
Currently, von Krosigk is senior winemaker at Frind Estate Winery in West Kelowna, established in 2017 when Markus Frind spent some of the fortune he made selling his online dating company Plenty of Fish to buy a lakeshore property once owned by B.C. premier Bill Bennett for a reported $7.2 million. Frind moved quickly, converting land into vineyards and securing grapes from other sources — more quickly than the norm in an industry that marks time by seasons, not by daily deadlines. The winery now has a sizable 1,300 acres.
Back when von Krosigk started consulting in the 1990s, "every place around here was pretty much a working museum." Winemaking was much more makeshift. The equipment was old, and many wine drinkers found that reflected in the quality of the product. Now, standards are vastly higher (plonk is a thing of the past), and people are investing small fortunes.
Article content
You need a story, too
Yet equally important for winemakers is developing a story behind the wine. It could be an image that's very upfront, such as Wayne Gretzky's name and jersey number 99 prominently displayed on bottles and at the Wayne Gretzky Estates wineries in Niagara-on-the-Lake, Ont., and Kelowna. Or it could be an understated, family-owned operation with a close link to customers through email and social media. Knowing your audience is crucial if the aim is to be a business rather than just a place to sink money.
As Rowan says, "Wine is half-agricultural product and half-marketing. New wineries need an incredibly solid concept. And they need a unique point of difference that is different from everybody else. 'We make good wine' doesn't go very far as a concept. I mean, they need to make good wine, usually, but that's not a concept. 'We're unique, and we're from this special place,' that is not enough, either," she says.
"They need a special market that's interested in them. And they need a unique concept to be actually competitive and to make money."
Additionally, some distribution channels are underused, she says. For instance, on the packaging side, boxed wine (in a plastic bladder contained within a box) tends to keep better and can be convenient for those who want just a glass now and then and don't want to open a bottle. Some wineries are catching on, but the format remains under-utilized.
Yet all of these choices, even those that seem non-immediate, should factor into the earliest decision-making. As Rowan says, "Even with the act of clearing land or choosing a spot, you have to have a long-term business plan in mind when you are making the very first decisions," while remembering that a winery as an investment may not pay off for years.
Article content
But here's the strange thing: Even with limited land and a shortage of grapes and materials, to say nothing about the pandemic cutting into the restaurant side of the business, the B.C. industry has continued to do well.
"It's challenging because of costs and changing business models, but most of our clients have had record years. Because during Covid, they quickly pivoted. They got help where they needed to change quickly. A couple of our clients were sold out of wine halfway through the year," Rowan says, "Honestly, I don't know who hasn't had a record year in our client base."
Get the latest stories from Canadian Family Offices in our weekly newsletter. Sign up here.