Own a horse? You may be keeping them inside too much over winter, some experts say
One key action determines whether a horse has been properly prepared to feel comfortable outside in the cold weather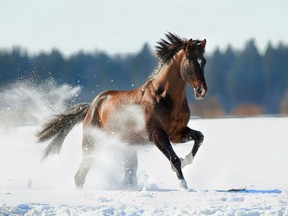 Article content
Horse owner Sue Wilson had always wondered why her horses seemed to choose the outdoors over the barn on cold days, days that she herself would prefer to be inside. So a few years ago she decided to track the movements of her horse, Whiskey, by periodically braiding a GPS tracker into his tail or using a specialized halter to gather data on and off for a year.
Article content
She discovered that 22-year-old Whiskey was an outdoor enthusiast who wanted to eat, sleep and socialize outside – even throughout an Ontario winter.
Wilson's 2019 research revealed that Whiskey chose to spend almost 80 per cent of his time outside throughout that year. He tended to spend more time in the barn in the extreme cold or extreme heat, while spending more than 90 per cent of his time outside in the moderate temperature range of -18 to +15 degrees Celsius.
There is heavy debate among horse owners about whether to keep horses inside barns in cold temperatures or leave them outside. But experts say that if the animals have proper food, a heated water source and shelter from the wind, and are given the chance to acclimatize and grow their winter coat, then they are much happier and healthier living the majority of the time outside.
"The majority of horses are kept indoors, in stalls, most of the time," Wilson, the founder of Wishing Well Services in Guelph, Ont., explains. "It's based on the whole anthropomorphization of horses. We think, 'It's bedtime, there's bedding in there, it's time to go to sleep now,' and they are in there for up to 14 hours a night."
Barn-bound horses are more at risk for illness, particularly respiratory problems, so it is important to consider an outdoor lifestyle. But Wilson says that many horse owners still don't think horses should be outside, which simply comes down to looking at the situation from the wrong angle.
Article content
"The problem is we don't think like horses, we think like humans," she says. "We think they need three meals a day and one big sleep, but this isn't the case at all. In fact, horses graze on and off for about 15 hours a day and then only need about 30 minutes of REM sleep in a 24-hour period, so they tend to just doze a lot throughout the day."
And cold weather alone doesn't normally make horses uncomfortable, but there are some important steps all horse owners should take – whether you live on the same property as your horse or it is boarded elsewhere – to ensure they are properly winterized.
"The horse is designed to be an outdoor animal," explains Marion Anderson, a doctor of veterinary medicine who runs the Equine Science Program at Olds College in Olds, Alta. "When you put a horse into an artificial environment like a stable or a stall, you're actually making their lives much more difficult."
And there is no need to dress up a horse in a warming blanket because they can grow their own winter coat, which keeps them warm, even out on the prairies.
"My horses stay outside year-round," Anderson explains. "And as long as they are allowed to acclimatize to the changes in season, as long as they are given the opportunity to grow a hair coat, and they have adequate food and shelter from wind, they are actually much healthier outside than they are inside."
But winter-coat growth has little to do with the cold temperatures. In fact, it's about the hours of daylight the horse experiences. As the number of daylight hours become shorter, the horse starts to shed its shorter, finer coat and grow its winter coat, so owners and caregivers need to plan for the process to occur.
Article content
Before you buy your fancy blankets for your horses – because horses actually do quite well in the wintertime if they're given the necessities of life – I'd look at their environment and what it's offering them.

Kathy Fremes, Country Hill Farm
"In order for the horse to have the opportunity to grow this winter coat, that horse has to be allowed to stay outside during that transition. … You can't just decide in late October that you want your horse to go outside because he hasn't had time to grow a coat," cautions Anderson.
Up-to-date vaccinations and deworming is also an important step to winterizing horses because, "just like people, they tend to congregate more so protection against infectious disease is important," she adds.
If you don't live on the same property as your horse, meaning they are boarded elsewhere, it is still important to know the ins and outs of the environment in which they're living, explains Kathy Fremes, owner of Country Hill Farm, outside of Stouffville, Ont.
"Owners, especially first-time owners, going into this winter, make sure you have a checklist, What kind of hay is your horse eating? And if you don't know what good hay is, make sure you take someone with you that does. Is the water going to be heated? Is there shelter from the wind? Go out to the paddock and see what kind of shape they're in, have a look at the fencing, all these kinds of things, because it's your horse that has to live there, not you."
Of particular importance is the quality of the hay the horse is eating, as this is a fundamental part of their diet, especially throughout the winter. Square bales tend to be better than large round ones, explains Fremes, because there is less tendency for dust and mould to form inside. It's also one of the highest costs stable owners incur. Freme herself just spent around $30,000 to feed her 20 horses for the year.
Article content
There is also the question of space. Fremes recommends about one acre per horse.
So there are a host of items to consider and reference books – like the National Farm Animal Care Council's Codes of Practice for the care and handling of equines – that would be a beneficial read for any owner to ensure you're investing your money in the right things for your animal.
"I would say before you buy your fancy blankets for your horses – because horses actually do quite well in the wintertime if they're given the necessities of life – I'd look at their environment and what it's offering them," says Fremes. "That's going to mean a whole lot more to your horse and how they get through the winter."
Get the latest stories from Canadian Family Offices in our weekly newsletter. Sign up here.