Ontario's cottage country: 'Demand is high ... and nobody wants to sell'
If market kick-off is any indication, buyers are still willing to pay top dollar for high-end properties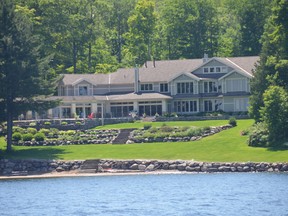 Article content
Lazy summer days at the cottage might feel priceless, but premium lakefront real estate comes with a steep price tag these days. And with the warm months approaching, the cost is still rising.
Article content
"The $3 million-plus properties are more like $6 million now," says Jack Janssen, a long-time real estate agent with Chestnut Park Real Estate Ltd. in Port Carling., Ont. "The demand is high, there is very little inventory and nobody wants to sell."
He estimates the average market price in his area – the coveted Muskoka region a couple of hours north of Toronto – has risen at least 45 per cent in the past two years as the COVID-19 pandemic made international travel difficult, if not impossible. Suddenly that upscale Canadian cottage or lake house – with 14,000 square feet, six bedrooms, seven bathrooms, temperature-controlled wine cellar, ample frontage, boathouse and helipad – is rivalling properties in the south of France.
If the beginning of this year's real estate market is any indication, wealthy families in Canada are still willing to pay top dollar for luxurious properties that have sensational views and are closer to home.

Chuck Murney, president of The Lakelands Association of Realtors in Huntsville, Ont., runs the numbers. In 2019, 20 cottages worth about $4 million each sold in the Lakelands region, which encompasses the most popular cottaging playgrounds north of Toronto, from Haliburton to the Blue Mountains. In 2021, that number had more than doubled to 52 properties sold.
"Everything is on fire now," says Murney. "There are still a lot of buyers that are out there looking to invest."
With so much pent-up demand, he doesn't expect prices to drop, although they could flatten as the world starts to open again and people become comfortable with travel.
Article content
Very low inventory
Greg Tait and Kevin Gilchrist, agents with Gilchrist Group in Collingwood, Ont., which is affiliated with Sotheby's International Realty Canada, has watched the stats for local waterfront properties tick up. In the Lakelands Central region, the average waterfront cottage was on the market for 147 days a decade ago. But in February 2022, it was snatched up in a mere 12 days, only one day longer than at the same time last year.
Tait points to a number of reasons why properties are moving so fast.

For starters, few buildable waterfront lots remain. Inventory of existing buildings, too, is very low as baby boomers hold on to their real estate assets for longer. Others are cashing in on their urban homes to invest their profits in cottage country, looking for whatever they can find. And don't forget the hybrid workforce that boomed during the pandemic – people are working where they play and ending Zoom meetings to swim, hike or ski in off-hours.
Bottom line, this buyer group is recession-proof. They don't really care what the market is.

Kevin Gilchrist, Gilchrist Group, Collingwood, Ont.
Gilchrist himself has already signed up for a new internet service, Starlink, which will mean he can work aboard his cabin cruiser, which he typically docks in Honey Harbour on Georgian Bay. "That's going to completely revolutionize where we can go and work, because I have to stay in touch with my office all the time," he says.
Chances are, company executives and founders are feeling the same way. With better tech services heading north, so can they. (Not to mention their video-game obsessed teens who want lightning speed everything.)
Article content
A safer place to park
What agents haven't seen lately are international buyers. Before COVID, Gilchrist helped them, including a billionaire from China and his entourage, find vacation properties in Canada. Then that business all but disappeared as borders closed.
"I suspect now we're going to see that change – and we'll see European investment coming into some of these luxury properties. They need an exit strategy," he explains, pointing out that Canadian waterfront property, whether in Ontario or other provinces, offers a safe place to park funds. During the 2008-09 recession, the market in his area dipped only 5 per cent and quickly bounced back, he says.
But many of the reasons families buy into cottage country have nothing to do with money. Just consider the popularity of Janssen's Muskoka area. Yes, new buyers can get more for their buck by buying property an hour north, east or west of the tony big lakes. And many do.
"But you lose the amenities," he says, pointing out that the southern region offers golf courses and a tight community. People boat to their friends' cottages for lunch.
"And if you want to take your kids to swimming lessons or hire a chef for the weekend because your brother and sister-in-law are flying in from France for a week, everything is available here."
Build it and pay
Buying one's way into coveted cottaging areas isn't necessarily as easy as paying for a property, hiring a decorator and moving in, however. Because most vacant lots have already been snatched up, or are double or even triple the price they once were, it's far more common to knock down buildings from decades past and build new.
Article content
But prices for teardowns and new builds have increased recently, too. What once cost $500 per square foot to build now runs $800 as materials and labour costs increase due to supply chain issues and high demand. Gilchrist runs a few quick mental calculations for the Thunder Beach, Ont., area of Georgian Bay.
"It's going to be hard to build a new home in Thunder Beach for under $5.5 million," he says.
What sells now
Based on the number of construction trucks bombing down nearby Silver Birch Drive, and the colossal new homes being built amid the springtime slush, enough high-net-worth buyers are willing to pay to get what they want.
"They definitely want sunsets, so west and south are their preferred views," says Tait. But don't forget current building trends, too. What sells now? Modern contemporary with straight lines, floor-to-ceiling windows and expansive views. Open-concept is still hot, and having a great wine cellar doesn't hurt, either. Bunkies for kids, teens and guests help create multifamily space, while finished basements, elaborate outdoor firepits and heated floors also get top marks.
And if the only land available is practically undevelopable, wealthy buyers have the means to blast away what doesn't work and remake the landscape.
"Bottom line, this buyer group is recession-proof," says Gilchrist. "They don't really care what the market is. If anything, if it declines a bit, we'll see more activity from them because things have settled. They're always looking for a deal – and have the cash to do it."