Moving? Family offices do more than schedule a truck
They co-ordinate with experts in real estate, business and even the best schools for the kids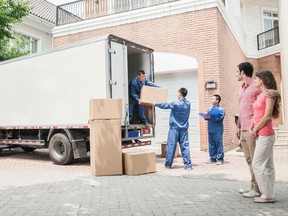 Article content
Among the many services that family offices provide, some can literally be moving experiences.
Article content
Family offices are called on frequently to help their clients relocate, whether it's to live in another city or country, to move the business or to open branches, or all of these.
These kinds of moves can be complicated for anyone, sometimes especially so for high-net-worth families who might be making them for both personal and business considerations.
Family offices help by doing the research and connecting family members with experts who can provide specialized services, from real estate and business conditions in the new location to doctors' offices and schools, says Richa Arora, family enterprise advisor with KMPG's family office team in Toronto.
"We will walk the full journey with families. We'll design the blueprint; it's a customized process for each individual family, but we try to provide a one-stop shopping experience."
Families need advice
The biggest benefit of working with a family office to manage a major move is that the office understands all aspects of both the business and the relocation, Arora says.
"We start with an initial discussion of what the family has in mind, and from there the services can vary. Some families will look to us for assistance on immigration issues, others for business and tax compliance, others more for family-related issues," she says.
We help on business matters, too, of course, but for relocation we become a family's personal CFO.

Dan Adams, KPMG Enterprise
Typically, her organization will divide a relocation plan into three parts, she says — the pre-move, the move itself and settling in at the new location.
Article content
"The family side can be really significant in the settling in phase. Sometimes it's helping with immigration, sometimes helping children adjust and sometimes it's general advice, which can be important if the move means that the full family is not going to be together after the move," Arora says.
These family-related issues can be key, she adds. Families look for advice on everything from neighbourhoods to schools. "We rely on our local network [of KPMG offices] to put you in touch with realtors, find the best schools, the best moving companies," she explains.
'Soft' skills are valued
A family office's professional help can overlap with personal help, too. "Sometimes we get asked to help plan family events — for example when some family members have moved and then everyone wants to get together. We also can co-ordinate the schedules of different family members," Arora says.
Most of all, though, Arora and other family office professionals agree that it's the "soft" skills that can count most. Families need advisors who will be there to listen when family members have those big questions: What do I need to be happy in my new home?
"Family offices need to have a holistic perspective," says Mark Auger, enterprising family office advisor and co-founder and CEO of Crysalia, based in Montreal.
Arora says this often requires family offices to facilitate when not every member of the family is moving. "These days we might have to organize meetings on Zoom [because of COVID-19]. Our goal is family cohesion," she says.
Article content
"Ultimately it's all personal. We help on business matters, too, of course, but for relocation we become a family's personal CFO," or chief financial officer, says Dan Adams, Atlantic Canada leader for KPMG Enterprise.
"We'll look after a family as much as they want us to look after them," he says. "It's about managing risk, and that means every aspect. For example, we'll look at things like tax planning, but we'll also look for the right health care. We look for solutions that give families peace of mind."
Singapore is a hot spot
High-net-worth people relocate for a variety of reasons. Sometimes a family member will be asked to move to establish or manage a new part of the business; some families seek to renew their roots in an ancestral land.
Some seek new opportunities in promising locations. "Singapore is attractive to many high-net-worth families right now," Adams says. And sometimes, adds Arora, people simply want to go where it's warm.
Paradoxically, perhaps, COVID-19 has sparked interest in relocation among wealthy families, Arora adds. While international travel continues to be restricted and people have to go through multiple COVID tests and quarantines when they move from country to country, the idea of working remotely in a comfortable place has intrigued many people.
Whatever the reason, she adds, "It's a big commitment to pack up and leave somewhere. Our biggest mission is to be there for them so they don't have to stay awake at night. We're there for peace of mind."
And, as Adams notes, "Even if you leave here, you can still come back. People are still in love with Canada."