Gifts for the person who has (or can buy) anything
Gifting and etiquette experts give suggestions for that hard-to-buy-for, high-net-worth person in your life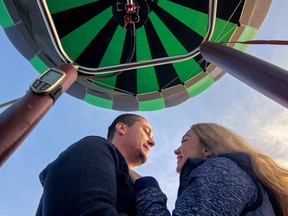 Article content
It can be stressful to try and come up with the perfect gift, particularly if you're trying to buy for someone who has, or can buy, anything they want. Maybe it's for an executive or a family member, or maybe it's a boss who is also a family member.
Advertisement
This advertisement has not loaded yet, but your article continues below.
Article content
Maybe you think that it's best to simply forgo getting a gift for someone who has everything. In reality, it's best to give a gift "because it's about expressing your gratitude towards them," explains etiquette expert Diane Craig, founder and president at Corporate Class Inc.
But Craig explains that there are some simple rules to follow when giving gifts, especially for businesspeople.
"For one, never put your logo on a gift," she explains.
Craig emphasizes the need to get creative when buying gifts for those who may have everything, but with all that the world has been experiencing this last year and a half, it might be a year to "look at a gift that emphasizes warmth and support," she explains, suggesting everything from cozy slippers to funny throw blankets. Look at something that says 'it's been a tough year, take care of yourself.'"
When a person has many material possessions, a great gift may be an experiential present, which can be personalized. Craig simply cautions the giver to think of the person's comfort level these days with crowds, as well as vaccine status when considering these options. "We have to be sensitive and respectful," she adds.
Experiences make thoughtful gifts
With that in mind, Breakaway Experiences has a long list of gift options for every level of comfort, from driving an exotic supercar, to virtual cooking classes with an executive chef, to a balloon ride with a loved one.
Advertisement
This advertisement has not loaded yet, but your article continues below.
Article content
"Everyone has a bucket list," says Dan Brennan, chief experiences officer and co-founder at Breakaway Experiences. "And there is greater interest these days in having experiences after coming through what we've just done because we've been stuck not having fun for so long."
While these are experiences that high-net-worth individuals may be able to give themselves, the point is to pick something you think they wouldn't think to get themselves. And if you don't get it right and find out you bought a balloon ride for someone who is afraid of heights, there are return policies in place to handle that situation, Brennan adds. "And the gift giver won't be offended if you exchange because "they got you the memories that you wanted."
"You know how they say, 'It's not the gift, it's the thought that counts?' It's true. It's about giving something unexpected."
Outside the literal box
Another main thing to consider when perusing gift options for a high-net-worth individual is to get creative and think, literally, outside the box, explains Peter Deitz, co-founder of Unwrapit, a company that specializes in unique, non-material corporate gifts focused in the areas of experiential, digital and philanthropy.
"Particularly, in the digital realm, gifts that can serve as personal artifacts or mementos can be really meaningful," says Deitz. Two examples of this are a hand-drawn, digital portrait of a loved one where the artist and style can be selected or giving someone the opportunity to capture their life's story or big moments through a professionally produced podcast.
Advertisement
This advertisement has not loaded yet, but your article continues below.
Article content
"Just by their nature, these options are good for the planet, but also incredibly meaningful and personal," explains Deitz.
Avoid filler
Don't just buy something for the sake of buying something, especially when the receiver may have (or has the ability to purchase) many material things.
Baskits Inc. is a Canadian gift delivery service company that designs, manufactures and delivers gift baskets all over the United States and Canada. But these aren't your average gift baskets, explains Robin Kovitz, chief executive officer and president.
"Each design takes three of four months of work to put together because each item is hand picked and chosen for its luxury," explains Kovitz, citing examples such as her company's cashmere sock line, candles and brass spoons as just some of the items that make up their gift baskets.
"Because it's all about the wow factor."
Get the latest stories from Canadian Family Offices in our weekly newsletter. Sign up here.