Custom-designed home cinemas turn viewing experience up to 11
Why return to movie theatres if you can have one built to cinephile specifications at home?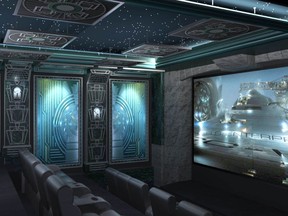 Article content
Of the many eye-popping spaces in the Edmonton home of NHL superstar Connor McDavid, the nine-seat theatre room stands out as a prime example of what affluent cinephiles and audiophiles can add to their homes.
Article content
Lined with custom sound panelling, filled with plush single and double armchairs and backed by a marble-topped counter bearing jars of candy and a popcorn machine, the custom-designed cinema sure looks like the ideal place for a hockey sniper to kick back after a long day at the rink.
But as relaxing as this and other ultra-high-end, in-home venues may appear, an enormous amount of hard work and expertise goes into designing and installing them.
"It's impossible to set up this kind of home theatre on your own, in the same way that it's impossible to build a high-end kitchen on your own," says Dave Ivancic, a sales specialist with Bay Bloor Radio in Toronto. "Everyone's dream system is different, and turning that dream into reality is a challenge best left to the professionals."
Here, three audio-video (AV) pros offer a step-by-step guide to adding the highest-end home entertainment systems to your household.

Step 1: Consider your space
Whether building from scratch or retrofitting an existing room, "it's very important to figure out who is going to be using the system, and what different family members want to get out of it," Ivancic says, adding that the number of seats in the room, and avoiding an acoustically inferior square shape, are the two factors that influence room dimensions the most.
According to Glen Hoffman, owner of 3-D Squared in Boca Raton, Fla., two rows of four chairs would require a room that's about 4 metres wide, 6.5 metres long and 2.5 metres high. He also suggests leaving about 2 or 3 metres of space behind the rear seats for a bar or counter, as McDavid did. With retrofits, Hoffman says, "most people don't have the freedom to build to such precise dimensions. And that's okay, because acoustic treatments will cover up any flaws inherent in the shape of your room." (More on those treatments shortly.)
Article content
Building from scratch is always preferable, says Justin Andrews, president of HTAV Inc. in London, Ont.
"That way you can put your speakers, screens and wiring exactly where they need to be to achieve optimal results. When you do a retrofit, you're often limited in terms of where you can run the wires, and you have to be prepared to do a lot of patching and drywalling to get it right."

Step 2: Choose your AV gear
With wiring being such an important aspect of home theatre design, AV equipment is usually selected before anything is built, Andrews says.
Start with the screen. Whether using a projector or a widescreen display, the optimal viewing distance is about 1.5 times its diagonal width, Hoffman says, with larger rooms requiring larger screens. He also recommends using in-wall or ceiling speakers that can easily be hidden behind acoustic panels so as not interfere with the room's design.
During the pandemic, more Bay Bloor customers are "going to the next level" with their gear purchases, Ivancic says. "They're tending to want the best stuff. I guess they're realizing how much time they're spending at home, and they want to make sure they're getting the best experience possible."

Step 3: Design time
Hoffman describes the interior design of a home theatre room as "the fun part of the process," adding that it involves everything from seating types and fabrics to cinema-style lighting to the location, shape and materials used in acoustic panels to decor themes ranging from modern or traditional to sports, red carpet, outer space or "whatever else their tastes dictate."
Article content
When cost is little or no object, a formal design package is typically put together by an interior designer in consultation with AV experts, Andrews says. This covers technical factors such as acoustic and sight-line optimization, electrical layouts, and heating and cooling considerations.
Other design decisions are more straightforward, he adds. "Windows are never a good idea, acoustically or visually. Home theatres should be dark."

Step 4: Installation and adjustment
After the technical and design elements of a home theatre have been analyzed and documented, Hoffman explains, a professional AV team can begin the process of wiring speakers, screens, lights and projectors, and adding sound insulation to walls.
Once this is complete and walls are closed off, construction of design elements such as stage risers and soffits can begin, followed by anything else in the design package: carpeting, mouldings, columns, acoustic panels, decorative elements, curtains and so on.
Seating and AV equipment are then added. Because acoustic panels, chairs and other design elements affect acoustic performance, it may be necessary for installers to adjust equipment so that the finished theatre performs at peak levels.
DIY buffs who perform the installation themselves are asking for trouble, Andrews says. In these cases, "90 percent of the time their wife calls and says 'my husband's been trying to fix this for months now, and I'm just sick of that. Can you please do it while he's not home?'"

Step 5: After-sales education and support
Post-installation services are sometimes needed. The service team at Bay Bloor teaches clients and their families to push all the right buttons to ensure their system is easy to use. They also follow up after installation to ensure that customers are happy, Ivancic says.
Some larger AV companies also offer maintenance packages for a monthly fee.