Canadian celebrities' stress eased by canine companions
Those in the public eye, whether through celebrity or wealth, benefit in wellbeing from pets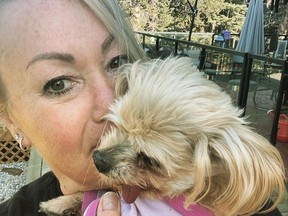 Article content
When his dog, Gus, passed away in April 2021, Canadian-American actor Michael J. Fox posted a tribute to the Great Dane-Labrador mix on his Instagram profile.
Article content
"Gus – great dog and loyal friend, we'll miss you," wrote Fox in his post, which included several pictures of him and Gus over the years.
Just five months before his pet died, Fox spoke to CBS News's Lee Cowan on the primetime special The Pet Project about how Gus shared a kind of telepathic wave with the actor that got him through rehabilitation following spinal cord surgery in 2018.
"He kind of circle[d] the wheelchair with this low kind of woof, woof, woof, woof, and sat in front of the wheelchair right in front of me, and looked at me, and I said, 'It's going to be okay.'"
For Fox, the connection was beyond what most dog owners might experience – his battle with Parkinson's disease is something Gus helped him through as a kind of "wonder dog," according to the pages Fox devoted to Gus in his 2020 memoir, No Time Like the Future: An Optimist Considers Mortality. And for many other Canadian celebrities, as well as those whose lives may be more scrutinized due to position or wealth, their dogs are just as important to bringing them comfort beyond the pressures of their lives.
"If the relationship between animal and human is good, it can be so beneficial to mental health," said Victoria Pollock, a psychoanalyst at a private practice in downtown Toronto. "It's not just celebrities who might benefit – anyone in a high-powered, highly scrutinized social position or work environment can benefit from that relationship. Of course, there is so much evidence, too, for trauma survivors, people with mental health disorders, and the list goes on."
Article content
To reciprocate that peace of mind, these famous, Canuck dog-owners are happy to give whatever they can back to their pups to improve the animals' quality of life.
Jann Arden and Midi
Singer-songwriter and Canadian Music Hall of Fame inductee Jann Arden says her Maltese-Yorkshire terrier mix, Midi, has been a reliable source of peace and love throughout the pandemic.
"There is no way of imagining my life without my constant companion," says Arden. "I wouldn't have made it through this past year without her. She is awesome company – kind of grumpy but funny and predictable and loyal to a fault. She's always so glad to see me and go where I go. She has watched hundreds of shows side stage, and I can always look over and see her peering out from her bag. It's just the best."
In return, Arden is just as adamant about sticking by Midi's side.
"I rarely ever leave Midi alone. She comes with me wherever I go, and if my dog isn't welcome, chances are you won't be seeing me. She is so small and delicate – I can't fathom leaving her anywhere by herself. She has a bag that she loves, and is happy to hop in and go to a fancy restaurant or a movie theatre or on a plane."
When it comes to meal prep, Arden has a loving, hands-on approach that ensures Midi gets the right nutrition. She also likes Midi to have a few stylish comforts.
"Midi has never really eaten dog food," explained Arden. "I pretty much make everything she eats because she is such a fussy eater, and I don't mean spoiled. It's very difficult getting her to eat at all. She's not motivated by food, like me, so if I can get her to have a decent meal every few days, I'm thrilled. Midi has loads of t-shirts and more stuffed toys than there is tea in England."
Article content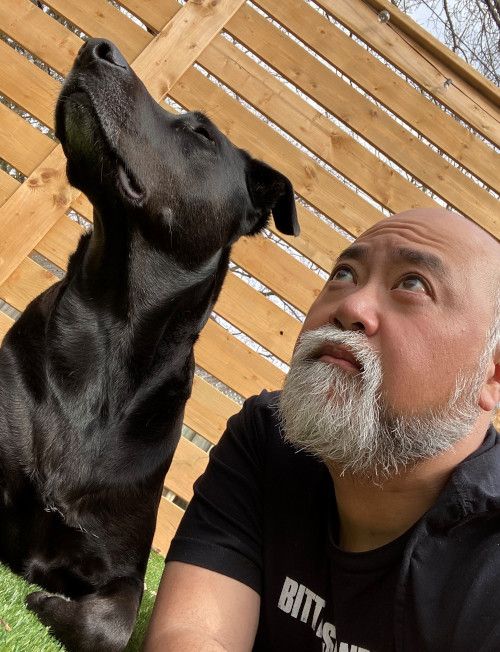 Paul Sun-Hyung Lee and Podrick
Like Fox and Arden, Kim's Convenience's beloved Appa, Paul Sun-Hyung Lee, feels a kind of calm wash over him and his family through the mere act of caring for his dog.
"Podrick brings so much not just to me but to my whole family," said Lee of the rescue dog who joined their family in 2017. "He's infused himself into the very fabric of our home life and we are so grateful to have him in our family […] For me, there's that peace of mind knowing that he's comfortable and trusting of us to take care of him and protect him. He puts things into perspective for me, because he finds so much joy in the littlest things, like getting a Greenie treat in the mornings, and he's such a calming influence. He knows when any of us are feeling stressed and will often come over and rest his head on our laps or curl up beside us. It's incredible how attuned he is to our mental state."
Lee says Podrick has also become a permanent fixture during summer barbecues, and has developed a taste for Starbucks.
"His favourite food of all time is steak," explained Lee. "He knows the word and patiently waits for his 'cut' of our dinner whenever we make it. I'll often buy too much steak so he can get the leftovers as a treat. He's also quite fond of getting a 'puppacchino' with us if we grab a coffee on our morning walks. He loves them. But most of all, to make him feel extra special, we give him lots of attention and playtime as a family. We love him."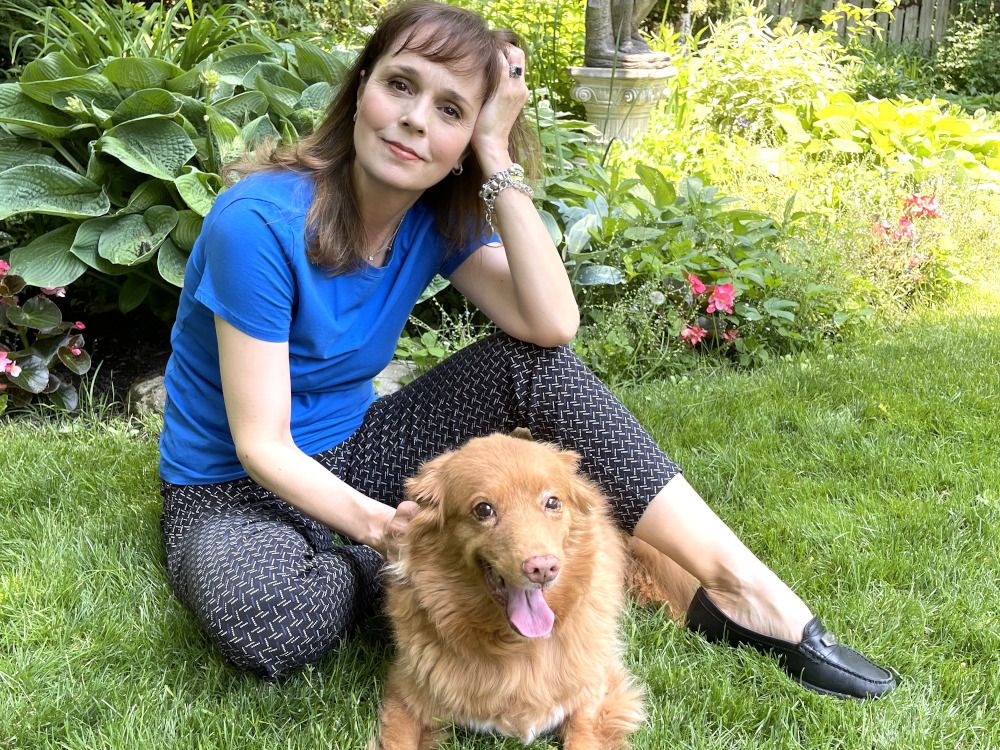 Cynthia Dale and Bella
Throughout the pandemic, television and theatre star Cynthia Dale has shared creature comforts with her followers on Instagram. Amidst candles, cups of tea and homemade pasta dishes, a Nova Scotia Duck Tolling Retriever called Bella is her favourite. Dale also refers to an almost psychic connection between her and her pet.
Article content
"Bella has been my constant soulful companion," said Dale. "I am the person she looks to most for food and for love. We have a bond that doesn't need words. I can smile at her from across the room and she will wag her tail and we know that we have both said, 'I love you.'"
When Bella developed arthritis a few years ago, Dale and her husband, retired CBC News anchor Peter Mansbridge, went to great lengths to ease Bella's pain.
"We have spent countless hours and great expense for every different type of therapy, expert and every drug that is available to help her mobility," explained Dale. "She still cannot move very well but her spirits are still strong, and I often think she will outlive us all."
Having grown up with dogs, Dale says she knows the importance of letting dogs be dogs, rather than treating them like children or toys.
"[E]ven though I have bought her countless dog beds, blankets and chew toys over the years, I do not spoil her with chic dog accessories," said Dale, adding that Bella doesn't sleep on the furniture. "Also, she doesn't get people food from the table, at least not from me – though I know for a fact that sometimes my husband and son break this rule. Sometimes she gets peanut butter with her daily pills that manage her pain and her arthritis, but usually dog treats work just as well. I do shower her with cuddles and love and rubs continually, so I don't think she really misses out on much!"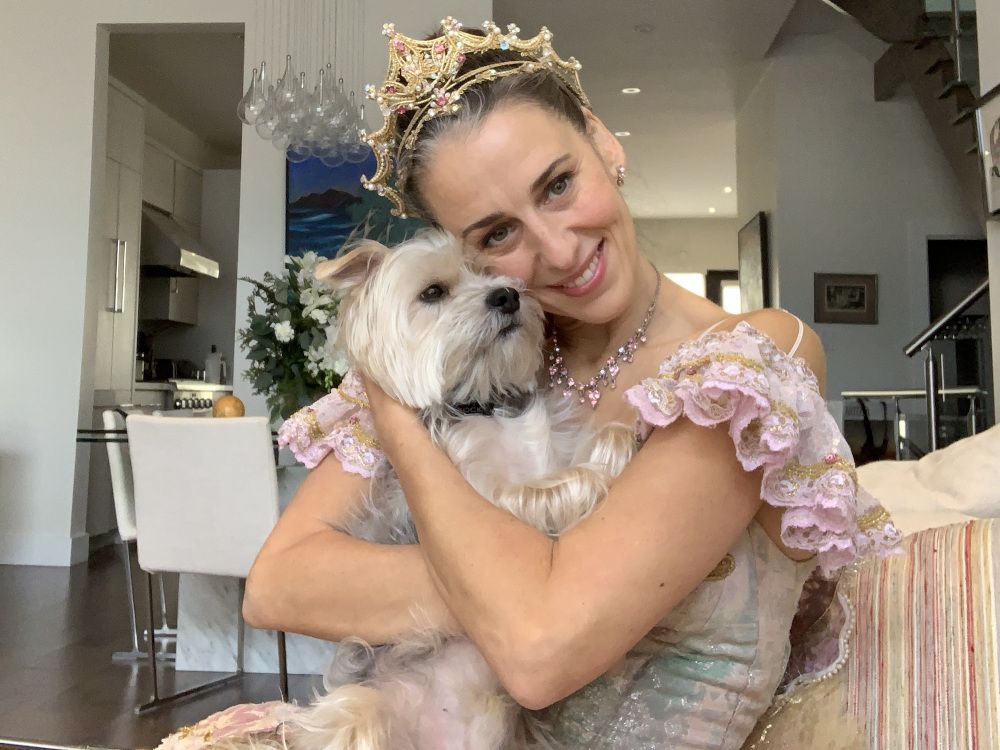 Sonia Rodriguez and Rocky
Much like Dale, the National Ballet of Canada's principal dancer, Sonia Rodriguez, prefers to give her family dog, Rocky, the gift of love rather than an extravagant lifestyle.
Article content
"The way we spoil him is not necessarily with material things but with an abundance of love and affection," said Rodriguez. "Rocky runs the house; he always has first pick on every couch or chair, and of course, has taken over everybody's bed at some point. He does have a constant supply of new stuffed toys and balls, as he loves to chew them until they are destroyed, and they don't last very long under his relentless attacks. He has also claimed all of the kids' collectable toys and all the balls I have for muscle release therapy."
As various stages of lockdown ebbed and flowed, Rocky kept Rodriguez and her family grounded.
"Rocky has been the greatest friend and the best playmate to my children. He's always ready to cuddle up with you if you are feeling down and is great at demanding love and massages. He is always ready for a good chase, a game of tug-of-war or playing hide-and-seek. He is an inseparable companion and has been the one positive constant in our lives during this pandemic. We feel so blessed to have him in our family. He is our little 'Rock Star.'"
If the recent global increase in dog adoption and rescue is any indication, dogs are doing something to ease people's nerves, be they celebrity, CEO, a member of high society or any of us, and mental health experts feel some canine powers cannot be measured.
"Our pets take us outside of ourselves," added Pollock. "Pets don't judge."