Buying a private island has become the latest property craze
In Canada, increasing competition for homes may be forcing buyers to make the off-shore leap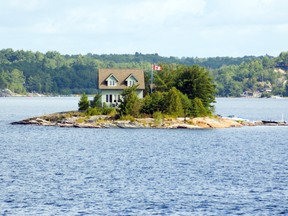 Article content
Many Canadians realized a year ago that they would be spending at least the next few months at home due to the fallout from COVID-19, so they started making improvements. Some renovated their home offices or kitchens. Others bought new homes with larger floor plans and more outdoor space. But a select deep-pocketed few decided to go a little further in their quest for pandemic comfort: they bought entire landmasses.
Article content
Brokers who specialize in private island real estate say 2020 was a banner year for sales, as moneyed buyers began considering the advantages of owning property that doesn't have any land borders with the rest of the world.
Chris Krolow, chief executive of Private Islands Inc., a Collingwood, Ont.-based company that markets and sells private islands internationally, has seen an uptick in business over the past 12 months, despite COVID-19-related travel restrictions that have made jetting down to tropical-island locations more difficult.
"I've sold more islands sight unseen in the past year than I ever have before," he said.
Buying private islands may seem like the domain of villainous plutocrats, but you don't have to have a murderous grudge against James Bond to appreciate the privacy and income opportunities that come with owning an offshore home somewhere tropical.
"The typical client that I'm dealing with is looking for their own personal private island, and they're looking to monetize it when they're not there," Krolow said. "Most of these higher-end islands are already set up as boutique resorts."
Of course, tropical islands have their downsides, too. Many of them are located far out to sea, so the costs of importing fuel and other necessities can be high. And because most owners don't intend to live year-round in their island abodes, it's often necessary for them to hire local staff to fend off the effects of the wind, salt and other ocean-specific hazards. Krolow said the annual upkeep for luxury islands in the Caribbean Sea can cost hundreds of thousands of dollars.
Article content
For the aspiring island owner with only a few million to spend, it might be wiser to stay close to home. Canada's lakes and coastlines are scattered with private islands and a few of them go up for sale every year.
Ordinarily, private islands sit on the market for a while and the prices they fetch are generally lower than those of similar mainland properties. That's because offshore living isn't for everyone. As a result, islands usually aren't in high demand.
"For buyers, you're definitely looking at experienced boaters, experienced cottagers," said Storey Badger, a Sotheby's International Realty broker who has a home on an island (but not a private island) in the Muskoka area north of Toronto. "You won't typically see first-time cottagers jump out to a private island."
This year was a little different, though. In Ontario's cottage-country destinations, where many of Canada's most desirable private islands are concentrated, resale housing markets have been unusually active.
At the end of 2020, the Lakelands Association of Realtors reported a 44.9 per cent increase in sales of waterfront properties in 2020 over 2019. In South Georgian Bay, the local realtors' association reported a 36.4 per cent increase in residential sales (including non-waterfront properties) over the same period.
The rapid pace of sales was not matched by an increase in listings, leaving housing supplies across cottage country depleted. As of the fourth quarter of 2020, there were 2.2 months of waterfront inventory in the Lakelands region, down from 7.5 months during the same period last year. Southern Georgian Bay was at 1.1 months of residential inventory at the end of January, down from 4.8 at the same time last year.
Article content
Increasing competition on the mainland may be forcing some island-curious buyers to make the off-shore leap.
"Prices are escalating," said Paul Heenan, an agent at Johnston & Daniel Rushbrooke Realty Ltd. "If you have two million to spend, you can get a lot more on an island than you can on the mainland."
At least four private islands have changed hands on Muskoka's big three lakes (Lake Muskoka, Lake Rosseau and Lake Joseph) in the past year, including: Meda Island, a 12.2-acre island, with a few small cottages, in Lake Muskoka sold for $2.4 million in June; Olive Island, a four-cottage compound located in Lake Rosseau, sold for $5.2 million in September; and Footes Island, a two-acre island located on Rosseau's northern tip, sold for $2.5 million that same month.
Highlands Island, a large private island in Lake Rosseau, sold for $10 million, but it won't be a private island for much longer. The new owners have subdivided the land and are selling off a few lots.
The new owners of these islands will have to overcome some unique challenges. A major concern is land access. Every island resident needs someplace on the mainland to park their cars and boats. More remote islands — such as those located kilometres off the Georgian Bay shore — may require expensive solar power rigs, generators and filtration systems. Groceries need to be boated in, and trash boated out.
Doing any sort of construction or renovation work adds another set of expensive complications. Arnie Coulson, owner of Coulson Bros., a barging company that serves the Muskoka area, said hiring a boat large enough to carry construction equipment can cost anywhere from $190 to $220 per hour.
Article content
The added expenses don't end there. Building or renovating on a private island often requires special techniques that can add time (and, therefore, cost) to the construction process.
"Environmental sensitivity is always the highest priority," Coulson said. "Everybody's here to enjoy the water and the trees, so you have a really fine balance of developing these properties and trying to maintain the natural integrity. We try to use equipment that has a small footprint."
Why go to all the trouble? Island owners say the lifestyle is incomparable.
Sandra Carrington's family has owned Marco Island in Lake Muskoka since 1981, and it has become a locus of family life.
"We have amazing views of the lake," she said. "We see sunsets, sunrises. We can entertain large groups without disturbing others. We've had 20-odd people staying in a single weekend."
The main house, a century-old structure, has 10 bedrooms and five fireplaces, and there's also a separate guest cottage with three bedrooms, plus a boathouse with a four-bedroom loft.
"My sister stays in the boathouse, my brother stays in the smaller cottage and, because I was the last to marry, I ended up with the main house," Carrington said.
Now, amidst a heated cottage market, Carrington's family has put Marco Island up for sale, with a list price of almost $5.2 million.
"It's definitely emotional," she said. "It's going to be difficult to pass it on to the next family."
But that family may not take long to materialize if the past year in the recreational property market is anything to go by.
Financial Post