Three-continent journey gives Daniel Trimarchi framework for cultivating success
Working in Australia, the U.K. and Canada offers him a unique view of family-enterprise space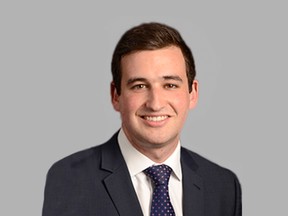 Article content
From Australia to the U.K. to Canada, Daniel Trimarchi has observed the family-business sector through an impressive roster of international connections.
Article content
In 2009, he joined KPMG "down under" as a co-op student while pursuing an accountancy degree. With his first exposure to the world of family enterprise, his interest was immediately piqued.
"You can tangibly feel you're contributing to their success," he says. "I'm not going to tell a $50-million company how to run their business, because they're pretty good at that, but I can help guide them from a family-governance perspective."
Working with family enterprises requires particular qualities, says Trimarchi, who today is director of family business enterprise services at KPMG Canada.  "You need to have a curiosity. You need to be able to park your own biases. Appreciating family and understanding family dynamics, the soft skills are important in the delivery.
"It's less about the advice we give and more about the questions we ask. It's being able to read the room. Let the silence do the heavy lifting; the second answer is always better. That's a skill that you can learn."
In 2016, after obtaining further accreditation through Family Business Australia, Trimarchi was seeking greater challenges: "I was wanting to do more, personally. And thankfully, KPMG, because of its global reach, was able to provide that."
In particular, he was attracted to the idea of working with the firm's Global Centre of Excellence for Family Business, which in those days was based in Paris. He resolved to make it happen.
"I do think you create your own luck in these things; you can build this to be whatever you want it to be," he says. So when a holiday took him to the U.K. at the same time that the global team was meeting in Scotland, he took the bull by the horns.
Article content
"I went to that meeting and met the U.K. team," he says. It paid off. Shortly afterward, he found himself relocating to London to build the family-governance team there. With this move, he gained professional ties to Asia, Europe and the Middle East and a strong sense of the subtle cultural nuances at play in different regions.
A lot of the businesses we're working with are second- and third-generation, whereas in the U.K., one family is celebrating its 350th anniversary – 12 generations.

Daniel Trimarchi, KPMG
He had already built connections with KPMG's Canadian team when its family office began to gain momentum in 2019. His skill set was a match with the needs of Canadian family offices, so he made another transcontinental leap – only to find it interrupted when a short visit to Australia turned into a six-month layover as COVID-19 hit in March of 2020.
Now in Toronto, Trimarchi's global perspective makes him uniquely qualified to understand the Canadian scene.
He divides his time between his work with KPMG's Family Office practice in Canada and its Global Centre of Excellence, where he connects virtually with 147 member firms. In these roles, he specializes in assisting enterprising families across North America to manage change and complexity by helping them to understand their objectives and plan for the future.
"Ultimately, family businesses are not new, but there's an evolution of the understanding around their nuances and the recognition as an industry. Many families that have been successful for many generations have had some kind of structure in place. It's almost as if the advisory industry is catching up with the market," he says. "I think the field is evolving, so we're better understanding how we can help."
Article content
Continuing studies
Trimarchi cultivates an avid interest in the research side of the sector, such as the work of Dennis Jaffe and James Grubman, authors of the 2016 book Cross Cultures: How Global Families Negotiate Change Across Generations.
"Jim and Dennis have done a lot of work on the cultural impact of business families. They are a great example of the hybrid between consultant and academic," he says.
He also mentions the STEP Project Global Consortium, an initiative that explores entrepreneurship practices within family businesses.
"We're developing a report that looks at how family businesses are focusing on the regeneration of their businesses, their families and their social and environmental commitments, to achieve both financial and non-financial ambitions," he says.
The effects of demographics are significant, too. For instance, as people live to 100 and older, succession considerations must shift to keep pace, he says: "Picking up on these things allows us to be in the forefront. All the stakeholders are benefiting from the education and research that are coming out from our collaboration with the STEP Project."
He is also interested in definitions of success. In addition to traditional financial metrics, "we now talk about socio-emotional wealth. How am I contributing to my community? How am I creating opportunities for my family members? Families may choose to make less money but uphold the success of the community."
Article content
Canada vs. the world
Trimarchi's international connections continue to deepen. Apart from his work with KPMG, he sits on the global steering committee for STEP's Business Families Special Interest Group, and serves as a faculty member of the New York-based think tank Ultra High Net Worth Institute.
Australia and Canada share similar histories, demographic makeups and number of new immigrants establishing wealth, he says. "A lot of the businesses we're working with are second- and third-generation, whereas in the U.K., one family is celebrating its 350th anniversary – 12 generations," he says.
Families in other countries have in the past faced the same issues that Canadians are grappling with, but have generally moved on to other stages of the business life cycle. "A lot of these issues, globally, are quite normal and predictable," he says. "Where they are on the life cycle might differ, but the idea of managing collective wealth and having a family office that supports that endeavour does not."
This gives Canadians a chance to learn from actions taken in other countries, he says, "and to add their own touch to it."
Furthermore, Canadian multiculturalism and continuing immigration offer benefits, including the large proportion of the population with experience of both a culture of origin and Canadian culture. This kind of "cross-pollination can be a huge competitive advantage."
Article content
The journey continues
Family enterprise tends to evolve spontaneously according to its own needs and logic, which can be a mixed blessing, Trimarchi says.
He cites Edinburgh-based thought leader Ken McCracken, whom Trimarchi worked with in London. McCracken uses the term "natural governance" to describe how, in the absence of formal governance processes, family enterprises handle their affairs.
"A lot of these family businesses have this way of operating. However quirky it might be, it works for them," he says. "But factors constantly change, on the wealth side and the family side."
In today's rapidly evolving world, it is critical for the family office to be able to pivot in response to external forces as well as to the family's internal dynamics.
"You need to work with families and learn from them, because our families are one of our biggest sources of information. But you can't just take what worked for one family and do that with another family," he says. "If we go full circle back to what we started with, it's about purpose and intention and adding value: that's what you're trying to achieve."
Travelling across three continents has been "a bit of a journey," Trimarchi says. "With every family I work with, I'm getting more and more experienced, but I'm never forgetting that knowledge part; I'm always learning. That's been my continuous journey."