Ten areas where family offices shine
From long-term thinking to considering all of a family's holdings, family offices offer advantages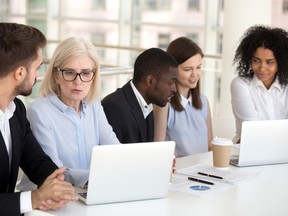 Article content
Why have a family office? It's a simple question, yet an important one for wealthy families. Do they need help in managing their investments, family businesses, estate planning, family dynamics, succession, philanthropy and other matters?
Article content
Here are 10 things for high-net-worth or ultra-high-net-worth individuals or families to consider.
Dedication
A family office is a comprehensive advisory firm dedicated to your family, not a roster of unrelated clients, says Chris Clarke, family office director, founder and chief executive officer of First Affiliated Integrated Family Wealth Management based in Collingwood, Ont.
"This ensures that the advice you receive is completely independent, objective and in your family's best interest," she says.
Efficiency
A family office can pull together and keep track of the many strands of investments that ultra-high-net-worth families hold.
"Family offices can manage multiple and significant control positions in listed and unlisted companies, as well as real estate holdings," explains Mark Auger, family office advisor, co-founder and chief executive officer of Crysalia Inc., based in Montreal.
Cost-effectiveness
In addition to keeping investment and asset management under one roof, family offices can streamline costs by avoiding fees that are tacked on by outside agencies for specialized services such as tax or estate planning, Auger explains. In a family office, the experts are all there and the costs are transparent.
Strategic thinking
There are two main types of family offices — single family offices that are dedicated to only one family, and multi-family offices that serve several clients, though all serve high- or ultra-high-net-worth clients. Both types are designed to be dedicated to long-term thinking over generations, not just whether the market will be up or down next week. "With a limited client base, they can think comprehensively," Clarke says.
Article content
Values
A family office can represent and articulate a family's values and societal objectives.
"A true family office develops a personalized investment strategy based on the client's values, goals and priorities, and benchmarks performance against both those family goals and the investment managers' mandates," Clarke explains.
This can align their values with investment goals in ways that express more exactly how the family seeks to deploy its wealth for the causes and objectives the family members seek. "Family offices take a holistic, multi-generational approach to your family's wealth experience. They focus not simply on the growth and preservation of financial capital, but also the human and social capital of the family, with a desire to empower the family legacy," she says.
Specialized service
Generic financial advisors can offer great professional advice, but it still tends to be more general than what a family office offers. Family offices are thinking about not just what's good for the portfolio, but also the family, Clarke says: "They attract highly experienced and accredited professionals who understand the complexities of managing multi-generational wealth and value loyal, trusted and long term relationships with their clients."
Transparency
The holdings of ultra-high-net-worth families can become unwieldy over time, as families grow and their assets increase and are spread among many alternative investments. A family office can help families figure out exactly what they own, says Robert Bezede, a director of Norton McMullen Corporate Finance Inc. in Toronto. That makes it easier not just to manage, but easier for the families to understand how it's being managed.
Article content
"A family office can track down exactly what the family owns and consolidate it on one sheet so they can see. It can take months to do this. This is something banks and other financial advisors don't necessarily do," Bezede says.
Consolidation
A family office can manage the excess capital that accumulates with the growth of a large family's investments and holdings. Management of this capital is more efficient if it's handled by one office, and it also lets families manage the flow of all the deals that are made constantly by super-large family businesses.
Family stuff
"Family offices aren't just about financial management," Bezede says. "It's really more like a personal team." In addition to financial managers, a family office can include accountants, payroll and human resources managers, travel co-ordinators, managers for various houses and vacation homes owned by family members, landscapers, drivers and even airplane pilots.
Family offices can also act as dispassionate, objective intermediaries when members of a family have differences. The family office puts the interests of the family ahead of those of individual members, and when individuals disagree, it can designate negotiators, to keep emotions cool and do what's best for all. A good family office will also balance talent that's needed to run the family office with the talents of the family members who are the owners.
Article content
Succession
What happens when a family spans many generations and its holdings are spread among members who barely know each other? A family office can help sort this out. In addition to offering advice, family office executives can mentor individual family members, helping them develop the expertise they'll need when the time comes to take the reins or to move a family's fortune in new directions.
"Most 'true' family offices are privately owned, preserving independence and objectivity," says Clarke. "They enhance service due to low advisor turnover, and a deeper understanding of the complexities that occur when business, love and money are in the picture. A family office works with all the family members, not just the wealth creator, to help ensure a smooth transition when the time comes," she says.