Tech inertia endangers the family office business
Offices need to embrace new technology to stay relevant or 'risk going the way of Sears or Blockbuster'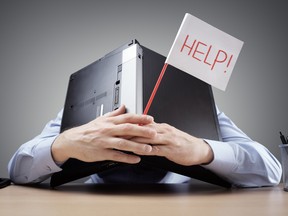 Article content
If you ask Rick Higgins, today's family-office managers could learn a lot from his mom.
Article content
Higgins is the chief executive officer of Risclarity LLC, a Colorado-based fintech company that helps family offices streamline the piecemeal jumble of data-aggregation and reporting systems many rely on. In the late 1980s, however, he was a teenager working summers in the family office run by his mother, filing receipts and doing general administrative work.
Eventually, as his mother turned the single-family office into a multi-family office, she ran into a problem: "Every time she brought in a new family," Higgins says, "she had to hire three bookkeepers just to keep up. It just wasn't scalable."
Higgins went on to earn an undergraduate degree in finance and a masters in information systems. In the '90s, he and a business partner began developing data-aggregation and web-reporting software specifically for his mother's business, helping to more efficiently pull together clients' voluminous financial information. That eventually became a company called Digital Partner, and it set him on the path to a career working on tech solutions for family offices.
Today, he's become one among many voices making the case that family offices need to embrace new technology to stay relevant in the years to come.
"If [family offices] choose not to innovate, they risk going the way of Sears or Blockbuster," according to Craig Iskowitz, co-founder of Ezra Group LLC, a consulting firm that provides tech strategy to the financial services industry.
Article content
That inertia, he says, is in large part due to "difficulty in justifying the cost of new IT infrastructure to the older generation that didn't understand the ability of new technology to improve efficiency. Many offices had a patchwork of systems and custom processes that made it difficult to find applications that met their requirements."
The result is a hodgepodge of legacy systems – functional but archaic – that don't communicate well with one another, often require extensive reconciliation, and whose financial reporting capabilities are often antiquated. That's to say nothing of growing cybersecurity risks or the untapped value that technologies such as artificial intelligence and blockchain represent.
In 2010, Higgins founded Risclarity, which aims to address some of these problems, helping family offices integrate their disparate systems through a proprietary data hub. It pulls together an office's data sources, unifies them and creates a customizable accounting and reporting system that can be tailored to the needs of an individual office.
Integrating systems is difficult
In Canada, Toronto-based Portfolio HiWay Inc. aims to fill a related niche, offering a digital investment platform for family offices and portfolio managers.
"Your typical family office probably will be using anywhere from half a dozen to a dozen separate applications or software services," says Bill Healy, the company's chief experience officer. "None of them really have the resources or the expertise in-house to effectively integrate all of these systems."
Filling that gap, he says, will be necessary as younger family members take control of the purse strings.
Article content
"Younger generations demand client experiences similar to what they have on their phones through apps like Robinhood," says Iskowitz. "[But] due to the highly individualized investment structures, many family offices will have to spend heavily to customize new software." (Higgins does point out, however, that he's seen plenty of tech-savvy family patriarchs and matriarchs, and plenty of Gen X and younger family members wary of new tech.)
Healy says, "We're kind of still stuck with these norms and obligations to provide traditional quarterly reports, and many people are more comfortable with that. But we're moving on from that age. … I think maybe the pandemic has been kind of an accelerator, because people have become more accustomed to technology to interact with one another."
There's no reason, he believes, why that wouldn't extend to a new comfort with accessing more robust, real-time reporting online.
Family offices are at increased risk for a cyberattack due to the potential for blackmail, extortion and smear campaigns.

Craig Iskowitz, co-founder of Ezra Group LLC
But perhaps the most important technological shift lies in the realm of security and privacy – key concerns for family offices.
"It's a psychological challenge," says Higgins. "For some people it feels more secure to have an in-house server, locked up in a closet in the back of the office. But realistically, no one is watching that on a regular basis, and as long as it's connected to the internet it's as vulnerable as any cloud system." He also points out that in-house servers also introduce a range of additional vulnerabilities including theft, natural disaster and fire.
Article content
As comforting as it may be to see all of one's data locked in a box somewhere, a well-managed cloud storage solution is generally more secure and more resilient to breaches and attacks.
Regardless of where data is stored, says Iskowitz, "family offices are at increased risk for a cyberattack due to the potential for blackmail, extortion and smear campaigns. This should be a unifying factor for all family offices, no matter their age or size."
Emerging technologies promise relief
Looking to the future, a range of emerging technologies promises major efficiency gains: Robotic procession automation can automate repetitive tasks such as data entry, freeing up humans to perform more demanding work. Big data and AI systems can help analyze investment decisions and complement human wealth advisors. Blockchain can reduce transaction costs and impart significant security and privacy benefits.
Higgins recommends any family office looking at update its technological roadmap to make sure it has dedicated talent to act as a guiding hand: an IT person with seniority, a chief technology officer, if the budget warrants, and someone in charge of cybersecurity. But he also warns not to throw out the baby with the bathwater when implementing new solutions.
"We're big advocates for using technology to gain new efficiency and advantages, but also leveraging legacy systems where they're still relevant," he says. "In some cases, those are the tried-and-true processes that have worked.
"We usually step in and evaluate each application on a specific basis: Is it working for you? What does it do, and what doesn't it? And how can it all work better together?"