Wealth report: Alberta is home to early-stage wealth, opportunities for family offices
With first-generation wealth comes the need for thoughtful advice and dip-resistant portfolios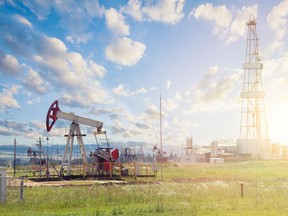 Article content
Alberta has always endured ups and downs, thanks to a fickle energy market. Fluctuations lead to budding wealth when the going is good — and the need for diversification strategies when it isn't.
Article content
High-net-worth families abound in Calgary and Edmonton. Although oil and gas are the bread and butter of the province's economy, accounting for 25.9 per cent of GDP, Alberta is quite diversified compared to other provinces. Tech entrepreneurs have begun moving in alongside real estate and home building firms in recent years.
Alberta's real estate industry accounts for 11.4 per cent, manufacturing for 7.1 percent, construction for 6.9 per cent and information technology (IT) and cultural industries for 2.3 per cent.
What differentiates Alberta from many other parts of Canada, however, is a high-net-worth community that's in the early stages of growth.
"The bulk of wealth in the province is first- or second-generation wealth," says Doug Byblow, an independent family office executive based in Calgary.
With early-stage wealth comes the need for advice – and opportunities for family offices, which are primed to help with transition strategies, education for families and the younger generations, and new approaches to investing to protect wealth.
Not many high-net-worth families are accustomed to having family offices manage their money.
"There isn't a prevalence of family offices here," says Andrew McQuiston, senior portfolio manager at West Oak Family Office, Wellington-Altus Private Wealth Inc., in Calgary. "It's a concept many wealthy families here aren't familiar with." A big part of his job is educating clients about what they can offer, and the need to protect capital.
Article content
Byblow says, "A big portion of the role is that of the co-ordinator, to guide and steer the process."
Education a big focal point
Kelly Demo, senior wealth advisor and portfolio manager with West Oak, describes Alberta families who made their money in oil and gas as humble and hardworking. "None of these families feel that they're wealthy even when they are," she says. "They're super-humble."
In cases where a client is new to the concept of a family office, it's important to determine exactly what their purpose is. "You want to define their overarching purpose for the wealth of their family," says Allison Comeau, chief experience officer at Grayhawk Investment Strategies Inc., in Calgary.
McQuiston says clients have to start asking themselves key questions. "They need to look at the purpose of this capital: Am I comfortable with my succession plan? Am I okay with my beneficiaries receiving all of this capital? Are they ready?" he says. "Often it's incumbent on us to step in and help them answer some of those questions."
One of the biggest worries is the preparedness of who is to inherit the wealth.

Allison Comeau, Grayhawk Investment Strategies
Byblow says the next step is utilizing practical, real-life experiences and putting clients through those experiences, whether that's an entrepreneurial venture, working with philanthropic organizations or taking on roles as trustees, he says. "The motto 'learn to do by doing' should stand many families in good stead."
Alberta families also are learning from networks of family offices and also other families of wealth both inside the province and nationally, Byblow says. "Those are really important, and I think it is a small enough and tight-knit enough group within the local family office circles that people are willing to collaborate and share."
Article content
Managing transitions
Alberta families also need help with wealth transitions. "One of the biggest worries is the preparedness of who is to inherit the wealth," says Comeau.
Demo agrees. "When you're dealing with first-generation wealth, this wealth hasn't been in the family for generations where they've got the policies and they've got the governance and they have mission statements," she says. "The wealth is new and the complexities are new – who is going to teach these kids to be good stewards of wealth?"
Next on the agenda is often a plan to ensure younger generations inherit wealth without hiccups, Demo says. These discussions can be about managing investments, taxes or establishing a legacy.

Facilitating communication between the family and advisors is key to ensuring that everyone is on the same page and that the outcomes are consistent with the objectives of the family – especially in families where there isn't a strong history of transitions, Byblow says.
"It's really a lot of support, a lot of good education, a lot of asking of questions and really trying to help the family make the best decisions possible," he says.
Need for investment diversification
Due to surges and setbacks in the oilpatch, Alberta families need to protect capital at all costs, says Comeau. "These waves are rising and falling dramatically," she says, and clients need to diversify.
"We're ensuring that whatever we're doing with their portfolio, we're trying to mitigate volatility within the energy industry," she says. Diversification can be achieved through investments outside the sector where the wealth has been created. For example, "if you're an Alberta client, it's less likely that we would put you into something energy-focused."
Article content
One successful approach for first-generation families has been to buy land, which Comeau describes as "the next wave of growth."
Unlike in Ontario, where there's a lot of investment in commercial real estate, "here, investment is more rural." Many families are banking on the value of their land holdings increasing as Calgary, Edmonton and other cities expand beyond their borders.
They might be on to something. Alberta's real gross domestic product grew by 5.8 per cent in 2021, and its economy is rebounding. Strong energy prices and a strengthening labour market are also bolstering the economy.
Regardless of what transpires, Comeau says many Albertans are blessed with an inherent sense of optimism that should serve them well in the coming months.
"People who have grown up in the energy industry, they always have had that optimism for that next big wave," she says. "They do believe that something good is still coming."
Get the latest stories from Canadian Family Offices in our weekly newsletter. Sign up here.