FEA designation preps advisors on how to serve enterprising families
It's increasingly being requested as a way to help implement a more cohesive, holistic approach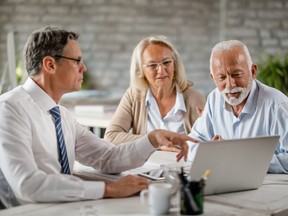 Article content
Allison Comeau didn't let a pandemic derail her plans. This past spring, the director of family advisory services with Grayhawk Investment Strategies Inc. in Calgary received her Family Enterprise Advisor (FEA) designation.
Article content
Comeau completed the program virtually over the winter. "It gives you a common language to work as a team together," she says, adding the program joins legal, accounting and investing professionals who work with family businesses across Canada.
Comeau says the designation, which is facilitated through Family Enterprise Canada, a national non-profit organization representing Canadian business families, is invaluable in dealing with specific concerns family businesses have. The program teaches participants how to liaise and work collaboratively with other professionals in the family office space, familiarizes them with the educational and financial needs of their clients and preps them on how to ask the right questions.
It also removes the silos that exist in family offices, forcing all players to come to the table together and strategize. "The program breaks down fear," says Comeau. "If you can have these conversations together it can accelerate how quickly the family can achieve its goals."
The FEA designation is increasingly being requested by family businesses, says Steve Legler, a family office advisor in Montreal who has held the FEA designation since 2014. That's because the program addresses a variety of issues that come up in family businesses and provides guidance to advisors on how to handle them. It also fosters a sense of collaboration and community – treating family businesses with a more cohesive and holistic approach.
Article content
Legler says that for him a big part of the course was collaborating with a diverse group of professionals from a multitude of backgrounds — among them education, insurance and psychology. He came away realizing that many issues faced by family businesses require a variety of sophisticated and multifaceted solutions.
Program has evolved
"Families are so complex that no one person can serve their needs," says Legler. "It was drilled into us to figure things out to properly serve the family."
The program has gone through several iterations since launching in 2013, says Russel Baskin, former national director of education and programming for Family Enterprise Canada. It has involved the partnership of the University of British Columbia's Sauder School of Business, the University of Alberta's School of Business and Western University's Ivey Business School. With seven modules and 15 days of interactive education, it is offered in Toronto, Calgary and Vancouver, with many virtual components. Each module builds on the previous one, says Baskin.
The faculty consist of experts in the family office field who are all practising consultants. The cost of the program and exam is $16,000.
Baskin says the relationships that result from the program are a big part of its success. They are often forged through extensive group work; there is a five-month group project in which participants work closely with a family. Faculty members help participants to see things from the family's perspective, says Baskin, who is now a Family Enterprise Advisor at the Telos Group.
Article content
Wider interest among professionals
"It's fast-paced and interactive," says Baskin. It's not academic but quite practical, she says, adding that because faculty members also work with clients, they can share usable skills with program participants. Candidates for the FEA designation are then encouraged to utilize their new-found skills immediately when working with family business clients.
Baskin says she has enjoyed watching the number and types of FEA designation holders evolve.
Don't just jump in and think: 'I'm going to add some letters after my name.' It's a lot of work.

Steve Legler, family office advisor
"When we first started the program we mainly saw people from the financial industry coming in," she says. "Now we see lawyers, HR professionals, management consultants, independent boards of directors and non-family members."
She's pleased that the community serving family enterprises is growing – knowing that each new connection means clients will be better served. Family Enterprise Canada also provides a directory of FEA designation holders that family businesses can access.
Handling family dynamics
Legler says one of his biggest takeaways has been how to handle issues generated by family dynamics, be they succession struggles or sibling rivalries. He says he has learned how to probe further and handle conflict better, skills he hopes to further develop through continued education.
"You have to figure out what the family wants," says Legler. That can mean being very direct about determining what the family needs, how it plans to make decisions and how it aims to reach its long-term goals.
Article content
Although he has found it invaluable, Legler cautions that the program isn't for everyone – it's aimed at those who are truly committed to learning everything they can about the clients they serve.
"It's something I recommend people consider," he says. "But don't just jump in and think: 'I'm going to add some letters after my name.' It's a lot of work."
Despite the time commitment, earning an FEA designation has become a focal point at Grayhawk Investment Strategies, where one or two staff members enrol in the designation program each year, says Comeau. Describing her experience as "fantastic," she encourages others in the family office realm to pursue the designation.
"There are so many families out there," she says. "Do the right thing for the family."