Family offices: 'We don't need to chase growth'
Four executives on how their firms look for new clients — or don't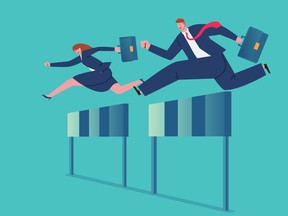 Article content
As the family office landscape has become more crowded with new entrants, competition for Canada's relatively small number of ultra-high-net-worth families has heated up.
Article content
It stands to reason that for established family offices looking to expand their client base, the growing number of new multi-family offices – as well as wealth-management firms and banks offering family-office-lite services – would make the competitive landscape that much fiercer.
But a survey of family offices finds that, for most, a slow-and-steady approach to expansion and client acquisition continues to win the race.
"We have never driven our growth by some sort of acquisition plan or some percentage growth plan," says Danny Ritter, a partner with Richter Family Office, based in Montreal. "We have said, 'How do we remain as relevant as we always have to the families we serve?' And they in turn are our No. 1 referral source … so our growth is really driven by client need, and client satisfaction."

In other words, Richter takes a passive strategy to acquisition – serving existing clients and ensuring they remain clients, and they refer high quality newcomers on a gradual basis.
Toronto-based Our Family Office takes a similar approach, onboarding only one or two new clients per month. Though a relatively new entrant, dating to 2017, its co-founders Neil Nisker and Tim Cestnick have well-established reputations, with lengthy CVs in Canada's wealth-management industry. Cestnick previously built a family office called WaterStreet Family Offices, which was sold to Scotiabank in 2010.
"Dramatic growth is the antithesis of what we're trying to accomplish," says Nisker. "When we go on a prospective client's shortlist, we're competing with firms in the United States, with the best on the continent."
Article content

Generally, however, the clients initiate the courtship. Even then, says Nisker, his firm doesn't take an overly aggressive approach to competing with those other prospects — in fact, he says his office is as likely to pass on a client because the fit isn't right as it is to take one on.
If you're all over the place, on LinkedIn and marketing everywhere, you can be perceived as prioritizing marketing and sales rather than serving your clients.

Michael Grondin, Samara
"It's good to have that flexibility," he says. "We're not in an industry with tremendous overhead; our costs are borne by existing clients and we don't need to chase growth … many business models need to find new customers, but our customers — unless we really screw up — will be with us for decades. It's repeatable revenue, an annuity."
Of course, multi-family offices (MFOs) with pre-existing reputations have what Ritter calls a "first-mover advantage" (Richter having more than 20 years as a family office, and nearly a century as a firm).
Meet Samara
That isn't the case for newcomers to the MFO space.
Samara is a new, Montreal-based family office founded this year as a partnership between private-equity platform Walter Global Asset Management, the private-equity fund W Investments Group and Michael Grondin, who left a position as a portfolio manager with RBC Dominion Securities to become the new MFO's president and CEO.

In Samara's case, being a new entrant meant it needed to find a niche and develop an onboarding strategy to build its initial roster of clients. It found the latter in Grondin's existing RBC client list.
"We just finished transferring almost all my clients from RBC," says Grondin. "Which was a tough journey I would say, we had to work hard on that … our firm is seen as a start-up, and you have to show that you're well equipped to serve people and build the credibility first – having the right board, the right partners, the right people to get that credibility."
Article content
In other words, showing a venerable reputation is vital even when building a brand-new MFO (Grondin, after all, was certainly not a stranger to his longstanding clients). Nonetheless, bringing clients to Samara meant, among other things, creating a 40-page governance framework to address what he saw as clients' main concerns about financial stewardship, confidentiality and security. Samara also didn't set a minimum net worth for clients, as many multi-family offices do.
'Discretion' is the word
But now that Samara is on its feet, Grondin sees growth moving at a slower pace, and he envisions the same word-of-mouth, steady-as-she-goes approach espoused by most peers in the space.
"When we talk about family offices, the thing that comes to mind is discretion," he says. "If you're all over the place, on LinkedIn and marketing everywhere, you can be perceived as prioritizing marketing and sales rather than serving your clients. Every business needs to be marketed in some way, but it's different in this business."
In Samara's case, Grondin aims to leverage social events and activities that engage existing clients and bring in referrals.
He sees an opportunity as well in an underserved market — Francophone Quebeckers. They tend to be newer to wealth than the province's Anglophone communities, and he sees an opportunity to serve this relatively new wealth.
Article content
On the other end of the spectrum is Northwood, a well-established player in Toronto that has grown substantially in recent years, now finding itself with about 80 clients and 30 employees — an increase of 30 per cent.
'Clients finding their way to us'
But here, too, the growth is more organic than targeted, which Sandra De Carolis, Northwood's vice-president of strategy and development, attributes in part to the firm's reputation as a thought leader in Canadian wealth management.

"That has in turn led to clients finding their way to us," she says. That especially has to do with the reputation cultivated by Northwood's CEO, Tom McCullough, in roles as diverse as adjunct professor at the University of Toronto's Rotman School of Management, or as the author of a number of books on family-wealth management.
The takeaway on family office client recruitment? Essentially, slow and steady wins the race, and overly flashy marketing is anathema to the discreet, quiet solidity that family offices seek to cultivate.
New multi-family offices are wise to find a niche and take advantage of pre-existing client relationships. And, in the end, do right by your clients and they'll do right by you.
Finally, choose new clients wisely, says Ritter.
"We're not looking transactionally," he says. "We're not looking to deploy a product or a one-off solution, so when clients come to us, we want to develop that relationship, and we want it to work for both parties. It's a lifelong relationship, after all."
Get the latest stories from Canadian Family Offices in our new weekly newsletter. Sign up here.