Family-office events offer connection, despite the pandemic
'Finding community' may be difficult, but calendar of conferences and events remains robust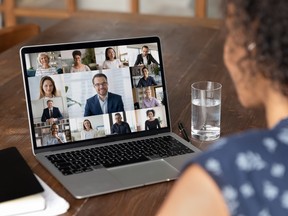 Article content
When was the last time you attended a live "meet and greet" at a convention to exchange ideas and build relationships? For most, it's been a long while.
Article content
Restrictions to curb the COVID-19 pandemic have cut a swath through the professional events calendar. For family offices, their clients and wealth managers, in-person gatherings were bright spots in the year – a way to stay connected and find community.
"In the family office space, where privacy is paramount, the family office executive role can be insular," says Douglas Byblow, an experienced independent family office executive in Calgary. "It's extremely important to have peer groups which understand the need for privacy but can offer insights and perspectives on issues of relevance."
During the pandemic, the financial events industry pivoted online. Virtual events that came onstream in 2020 have been tested, with new technology better able to offer a rewarding experience.
Byblow, who has served on steering committees and/or as co-chair of family office forums, agrees that virtual events can be successful. But he says some organizations may have paused, waiting for improved post-pandemic conditions rather than inaugurating events online.
He suggests that wealthy individuals speak with a trusted advisor to find an event that matches the client's interests and uses time effectively.
An assortment of coming workshops, seminars and events in Canada and the United States are listed below. Some are virtual, but in-person events are beginning to return, with vaccination protocols in place.
When making a choice, consider whether you want to dive deeper into a particular topic, connect with industry leaders or simply find inspiration.
Article content
WAIS (World Alternative Investment Summit), Canada 2021, Oct. 28, 2021 (online)
This is Canada's premier alternative investment event for hedge fund managers, exempt market product providers and dealers, high-net-worth investors, advisors, financiers, service providers or other industry experts. Delegates will focus on education and networking through an exchange of ideas and information.
Private Wealth Canada Forum, Nov. 4, 2021 (in person)
This invitation-only forum at the Toronto Marriott City Centre is sponsored by Market Groups Inc. (Attendees must be fully vaccinated.) It is designed for peer-to-peer learning and networking for the high-net-worth community covering private equity, hedge funds, real estate, commodities and other esoteric asset classes. Learn about allocations outside traditional markets, update knowledge on regulatory compliance and get a look at financial markets and the global economy.
#XYPNLIVE, Nov. 8-11, 2021 (hybrid: in person in Denver, Colo., and online)
This event is designed for fee-for-service financial advisors who want to reach a younger clientele by providing comprehensive financial planning services for a monthly subscription fee without product sales or asset minimums. Because different advisors need different advice, this conference allows participants to identify needs and choose one track to follow through the week or bounce between. Participants can also choose a coach for a one-on-one session.
Article content
Families Summit of Minds, Nov. 12-13, 2021 (online)
Business families across the country can make new connections at this event, where Family Enterprise Canada will play host. Panelists will focus on timely topics including health care, climate change, automation and inclusivity. Participants will learn how to accommodate generational divides, how to identify what is urgent, what takes priority and what entrepreneurial families should be acting on now and for the longer term.
FOX Enterprise Family Planning Workshop, Nov. 15-17, 2021 (Chicago, and online)
In this two-day workshop, participants will learn how to manage what started out as a family business that has evolved into multiple businesses, major real estate holdings, investment portfolios and philanthropic interests. This workshop is geared toward family members, family office executives and trusted advisors. This Chicago-based group welcomes international attendees who want to network with U.S.-based attendees.
Capital Connection Conference, Nov. 16-17, 2021 (online)
This event is sponsored by ACG Toronto, an association that facilitates deals in the mid-size mergers and acquisitions market. This year's theme is "The Roaring Twenties 2.0 – Winning With Agility in Private Equity and M&A." A diverse agenda will cover 14 topics with more than 40 industry leaders from across North America. The event will bring together mid-market company executives, business owners, intermediaries and service providers with influential executives from Canadian and U.S. private equity firms, banks and specialty financial institutions.
Article content
Montreal Family Office and High Net Worth Conference, Nov. 16, 2021 (in person)
Sponsored by DC Finance, this gathering at the offices of Fasken, Montreal, will cover investments, asset protection, family business and estate planning. Participants will be invited and vetted by DC Finance.
Vancouver Family Office and High Net Worth Conference. Nov. 25, 2021 (in person)
Also sponsored by DC Finance, this event at the offices of Fasken, Vancouver, will feature a panel of experts including Tal Kerret, president of Silverstein Properties; David C. Bentall of Next Step Advisors; Philippe de Gaspe Beaubien III, serial entrepreneur, and Stephen Ibaraki, chairman of REDDS Capital. Participants will be invited and vetted by DC Finance.
STEP Special Interest Spotlight Sessions, Nov. 29 – Dec. 8, 2021 (online)
These 90-minute webinars are offered to members and non-members of STEP, the Society of Trust and Estate Practitioners. STEP is a global professional body made up of lawyers, accountants, trustees and others who help families plan for the future. Webinar topics include modernizing powers of attorney for the digital world; a road map to the next generation's priorities; and estate planning of crypto assets and non-fungible tokens.
Canadian Real Estate Family Office and High Net Worth Conference, March 15, 2022 (in person)
This conference is to take place at the Toronto offices of Stikeman Elliott. Topics to be covered include investments, asset protection, family business, estate planning and others. Notable speakers are promised for 500 to 1,000 people, which allows for networking opportunities.
Get the latest stories from Canadian Family Offices in our new weekly newsletter. Sign up here.