CI deal will bring stability and continuity of service: Northwood
CI can 'provide permanent stable capital, help us grow, and allow us to retain the same entrepreneurial culture and objective advice approach,' says Northwood head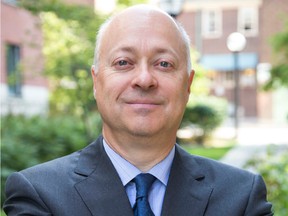 Article content
Northwood Family Office Ltd.'s acquisition by CI Financial Corp. will create a powerful firm that enhances Northwood's service to ultra-high-net-worth families, says the firm's head.
Article content
"There are several reasons why CI is an exceptional strategic and cultural fit for our firm," says Tom McCullough, chairman and chief executive officer of the Toronto-based multi-family office.
"We wanted a partner that could provide permanent stable capital, help us grow, and allow us to retain the same entrepreneurial culture and objective advice approach," McCullough said.
Northwood has about 80 client families, with assets ranging from the firm's entry level of $10 million in net worth to some with more than $1 billion. It manages about $2.2 billion of investment assets and $9 billion of family net worth, the company says. Its clients include entrepreneurs, senior corporate executives and charitable and family foundations.
"Nothing is changing for clients on a day-to-day basis. They will still have the same service team, custodian, fee schedule and independent objective advice and counsel that they have come to value," McCullough said.
"We will maintain the same high-quality relationships with our clients and enhance the services we provide, while taking advantage of the tremendous growth opportunities available in the family office segment in Canada."
The acquisition increases CI's Canadian assets to about $81 billion, with total global assets under management of about $338 billion.
Article content
It adds scope to the investors the company serves, CI Financial's chief executive officer Kurt McAlpine noted in a statement. "With the addition of one of Canada's leading family offices, CI can now seamlessly serve the entire spectrum of wealth management, from beginning investors to the nation's wealthiest families."
The second reason the acquisition makes sense relates to the types of clients Northwood serves, McCullough said.
About half of its families are entrepreneurial. "Because family offices typically work with families for many generations, it is important for them to have a long-term, stable strategy, and the capital to retain and incent the best family office staff in the industry to ensure sustainability and longevity," McCullough said.
"A financial and strategic partner can often make sense, assuming the client-centric focus doesn't get lost in the shuffle. We are confident we have found a partner that will both help us sustain our unique client service model and grow our business," he added.
The acquisition of Northwood, expected to close in the second half of this year, also adds another dimension to CI Financial's range of services, according to Canaccord Genuity analyst Scott Chan.
He wrote in an analysis that the deal "will provide [CI Financial with] an established ultra-high-net-worth presence in Canada, thereby addressing clients through the entire wealth management spectrum."
Article content
Financial terms of the deal were not disclosed.
McCullough noted that his multi-family office, which he co-founded in 2003, has a team of advisors whose members are highly motivated to specialize in this area of financial services. "It's an area that's growing in importance to the economy as more families join this [ultra-high-net-worth] category when they sell successful businesses."
He adds that family office services are "not just about investment — it's about what motivates people," he said. "Our team helps clients set priorities. We help people determine what they want to do with their wealth, and with their lives."
McCullough is co-author of Wealth of Wisdom: The Top 50 Questions Wealthy Families Ask and a forthcoming book called Wealth of Wisdom: Top Practices for Wealthy Families and Their Advisors. He also teaches in the MBA program at the University of Toronto's Rotman School of Management.
Family offices are becoming more important to the Canadian economy as more high-net-worth families seek the specialized and personalized services these offices offer, McCullough added.
While noting that wealth growth has widened an income gap, Yelena Larkin, associate professor of finance at York University's Schulich School of Business in Toronto, adds that there are now more ultra-high-net-worth families and they need the complex services that family offices offer.
For wealthy families, transactions such as the CI Financial-Northwood deal that increase concentration of ownership may enhance the service they get by bringing different aspects of financial advice and management under one umbrella, she added.
Article content
Ownership of publicly traded firms in general is becoming more concentrated in Canada as well as abroad, Larkin said. "But in Canada, ownership in the financial sector has always been extremely concentrated," she said.
McCullough said that, while family offices offer clients advice for navigating the current turbulent economy – which is marked by high inflation, upward pressure on wages and looming hikes in central bank interest rates – they are already looking beyond conditions triggered by the COVID-19 pandemic.
"We're not that interested in what the U.S. Federal Reserve is going to do with interest rates tomorrow. We look at things over the longer term for our clients," he said.
There's a straightforward reason why there have been a lot of merger and acquisition transactions involving wealth management firms and multi-family offices in recent years, McCullough said. "The number of ultra-high-net worth families in North America has grown exponentially in the last few decades and the number of family offices has grown apace," he explained.
"When I started this business [Northwood] 19 years ago, nobody even knew what a family office was. Now everybody wants to be a family office," he said.
Get the latest stories from Canadian Family Offices in our weekly newsletter. Sign up here.