Assigning the three R's to family members can hold them together
But determining each person's roles, rights and responsibilities is something many families avoid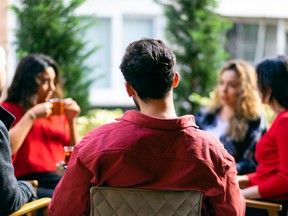 Article content
Determining who does what is critical in ensuring a wealthy family functions well. Indeed, doing so can help hold a family together.
Article content
That's because when a family sits down and identifies how each member will function and behave, the success of the family's financial and philanthropic goals are possible, says Elizabeth Anderson, vice-president of Whittier Trust Co. in South Pasadena, Calif.
Yet assigning roles, rights and responsibilities is something many families avoid – leaving their members and legacy in peril, especially when succession is on the table.
"It's so clearly beneficial for those who do it," says Anderson. "Identifying the rights, roles and responsibilities ahead of transitioning is what the family needs to do."
Taking the time to establish what roles each family member will play can be a bit tedious or frustrating, particularly if the needs of one family member aren't aligning with the rest of the family's, says Sloan Levett, partner and practice lead, family office, at Fuller Landau LLP in Toronto.
But the benefit is long-term stability. "Think of family governance as an investment in the next generation," he says.
Drafting the rules
It's for that reason that the first thing a family should do is to set up a family meeting, which can be monthly, bimonthly or annual. The goal should be to draw up a document that becomes the blueprint for how the family operates, says Neil Nisker, co-founder, CIO and executive chairman of Our Family Office in Toronto.
"The first thing should be a family constitution and a governance model, and within the governance model there are terms of reference," he says.
Article content
You have to articulate what the consequences are of breaching the code of conduct.

Elizabeth Anderson, Whittier Trust Co.
The document should describe how all meetings will be carried out, how individuals are expected to behave and what consequences a person could face if they breach decorum. Anderson says this should foster positive communication, as well as list how to deal with issues should they arise.
But hammering out these rules may highlight family differences. "It's important for people to reconcile themselves with the idea that everyone in the family has a different sense of what's fair," says Anderson.
Once that's been determined, make the new rules enforceable, she suggests. "You have to articulate what the consequences are of breaching the code of conduct," says Anderson. "The benefits of doing this is you're valuing all of the people in the family."
Assigning everyone a role
Anderson says that the initial meeting should include a discussion of what each family member is interested in, what skills they could bring to the table and roles they feel comfortable in. It can include establishing who can vote on key decisions – whether it will be only those involved in the family business or other members as well.
Levett says that role determination should involve a thorough assessment of the core skills of the family. Is there someone with financial knowledge that can aid in taxation and investment decisions? Or an individual who will be responsible for governance and family communication, ensuring that every member is up to speed on what's happening?
Article content
Another role might be to ensure the family's legacy is carried out. "Align your family members as best as you can," advises Levett.
Keep communication channels open
Other topics might include how board decisions will be communicated to the family, and in what format. This might include discussing the frequency of these communications, and ways members can respond and provide feedback.
"Give everyone a sense that their opinion holds value and allow them to have a voice," says Anderson.
Anderson is a big believer in full transparency, with everyone in the family kept abreast of any developments. "The biggest problems I've seen is when you have a slip-up in communications," she says, with those members involved in the business privy to more information than those who aren't actively involved.
"If something is a surprise, it can create bad blood. It's always better to know," she says.
Nisker agrees. "It has to be collaborative. You need openness and transparency," he says. If the process is inclusive, things will run smoothly. "If you do it right, you won't have to police it," he says.
Don't forget education
Nisker says a big part of ensuring a family's legacy is carried out is through education. Once a family's goals have been determined, it's wise to ensure younger generations learn and respect these values.
Article content
"We start educating our clients' children at a young age," he says of his ultra-high-net-worth clients. He says children need to comprehend that as future inheritors, they need to behave according to the family's wishes – and learn how to manage their wealth wisely.
"I teach our clients' children about reputation risk," says Nisker. "Young people often don't understand the consequences of their actions."
He says this education can also involve careful messaging around a future inheritance to prevent poor financial decision-making and a sense of entitlement. "How much do you tell the 25-year-old about the $400 million trust fund they stand to inherit?" says Nisker. "They have a lot of wealth and they should know how to invest that money."
Build in provisions for change
Nothing is carved in stone when it comes to family business and legacy plans, says Anderson. Children in the family may change their minds as they mature – and take a more active role in the business – or bow out altogether. "It's ever-evolving," she says.
In addition to building in flexibility that can allow a family business to pivot as things change, she says having an outside board or group of directors who weigh in on the business can also help ensure its viability in the future. "This raises the value of the company generally because they're tapped into the business side of things," says Anderson. "It can make it healthier and make it easier to sell."
All in all, putting in the work at an early stage to assign roles and responsibilities to family members can help ensure the preservation of a family business and prevent the unexpected loss of wealth, says Anderson.
"It sounds like a lot of work to organize your family this way," she says. "But there's a lot potentially financially at stake."