Amid wealth boom, family offices become must-have 'accessory'
Bespoke management, formerly the perk of world's wealthiest, is 'symbol that a family has arrived'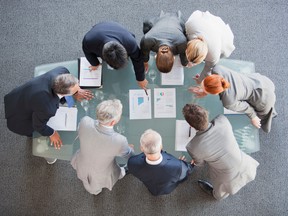 Article content
If someone happened to ask you how many dentists were working in Canada, it would be easy to find out – it was about 24,731 in 2018, if you're curious. The same goes for doctors, accountants and other nationally licensed professions.
Article content
Family offices are a different story. Partly because of the confidential nature of their business, and partly because no single licence covers all of them, no one knows exact numbers. But everyone agrees they're multiplying quickly, leading some to wonder whether the family office has become the newest status symbol.
In 2008, there might have been about 1,000 family offices worldwide; by 2012, the number had multiplied to several thousand in the United States alone. In 2018, EY reported the global total as about 10,000. In 2021, Campden Wealth Ltd. and RBC estimated that North American family offices were collectively responsible for US$179 billion in assets under management.
With its smaller population, Canada certainly has far fewer family offices than the U.S., but any estimate would likely fall on the low side, says Richa Arora, senior family advisor with KPMG Family Office in Toronto. She says this is, in part, because the sector is in flux, with some firms that might formerly have been called wealth managers rebranding themselves as family offices.
"I have worked for about 15 years in the multi-family office space, and I've never seen so many new competitors in the past two years," says Mindy Mayman, partner with Richter Family Office in Montreal.
This expansion across Canada is partly related to demographics. Many family enterprises founded in the 20th century are being passed to next-generation family members or sold to new owners, resulting in so-called "liquidity events" that have obliged the former owners to learn the new business of managing great wealth.
Article content
But is this proliferation also partly driven by a wish to keep up with the Joneses?
"Perhaps because family offices were almost always associated with iconic families, and most families could not access them, they were always seen as bespoke and high-touch. And that's very appealing," says Tina Di Vito, Canadian family enterprise leader with EY, based in Waterloo, Ont.
I think certainly there is an element of 'status symbol' to being with a family office or having one's own family office.

Mindy Mayman, Richter Family Office
Today, "with the growth in wealth and the concept of a multi-family office, more families can use the services of experts to help them with their wealth, estate, tax planning and family governance," Di Vito says.
"With more choice than ever, families should really reflect on what's motivating them to establish a family office and decide if and what type is the best fit for them," says Arora.
Mayman says a family office is a "symbol that a family has arrived, because it's understood that a family has to have a certain level of wealth to have one. I think certainly there is an element of 'status symbol' to being with a family office or having one's own family office."
High-net-worth individuals are still rather private people, she says, and publicizing your wealth has its own risks. One of the most valuable perks of a family office is that "it makes them part of the 'family office club,' and they can associate with other people of the same level of wealth. They can potentially come together to share ideas."
So it is a status symbol, Mayman says, but not because it is a means to show off. It is, in fact, a tool for ensuring privacy and propriety.
Article content
As they're growing, family offices are also evolving.
"Ten years ago, the conversations were more driven by, for example, what asset classes the family was going to invest in," says Arora. Partly due to influence from the more developed family-office landscapes in Europe and even the U.S., "in Canada, the conversation has shifted from family offices being primarily driven by the wealth-management function to being centred on the family itself."
This is bringing some of the softer skills into the spotlight, she says, such as succession planning. Also, the roles of single- and multi-family offices are becoming more clearly delineated. "With single-family offices, families want more control; they want to play a part in co-creating what the family office is going to look like, whereas the clients of multi-family offices have a greater reliance on what we can bring to the table, leading practices in terms of what other families are doing."
Di Vito sees family offices continuing to become more commonplace. "It is finally coming of age; it's the new buzzword."
She predicts that the largest need in the future will be focused on intergenerational wealth transfer. "I think family offices that don't get involved with the next-gen family dynamic are not going to be as much in demand."
Article content
Mayman points out that many members of the rising generation have been encouraged to seek fulfillment in their lives, and often that sense of fulfillment has come from some other source than the family business. Should the founder therefore choose to sell the business to outsiders, family offices can help steward intergenerational wealth through the challenges of "a very complex world, as families have subsequent generations and more members of the family," she says.
"Family offices are really there to steward wealth through multiple generations, so there is an element of status symbol, but they really do serve a very important function and there is a very real and practical benefit to taking this approach when you're managing a lot of wealth," she continues.
"At the end of the day," Mayman says, "there may be some status associated with this, but when we peel the onion, these are institutions that can be key to the success of the family over a long period of time."
Get the latest stories from Canadian Family Offices in our weekly newsletter. Sign up here.