A growing sophistication as Canadian family offices head into 2022
Five experts weigh in on the changing state of Canada's family offices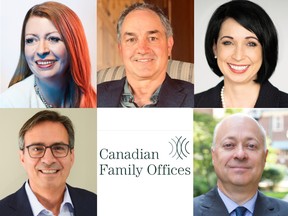 Article content
As we begin a new year, family offices in Canada are changing, adapting and growing.
Article content
Just 30 years ago, Canada had enterprising families but no family offices (as we know them today) to serve their needs. The growth in Canadian wealth came during the past two to four generations, whereas many U.S. families, like the Rockefellers, Mellons and Vanderbilts, had amassed their fortunes by the mid-1800s.
Canadians are thus still facing the early-stage challenges of building the vision and framework that will maintain wealth into the future.
In other countries, wealthy families and the offices that serve them have had more time to evolve, notes independent family-office executive Doug Byblow, who is based in Calgary and has worked in Canada and abroad for almost 20 years. "They often deal with more complex matters than Canadians, such as cross-border, multi-jurisdictional issues and complex property ownership and taxation."
Here are topics on the radar of Canadian family offices as we head into 2022.
Demand driven by new Canadian wealth
The recent surge in the family-office space in Canada has been driven partly by a remarkable growth in wealth as well as liquidity events resulting from the sale of businesses founded by baby boomers or their parents.
"We're seeing a lot more wealth created in Canada, particularly in the tech space," says Allison Comeau, chief experience officer with Grayhawk Wealth in Calgary.
Canadian family offices are thus still discovering how they can function most effectively.
Article content
"The biggest trend we're seeing is institutional-investment family offices – families who have realized some wealth and are looking to reinvest in their community or in other tech enterprises," Comeau says.
Tailored services, growing sophistication
Grayhawk's research shows that across the U.S. and Europe, family offices tend to bring together a broad range of full-time technical resources, then offset the costs by serving several families. In Canada, Comeau says, "we see families setting up their own offices with one to four employees to do what they do best, and then adding other talent as they need them."
Canadian family offices are also becoming more sophisticated – not necessarily in their business operations but in their understanding of how to help families identify and realize their own priorities.
When it comes to such areas as cyber-security and emergency planning, family offices embedded within major financial institutions are well-equipped to offer advice and support. However, to the surprise of some observers, the boutique operations are also adept in these functions.
Most Canadian family-office providers lean into U.S. data that is not relevant in any way to our current circumstances.

Carolyn Cole, Cole & Associates
In fact, "the smaller shops are often able to better customize to the family: identify unique needs and find unique solutions," says Carolyn Cole, founder of Cole & Associates, a family office strategy and design firm, who splits her time between Vancouver and Toronto.
She points out that family offices of any size generally don't provide these types of services themselves; they identify trustworthy third-party providers. Whereas large institutions may rely on one or two suppliers capable of serving a broad range of clients, boutique firms can choose the provider that best matches the needs of each family.
Article content
Family offices are also developing a new sophistication in looking after the needs of individual families. Tom McCullough, chairman and CEO of Northwood Family Office in Toronto, calls it "goals-based wealth management, based on what the family needs rather than what the market offers."
He says this aspect of the business is becoming "more of an industry now; there's more education, more information-sharing."
A focus on shared family vision
Ed Giacomelli, the Toronto-based market leader for Canada with Family Office Exchange (FOX), points out that without shared values, family disagreements can quickly lead to trouble. "Awareness is evolving around the best practices for today. I think families are thinking more about their objectives."
He underlines the distinction between financial capital and human capital, which requires a different approach than managing finances. The day-to-day preoccupations of a family office may be compliance, communication and governance, "but I always step back and think about the vision, the strategy, the goals and objectives.
"In order to keep a family together, you need to have an alignment of interest, so the strategic-thinking process and the implementation of the family office go hand in hand."
Doug Byblow says, "I'm definitely seeing the recognition that more than the purely technical advice is required; it's so important for the various specialized advice [providers] all to dovetail well with one another to make sure that they are all solving for the same problem."
Article content
It's paramount that they all act in the family's best interest, he says.
"The very positive development that I am seeing is the recognition of the importance of considering the advice-service support through the eyes of the family members and of the need to work more collaboratively both inside the family office and with any other stakeholders."
In addition, since the pendulum has swung so far in the direction of full-service offices, Byblow predicts that "it will swing back, so you will see teams working together, but not necessarily under one roof."
A need for data and learning
The family-office sector still has room for growth, Comeau says. For instance, Canada has no global asset-reporting system, and "it's hard to make really good decisions if you don't have that full suite of data."
Cole says, "We have a very short horizon of family offices in the country. Most Canadian family-office providers lean into U.S. data that is not relevant in any way to our current circumstances.
"In comparison to other countries, we are in our family-office infancy, trying to decide what tools we have within the Canadian system that apply to Canadian families, and global research doesn't always apply."
Learning from others will be key as well.
Giacomelli predicts that as the sector grows and matures, "family enterprises and family offices will be seeking out peer relationships with others so they can compare notes; those relationships are important," he says.
"I think they will continually evolve for the better, and it will be driven certainly by the knowledge of the family office employees, but also by the families themselves."
Get the latest stories from Canadian Family Offices in our weekly newsletter. Sign up here.