The give and take of family coaching, from someone who's been there
Steve Legler helps contentious business families see themselves in a fresh light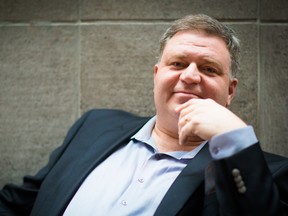 Article content
Steve Legler's clarifying moment – the one that would define his career – came about after his family sold the business that he had been destined to take over.
Article content
He ended up running the family office instead. But soon everything would crystallize: "I found a place where my unique circumstances that I grew up with, and what I'm interested in and what I'm good at, all came together."
Today Legler is a family legacy guide based in Montreal and author of the books SHIFT Your Family Business and Interdependent Wealth: How Family Systems Theory Illuminates Successful Intergenerational Wealth Transitions. He is a designated Family Enterprise Advisor and a former chartered financial analyst with an MBA and a specialty in one-on-one coaching and conflict resolution for enterprise families.
Canadian Family Offices recently spoke with Legler about family businesses, builders, inheritors and making it all work.
What is a family legacy guide?
A family legacy guide is someone who works with families to help guide them to successfully transition their business, their wealth and their legacy from one generation to the next.
How did you become interested in this career path?
I grew up in a family business and I was the designated successor for my father. Then, in 1991, when I was in my mid-20s, right after I got my MBA and came back to take over the business, we opted instead to sell. So, rather than take over a business, I was left running what was then a small family office.
I ended up in the Family Enterprise Advisor program and I was in that classroom with people who worked for banks, or for accounting firms, or sold life insurance. These were people who had family business clients and were trying to learn about what makes family businesses tick, and I had nothing in common with them. But there were people at the front of the room who were talking about working with families and helping them figure out their vision, their values, their goals … and I finally figured out what I wanted to do. I found a place where my unique circumstances that I grew up with, and what I'm interested in and what I'm good at, all came together.
Article content
Younger people today have a lot more options, and so going into the family business, or taking over what mom and dad or grandma and grandpa built, is of less interest.
How does your background shape the work you do with enterprising families?
It shapes it because I've lived it. Although I have to be careful not to think, "I grew up in this, I lived this, so I know everything."
One of the first things I did after I decided to commit to this career change was enroll in all sorts of courses like coaching certification, facilitation training, alternative dispute resolution and conflict resolution skills, because I knew that I had an MBA and I had the business education. I needed to make sure that I was equipped with everything I needed to work on the family side of things.
What are the challenges for business builders in making a successful intergenerational transition?
The founders – generation one – are often the hardest to convince that they need to stop worrying about making the pie as big as they can and start worrying about how they're going to transition the pie to the next generation.
It's often easier when you go from a second generation to a third generation, because they've already experienced it, having received it from a different generation. But it's very hard to convince people who started the business. That business sometimes becomes like a child, often their favorite child, and when you start to talk to them about how this is going to go to the next generation, it can feel to them like you're trying to get rid of them.
It's often hard to get them to understand that the most important thing they can do is make sure that the rising generation is well prepared and understands what's expected of them. So that when they do become the owners of whatever wealth or assets or business, that they have some practice in functioning together in ways that they're going to for, presumably, the coming decades.
Article content
I try to convince people to start the conversations earlier, because you don't want to have one big conversation. It's better to have 100 10-minute conversations over the period of weeks, months, years.
What are the main challenges for inheritors in this process?
Often it's hard to be heard and taken seriously and not talked down to. The younger people today are a lot smarter, a lot more savvy, and they know what they want. I think the younger people today have a lot more options, and so going into the family business, or taking over what mom and dad or grandma and grandpa built, is of less interest.
The challenge is for the two generations to be able to communicate, and it's not something that most families will get right, left to themselves.
With the family and business and wealth dynamics intertwined, how do you as an outsider help them through the process?
I'm there for the good of the whole family. When it's not contentious, it's relatively easy. When they're already fighting with each other, then it's really important for me to try to show everyone that I'm unbiased. And so one of the first things I do is try to determine how conflictual the situation is.
It's really important to come in fresh and hear each person, because everyone has their own point of view. It takes a while for them to trust me and share enough with me that I can start to hold up a mirror to them and show them what I see that they're not able to see because I'm looking at it from a different angle.
Article content
You've worked with many families. How often is it contentious and why?
I'd say that most of them are not that contentious. It's more of a mediation, as opposed to a facilitation. There's often some contention somewhere beneath the surface, but as the family starts to communicate, some of that goes away.
The really contentious ones are often after generation one has passed away, and now it's a sibling group. And whereas dad did whatever he wanted to do and no one questioned him, when he's not there anymore … the siblings are not cutting nearly as much slack as they did to the parent [who previously ran the company], and understandably so.
How can family dynamics complicate a successful business?
Business is complicated enough. When you throw in some underlying family issues it can become a big drag on the business.
Often when a number of family owners work in a business, and they are at odds with each other, the employees know it. And it's not a very secure position to be in when you work for a business and you know that the ownership is not getting along. What ends up happening is employees think this ship is sinking and the good employees, because they can leave, do leave and then the business just gets worse.
What is your top advice for success?
Get started early and make sure there's communication back and forth, up and down and side to side on a regular basis around where the family and the wealth intersect.
This interview has been edited and condensed.
Get the latest stories from Canadian Family Offices in our new weekly newsletter. Sign up here.