Jean-Louis Brenninkmeijer builds Canada a (tiny) new wonderland
How a member of iconic European family forged a new path and embraced his adopted home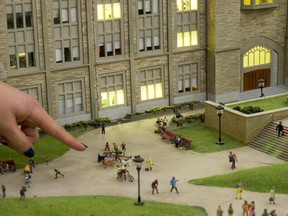 Article content
A couple of weeks after opening day in August, a family approached Jean-Louis Brenninkmeijer, who was decked out in his usual weekend uniform – jeans, a black T-shirt with a logo on its sleeve and the words "Ask Me" emblazoned across the back. He was also wearing a work apron.
Article content
"Are you the creator?" the mother asked him skeptically as her young son looked on, gobsmacked. The kid had pointed Brenninkmeijer out to his parents, convinced he was the man in the large photo on the wall near the entrance of Little Canada, Toronto's newest tourist attraction at Yonge-Dundas Square, a 45,000-square-foot miniature replica of the country. His mom wasn't so sure.
Brenninkmeijer confirmed the boy's suspicion. Yes, Little Canada was his brainchild. And yes, he really did work there, building miniatures a couple of days a week in the open studio alongside the other makers responsible for the immersive, twinkling, tiny wonderland they were now standing in. Built to a 1:87 scale, digital water plunged from a miniature Niagara Falls, minute diners dug into stacks of pancakes at a Quebec sugar shack and Ottawa's Parliament building stood tall only steps away.

After having his picture taken with the family, the father said something Brenninkmeijer couldn't quite make out. Confused, he turned to another member of Little Canada's team for an explanation after the family moved on.
"I think what he's trying to say to you," said the employee, "is that he was surprised to see that you, as a founder and president of this company, are actually working."
People-focused
Anyone who knows Brenninkmeijer wouldn't be surprised he has embraced Little Canada's daily grind.
Despite being part of one of Europe's wealthiest families – owners of the global fashion retailer C&A, which was founded in 1841 and has 1,400 stores across 18 countries – he sees himself as any another Canadian newcomer, married and raising his four boys in Oakville, Ont. He uses words like "immigrant," "entrepreneur" and "family man" to describe himself – precisely the reasons his staff decided to post his photo on the wall.
Article content

"You represent any immigrant who decides to come to this country and build something from scratch," he remembers them saying.
Yet he's also the attraction's primary funder, along with about 200 other investors who contributed to the initial $24 million price tag.

But Little Canada is hardly just a rich man's hobby. It's a dream made real – and available to the public – after more than a decade of visualizing, planning and ordering a whole lot of medium-density fibreboard.
Along with Dave MacLean, a civil engineer and two-term president of the Model Railroad Club of Toronto, Brenninkmeijer, now 60, launched what he calls his "third career" with the creation of Little Canada.

It was a long time coming. He, his wife Mimi and young boys moved to the country in 1999. It was supposed to be only a two-year stint so he could learn the specialty store retail trade. But when that work wound down, the family had a decision to make. Stay or go back to Europe? They stayed, with Brenninkmeijer investing in renewable energy: companies with wind farms in Quebec, Prince Edward Island and the United States. But when the 2008 financial crisis hit, the portfolio was acquired by a private equity group in New York.
"That led me to realize that type of industry was not who I am," he says now. "Private equity is very money focused, whereas I'm more people focused."
Model citizen
He's obviously Canada-focused, too. After checking out Miniatur Wunderland in Hamburg, Germany, years ago, he was left in awe and wondered whether he could create something similar for his new home country. He describes Canadians as "friendly, welcoming and heartfelt." He appreciates the inclusivity of the culture and that, although the country has problems like any other, it feels safe. He even loves the climate, enamoured by the seasonal cycle of deep snow, spring flowers, lazy cottage and pool days, and the blaze of fall foliage. It's grounding – and sure beats months of rain in Europe.
Article content
Brenninkmeijer likes to quote what his 90-year-old father once said the first time he came to Canada, "Here, the world is still okay."
"We're blessed to be living in Canada," he says. "[Little Canada] was a passion on one hand, but also a motivation to give back. To show gratitude and being grateful for being able to live in this country."

Although the COVID-19 pandemic has certainly made the attraction's launch a quieter affair, with customers calling in advance asking if it's busy (they don't want it to be), Little Canada is gaining traction as word gets out. And, luckily, a lot of minds have been blown. Each visitor is invited to take a survey after wandering through for 90 minutes, and an astounding 35 per cent have felt compelled to write in with positive comments. A slam dunk in the marketing world. Then there were the Google reviews the first month. Every single one gave Little Canada a perfect score and included superlatives such as "absolutely spectacular" and "unbelievable."
And while Brenninkmeijer has previously been asked whether he regrets finding his passion later in life, he's happy he waited and built the management, investment, purchasing and marketing experience he'd need to launch the business. Not to mention the tools needed to pull it off: calm confidence and perseverance.
Making a difference
Before the opening, Brenninkmeijer said he hoped Little Canada would make a difference. He envisioned patients from Sick Kids Hospital down the street visiting with parents and taking a break from medical procedures and fear. He wanted people to feel the way he felt about his adopted homeland, a country he is now a citizen of.
Article content
But truthfully, he didn't know what the outcome would be once the doors were flung open. He knew he had something special, with friendly miniature makers chatting with visitors among immersive, iconic scenes.

But he had no idea how quickly his passion would transfer to others – or how much they would want to meet him. He's as surprised as anyone.
"A lot of people are asking, 'Is Jean-Louis in?'" he says laughing and mentioning that not only have visitors congratulated him on the opening, but have thanked him for creating a gift for the city. There's an emotional connection to what they're experiencing.
"This is more than an attraction people can buy tickets to. It's more than that."