In family business, governance separates the winners from the losers
Study of successful practices leads to insights for University of Calgary prof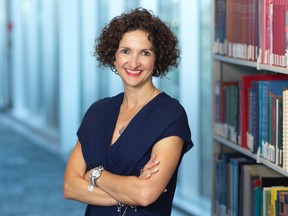 Article content
Family firms, big and small, face a lot of decisions: whom to hire, where to operate and how to pivot during tough times.
Article content
Making tough calls can determine which family businesses survive and which ones fold. That's what Liena Kano, associate professor at the University of Calgary's Haskayne School of Business, is focused on. She is the chair of strategy and global management at the school's newly established McCaig Family Future Fund Professorship in International Family Business, where she is on a mission to determine how efficient governance can determine a company's survival.
"I look at efficient versus inefficient firms," says Kano, "why some last and some fail."
Her work explores how governance of a family business is a careful interplay between the needs of the family and the needs of the business. The data she gleans will be used to identify strategies that can be shared with other firms seeking to strengthen their businesses – and neutralize their weaknesses.
"What separates the winners from the losers?" she says.
Escaping family 'groupthink'
One of the concepts Kano studies in her research is something called bifurcation bias.
"This is something that's unique to family firms," says Kano. "It is a decision that gives a de facto preference to family-based assets." This can be the family members themselves, or a foundational product line, or well-established relationships such as those with ongoing suppliers. Or it could be choosing to forgo outsourcing production to help a local community.
These decisions may benefit the family business – or they can be detrimental, she says. "Not all family firms are biased, but they are inherently more susceptible to this bias."
Article content
If bifurcation bias is kept under control, family-specific resources and features may be advantageous, she explains. Targeted yet disciplined promotion of family resources or objectives can lead a family firm to make decisions quickly or maintain long-term, beneficial relationships. These kinds of relationships can help a company through challenging periods.
Kano says she is interested in examining management strategies such as training family members, hiring outsiders and benchmarking performance.
To start, she will look at how businesses assign roles. Some firms favour hiring family members over non-family members. Yet other families expose themselves to scrutiny by hiring outside consultants, says Kano, "to get out of that family groupthink."
High barriers to entry
Sometimes family members are subjected to higher scrutiny than non-family members. She cites a recent interview with a family member who was trying to enter the family business but was struggling. Among the requirements for the role were a master's degree — "preferably two." In addition, he needed to study overseas and work in an organization for a minimum of two years.
"This was to ensure that there was no negative perception from non-family employees, and another reason was to ensure that the family members who were joining the company were in fact highly qualified," says Kano.
Her job will be to discern which of these strategies provides the most advantages to family businesses.
Article content
Role of family offices in reducing bias
Kano says she also plans to study Canadian family offices, which can safeguard against bifurcation bias.
"It ensures in a way that the family's value system is in line with the commercial logic of the business and provides a certain balance between what the family needs in terms of wealth preservation and the business needs, in terms of investment and asset deployment," she says. "It kind of introduces this objective scrutiny, as it takes the emotion out of decisions to some extent."
Kano says she will also research family offices' links to outside stakeholders. This will determine whether partnering with international players – something family offices in Canada currently do — internationalizes the process through the infusion of knowledge about the business climate outside Canada. This is something that has been previously identified as lacking among Canadian family businesses.
These partnerships also lead to investment farther afield, which boosts internationalization, says Kano. "By investing across borders there is more knowledge attained about the host countries where the investment is made."
As she embarks on her research, Kano says she is busily networking in Calgary, where she is making connections with local family offices. She plans to observe how family offices interact with clients to see firsthand the presence or absence of biases, rather than relying on surveys.
Article content
Preliminary evidence shows that family businesses have fared better than their non-family counterparts during the pandemic due to factors such as strong relationships and long-term outlook, she says, and it will be interesting to see whether it proves true for Canadian businesses.
Kano says her findings will be used to offer guidance to family and non-family firms alike.
"The results will be directly applicable to family firm managers in how to actually make their governance practices more efficient," she says. "What kinds of safeguards can they implement into their governance system? What biases do they need to chase out?"