How conflict in the family business can be a good thing
Mediator Nicole Garton shows how clashes can lead to heightened productivity and improved processes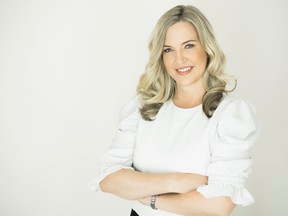 Article content
Conflict is often a natural outcome in our daily lives. But for the family-run business, conflict can be either a spark for improvement or a slow-burn disaster.
Article content
Nicole Garton, a lawyer and founder of Heritage Law, based in West Vancouver, is a mediator of family law, wills and estate matters. She has also written a book on the topic called Harnessing Conflict: How Family Businesses Can Survive and Thrive. The book grew out of research she conducted for her LLM, obtained well into her 18-year law career.
Part of her motivation for writing the book was her family's own struggle after her grandfather, the founder of Mr. Big & Tall Menswear stores, died without a succession plan. That led to a long-standing family feud that she would like to help others avoid.
The book, scheduled for an October release, explores ways to resolve conflict. She cites a famous Canadian example, the legal battle between Frank Stronach and daughter Belinda Stronach, best known as the founding family for auto parts giant Magna International Inc.
Frank launched a lawsuit in 2018 against his daughter, two grandchildren and a former business associate. The two sides resolved their issues out of court last summer, dividing the family business into two separate entities, with Frank taking one side and Belinda the other.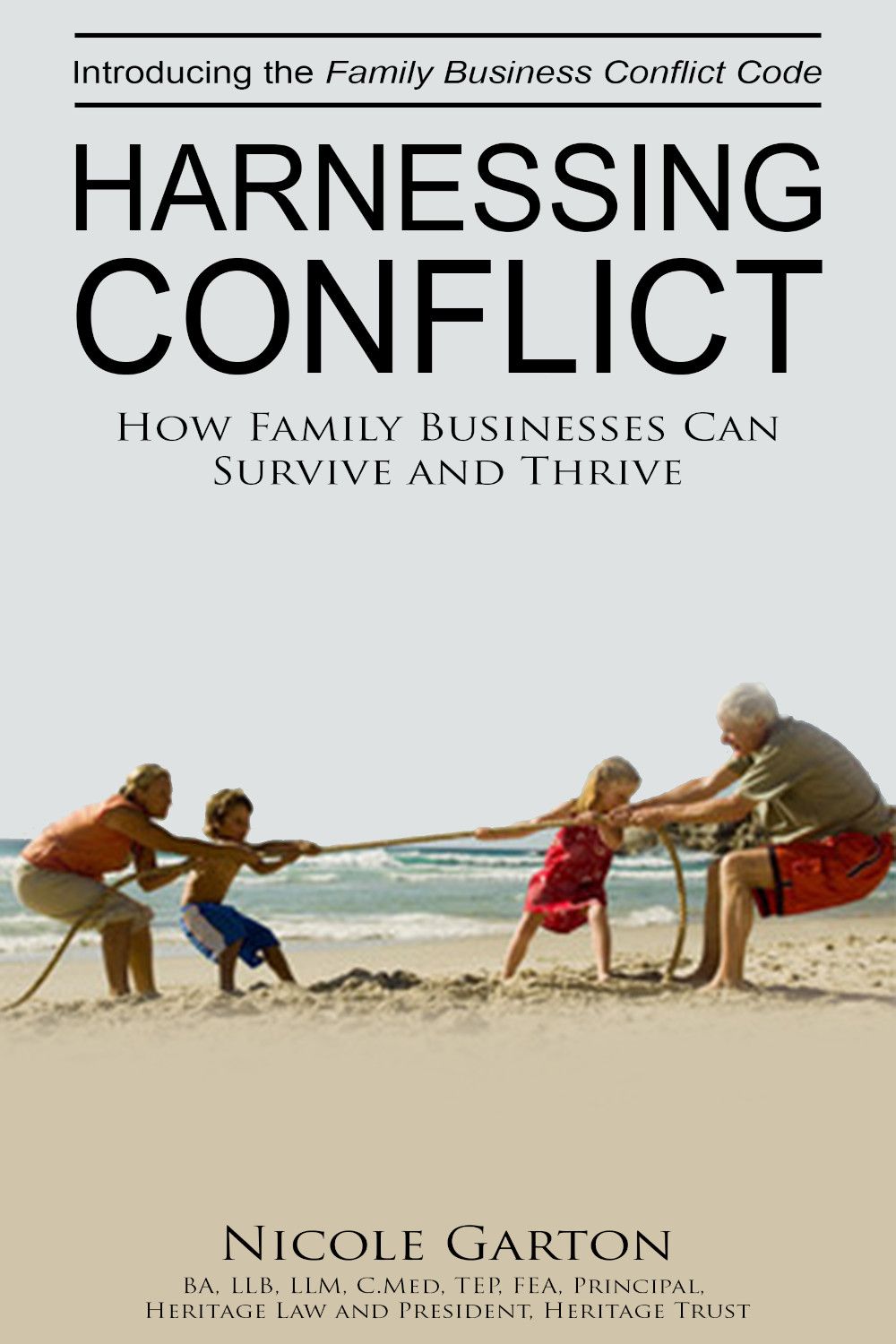 Conflict doesn't have to become a problem for family-run businesses, however. A theme of Garton's book is that conflict can ultimately lead to heightened productivity and an improved process. That's a good thing, because, as Garton points out, about half of the work force in Canada is employed by a family-run business, producing 45 to 60 per cent of the gross domestic product.
Article content
We asked Garton about her studies and conclusions she has drawn from them.
This book had its origins in a paper you wrote for Osgoode Hall Law School as part of the degree you earned.
I did an LLM in dispute resolution, and I ended up writing my major research paper on family business conflict. There is a lot of material on it [laughing]. I enjoyed it, and I learned so much.
I worked so hard on this, I thought, 'I should turn this into something that can help others.' But even though it has really good substantive information I was concerned it would be way too dry. So I thought I'd spice it up. The Stronach dispute was a well-known Canadian thing. They filed all these super-detailed affidavits, flinging accusations at each other. You can go to court and order all those documents. There was no dearth of info.
The underlying theme of the book is that conflict is a necessity in order to make a business healthier and more productive. Is conflict necessary in order to grow?
It's just inevitable. It's like death. Is death bad or just inevitable? It's more how you approach it.

As a lawyer, we see a person's outside real, not their inside real. People go along thinking everybody's families are fine and their businesses are ticking along and everybody is making tons of money and there are no issues. In fact, that's absolutely not the case.
So the first thing is to normalize the idea that conflict is inevitable: it doesn't mean there's anything wrong with you or your family or your business. The determinative factor is how you approach it. Don't feel shame or embarrassment or anything like that because it's part of everyone's experience.
Article content
You talk about emotion-fuelled conflict in the book and how family problems can be exacerbated in a family business.
One of the biggest issues in family conflict is succession. Traditionally, the founder has been dad in our culture and usually the driving personality that creates it all from nothing. And that person's emotional intelligence is generally bad. The things that make us most successful are also our biggest weaknesses.
And so, inevitably they deal with conflict too late. And then instead of it being handled in an early fashion it can be done very badly.
Litigation is terrible for family business because the only certainty is that it's going to be time consuming, extremely expensive and damaging to relationships.
One difficulty is favoritism. The most competent is not necessarily the chosen successor. And if you have disproportionate wealth in the business and one of the kids is going to take over, then how do you equalize that with the other children?
In our family a sad thing happened. Our grandfather started Mr. Big & Tall men's clothing stores, and he died in a plane crash. He died at 47 without a will. And he left my dad and his sisters and a wife with no succession plan.
The way it went was not great. My dad ended up not speaking to his family till the end of his life. It was very tragic. Estrangement in families is terrible for all involved. I'd like to try to be part of the solution.
What is it about families that makes them want to go into business together, and why are they generally good at this infinite game?
It happens organically. Mom and dad start the corner store or shoe store or the widget factory, and it is consuming in terms of time, energy and resources. And particularly with the older generation, the kids were working the cash register or that kind of thing. My husband's parents are Greek immigrants and they had a classic Greek restaurant, and he was working from 10 years old. It wasn't deemed to be a hardship, that's just what people did.
Article content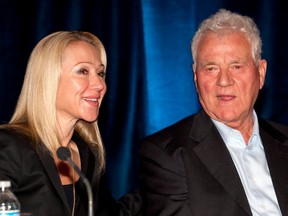 The Stronach family example fits your tornado-shaped model, going from a covert conflict to an extremely overt one. Would you say this is a rare example?
Invariably, allocating resources amongst people is a source of conflict. And when there are very significant resources involved, unfortunately, if it goes badly it can go very badly.
For example, if somebody has an interest in a trust and they subsequently get divorced, then that interest has increased in value as a family asset, subject to division. Often in family businesses, a trust will own shares of a private company, so a lot of these divorces involve families where they are trying to calculate the presumptive interest in these trusts.
One of the challenges for family law lawyers is we don't have a lot of reported cases on how that interest is valued. And one of the reasons is because a lot of these families that had significant wealth have either settled or they did private arbitration or private mediation. So there is a lot of conflict but it's behind closed doors.
The Stronach case is somewhat of an outlier because with a lot of families in that echelon, it's quite nasty, but it's behind-closed-doors nasty. It's unusual that you have public filings of affidavits like that, so this was unusually messy.
You say in the book that litigation is not the greatest way to resolve a family dispute.
Litigation is terrible for family business because the only certainty is that it's going to be time consuming, extremely expensive and damaging to relationships. It's really an absolute last resort because it will do immense damage and the outcome is highly uncertain.
Article content
Say there's a really successful business, and the family has to decide if they want the goose to continue laying golden eggs or if they want to cut it up and eat its parts. If they want to keep the goose laying the eggs, it requires a lot of togetherness and a lot of cooperation. If you manage to make it to generation two and then generation three, you end up with very large groups of people with very different lifestyles and goals and values and geographic locations. It becomes logistically very hard to manage.
Some people think selling the business is a failure, but it's not necessarily, because they can sell it to another entity that can take it to the next iteration and the family can use the resources to do individual things.
With the Stronachs, Frank got the stuff he really cared about, which were agricultural things. And Belinda took the racetracks. Logistically, it's much easier to do that.
I don't consider that a failure. It's probably what needed to happen for the next generation. I think the outcome was fine, it was just unduly messy on the way there. I wonder what the Christmas table is like now [laughs].
So in the book it says we can have conflicts over tasks, processes and relationships. But in any work environment, would you say all three are connected? For example, if someone's not pulling their weight, or they take credit for someone else's work, it moves into relationship conflict?
Article content
The data shows that task and process conflict can be constructive in moving the organization forward.
Technology is evolving so quickly and markets are changing so quickly with globalization. The way things were done for 10 years may no longer be efficient or profitable, or meeting clients' needs, so there will be conflict with people saying, 'The way we've done it has always worked. What does a millennial know?' And another person has a more open mind. The data show that conflict can be constructive for a company.
But data also show that relationship conflict is almost always negative. So the key thing is to try to get in front of it before stuff metastasizes.
If you look at a prevention piece, the best way to do that is to have regularly structured communication so things get out in the open before they get really intractable. There needs to be regular and open transparent communication and having the right policies and respectful workplaces. The data show once there is a significant relationship conflict it's almost impossible to overcome that. It inevitably erodes trust and goodwill, and it's very difficult to continue to work together in a constructive way once the damage has been done.
We've all worked in workplaces where it's a dictatorship. It's got to be a place where people truly feel safe and respected, and have the ability to raise issues before they become intractable.
Money is an awkward topic for many families. Would you advise this open approach even for families that don't do business together?
Article content
Irrespective of whether you have a family business or not, the best practice is to try to have some sort of shared sense of what your values are. You could decide, for example, 'In our family, we value autonomy or education or our values are we love animals,' whatever people value that is the connecting thread.
This is a mediation thing: When you enter into a conflictual situation, there are two ways to deal with it. One way is integrative and the other way is distributive.
The integrative way is to focus on common goals. Like in an employment situation, say you've got a highly valued employee and maybe they have an addiction or mental health challenge or they have a difficult personality. But they are highly valued and you don't want to lose them. The shared values are mutual goals as a company, so you keep focused on those, because that will help you through the situation.
Whereas if it becomes distributive, a zero-sum win-lose — which is what litigation is — then it's a finite pie, with a true winner and loser. In that case, everyone loses because relationships are destroyed and the pie is smaller.
With integrative, you focus on mutual values, and you can have a better result where the pie can be larger through your creative problem solving. That's the transformational conflict. The key thing is try to get a sense of what your mutual values are, and keep that in mind because it will get you through the tough times.
Also, try to have regular communication. Have some kind of statement of shared values. That's important. Everybody has to buy in. Who are we? What matters to us? What difference do we want to make in the world? That's important. And you should have, at minimum, yearly meetings.
It would be better if it were quarterly and it would basically be just getting together and having a conversation, where you ask what's working and what's not working. If people actually did that, half their problems would be dealt with.
This interview has been edited and condensed.