Do you humour an aging business patriarch, or give him a gentle shove?
An overlong stay in the driver's seat can hobble a business, or even split up a family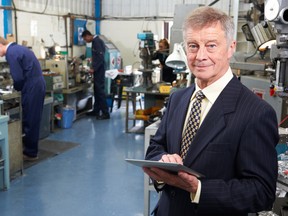 Article content
Owning a successful family business can be a tremendous source of self-esteem, not to mention money and power. It boosts social capital and, for some, defines their personal identity. It's no wonder so many business owners prefer to stay in the driver's seat.
Article content
In North America, aging family business owners hang on to power at twice the rate of their global peers, according to a joint 2019 survey from KPMG and the STEP Project. This means it's not unusual to see leaders in their 70s, 80s and even 90s.
But is that okay?
Arthur Salzer, founder and CEO of Northland Wealth Management, says if an owner is the sole shareholder, anything he or she wants is technically okay. But families that share assets – and those who don't – need good governance, clear communication and a plan to deal with stewardship, succession and other issues that can arise when an aging founder remains in power.
Some age-related challenges are easy to foresee: An owner may suffer illness or cognitive decline, lack energy for the job or resist new technology as the years go by.
Other challenges are less obvious. Moira Somers, a neuropsychologist, family business consultant and executive coach based in Winnipeg, says former owners cast a long shadow and may still "show up for work" even after officially stepping down.
"It's like they don't create psychological breathing space for the next generation of people to do their best work," says Somers. "And they're trying to be as respectful and as encouraging as possible, but often inadvertently, they're holding the business back."
Lingering founders can get in the way
Douglas Byblow, Calgary-based president of the Toronto-based family office Forthlane Partners, says lingering patriarchs may blunt the success of the family business by focusing only on what can be accomplished in their own lifetime.
Article content
"For families of significant wealth, the family itself can have a multi-generational time horizon," says Byblow. "It is the visionary families that understand that what they've done is simply a foundation for those who follow."
It can be very difficult for family leaders to find advisors or other family members who will actually speak truth to power.

Douglas Byblow, Forthlane Partners
Byblow says smart owners and families also ensure the family's social capital – which may be a network of valuable relationships with peers, trusted advisors, friends and other high-net worth families – is transferred to the next generation. When owners keep these contacts too close to the vest, the whole family loses.
Somers says an overlong stay in the driver's seat can even split up families.
"It causes huge divides in loyalty, where somebody's saying, 'You know, Dad started this company and if he wants to run it into the ground, it's his right.' And then other people are saying, 'Look, there are employees, there are people whose livelihood depends on this, there are shareholders.' Lines get drawn in the sand around what the founder has the right to do," says Somers.
Who will speak up?
Planning and prevention are needed, but advisors agree it's not easy to start a conversation about when a beloved founder should step down from a family business.
"It can be very difficult for family leaders to find advisors or other family members who will actually speak truth to power, out of fear of what the consequences might be for their employment, or consequences relating to finances, or family harmony, or other issues," says Byblow.
Article content
Somers spells out detailed suggestions that can prevent problems, including those that arise when a business leader clings to power:
Clear, well-defined job descriptions for every role in the business.
Mechanisms for real-time feedback, not just annual reviews.
Policies to deal with situations where people are not performing well.
Policies that ensure no single person can threaten the business financially because they are sole holders of key information.
Good health-care plans that include mental health support.
A baseline neuropsychological assessment at age 65 and perhaps every five years after that is also a good idea, says Somers. Labour laws prevent mandatory psychiatric testing in public businesses, but a private, family-owned company may agree to adopt the practice for their own governance.
Byblow says he often creates a "Just in Case" binder with families; it's a place to plan for crisis management, elder care and health care issues. It's critically important that family members participate in every step of its development, he stresses.
Facilitate, don't dictate
"When a crisis happens or when challenges arise, if the family has not bought into the plan or they are not aware of the steps put in place, often they will revert to a command-and-control mode, where all the best planning in the world flies out the window," says Byblow.
"The trusted family office executive's role is to facilitate and co-ordinate the process, but not dictate the outcome of those processes," he says.
Article content
Salzer says succession and stewardship planning needn't be all blood, sweat and tears. Perhaps you could discuss things at a tropical family retreat.
"Some families rent an entire resort somewhere in the world, fly members down and bring in educators and corporate governance experts. They'll do bonding exercises to bring the family together on a social level and then get into the structured meetings and things like that," says Salzer.
"You still have to have that social fabric; it's incredibly important. Without it you really end up with the TV show Succession."
What would make this easier?
If no groundwork has been done and a family is facing a crisis, good communication can still help. Byblow and Salzer agree that a good old-fashioned meeting with a professional support person such as a coach or family enterprise advisor can help.
"A facilitated family meeting is often a really good idea," agrees Somers. "It's a place to ask, 'What do you want? What do you want from us? What are you willing to hear from us? What is your bottom line?'"
And crucially, "What can we do that would make this easier?"