Bringing in business help? How to avoid 'Succession'-type drama
Many new hires leave quickly if there's a misalignment in expectations for their role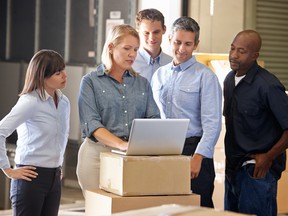 Article content
It reads like an episode of the HBO series Succession: An enterprising business run entirely by family decides they need to bring in an outsider. Cue the drama, but set in today's pandemic landscape, with companies straining to adapt to fast-shifting circumstances.
Article content
So how does a company know when to call for help? Family businesses call in outside talent for three big reasons, says Richa Arora, a senior family advisor with KPMG's Family Office practice.
Leaders realize they don't have the talent to cope with the changes they are anticipating.
Increasing complexity in the business climate makes leaders recognize they have to transform to stay competitive.
Family members who are having a hard time aligning on their long term vision and mission realize they need a voice of reason. An outside perspective can help.
A key part of Arora's role is "to undertake a diagnostic of their current state and what they're looking to achieve in terms of family, business and ownership over the next five to 10 years or beyond.
"Fleshing out the spoken and the unspoken issues within the family system is really important early on," she says.
How ready for change are they?
Arora's deep dive includes assessing a family's readiness for change and then helping them create a roadmap tied to their priorities. That opens the door to having a conversation about the challenges ahead and their barriers to success. Communication is key.
"After a strategic review, families may recognize that business as usual isn't working and they don't have what it takes," says Arora. "Or maybe they're underperforming compared to the competition in the post-pandemic landscape.
"Their ability to pivot and adapt is really dependent on their own internal vision, but also on the skills and capabilities needed to get them there."
Article content
She advises family enterprise leaders to plan early, deciding how much flexibility and control they want to maintain in the business.
"A team of qualified family advisors can be there for them, guiding them through and helping mediate the more emotional discussions," says Arora. "Also, talking to other industry peers about the pros and cons of bringing in outsiders really helps to broaden their thinking."
Personal identity tied to the business
While outsiders can provide a greater depth of knowledge and experience, resulting in better decision-making, it also means less control for the founding family members who have put in the sweat equity.
For many business leaders, personal identity is closely tied to the business. Many founders go into business because they don't want to take direction from others, so inviting in new talent runs counter to why they created their own path, says Jennifer Pendergast, executive director of the John L. Ward Center for Family Enterprises at the Kellogg School of Management at Northwestern University in Evanston, Ill.
Many new hires end up leaving quickly because there's a misalignment of expectations for their role, Pendergast says, so the family must set clear, objective expectations upfront.
She also recommends developing a strong governance structure with a board composed of independent and owner-directors to ensure accountability and oversight of non-family executives.
Article content
Family cliques and power struggles add complications, says Arthur Salzer, chief executive officer and chief investment officer of Northland Wealth Management, a family office based in Oakville, Ont.
Making sure that family members understand that "impartial parties are coming in to help – not to pick sides but to have a discussion and pull off the Band-Aid every so often to get wounds to heal – can go a long way to improving family dynamics, but they have to want to do it. That's really the challenge," he says.
Reporting to the board
When you bring in an external CEO to run the company, that person still has to report to the board and there needs to be a good working relationship that way, Salzer further explains. But you're really bringing in a professional to help guide the direction of the company as opposed to merely being a sounding board.
"You need an agreement from the get-go – a meeting of the minds – about how much influence you're going to have and how much do you really want them to have," says Salzer. "Is it okay if they step on your toes? If it makes things better for you in the long run, we can take some of that pain, that loss of power."
Increased communication makes the transition easier, as does consistent review of how the newcomer is working out with the family and the board.
"There's a saying – what gets measured is what gets done," says Salzer. "If you're hiring a person for a certain role, then what are the metrics to measure that person, how often are they measured, and for how long can they be outside of guidelines before there's a serious issue and they need to be replaced?
"Sometimes bringing in the experts doesn't necessarily mean your family business is going to be run any better. Again, there needs to be some meeting of the minds so that they understand what the goal is and you know you're hiring the right person.
"You may have some musical chairs for a while before you reach that right comfort level, that relationship where there's mutual respect, back and forth."
Get the latest stories from Canadian Family Offices in our weekly newsletter. Sign up here.