Pandemic accelerates shift to digital in Canada's estate industry
But more needs to be done, experts say. Digitization is needed 'to address the monumental changes that are about to unfold'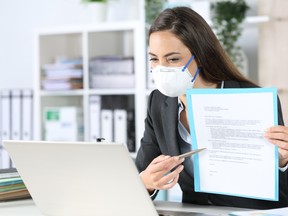 Article content
Over the past year and a half, the COVID-19 pandemic has highlighted the need for Canadians to update their wills and put estate plans in place. The estate planning industry in Canada, however, has traditionally relied on tangible and face-to-face systems – from in-person witnessing of wills and powers of attorney to paper-based execution and storage of the completed documents.
Article content
The industry needed to adapt. How has COVID-19 changed the estate planning industry in Canada?
Virtual witnessing and signing
In response to the pandemic, some provinces altered the rules governing estate preparation. In April 2020, for example, Ontario issued an emergency order that allowed virtual witnessing and signing of wills. Before, Ontario required that wills must be in writing and signed by the testator (the person making the will) in the physical presence of two or more witnesses.
Ontario's changes, which were made permanent in April 2021, haven't been without challenges, says Erin Bury, chief executive officer and co-founder of the online will preparation platform Willful.
Unlike in-person witnessing, virtual witnessing requires that one of the witnesses be a lawyer or licensed paralegal. "The move to allow virtual witnessing is a step forward," comments Bury, "but why are the requirements now more onerous?"
People's lives are increasingly digital, but estate settlement is stuck in old, antiquated processes that haven't changed in decades.

Ari Brojde, Estateably
Willful's research, which was carried out during the pandemic, showed that six in 10 Canadians don't have an up-to-date will (and that number is nearly nine in 10 for those younger than 35). The same research also found that half of Canadians without an up-to-date will said they would complete or update their will if they could do it online.
"At some point," says Bury, we need to acknowledge that failing to adopt virtual wills and estate planning is an access-to-justice issue."
Modernization of the will-making process will benefit Canadians beyond the pandemic, she says, including people living in remote and rural areas and those who face obstacles in travelling to visit a lawyer or notary's office.
Article content
Bury adds that British Columbia is poised to allow electronic wills, making it the first Canadian province and one of only a handful of jurisdictions around the globe to do so. Under new B.C. legislation, a will presented in "electronic form" meets the requirement that a will be "in writing." The legislation, passed in August 2020, will not come into force until corresponding regulations have been drafted.
Streamlining estate settlement
Whether an updated will is in place or not, when someone dies, an executor is typically required to step in and administer their estate. This process, too, is paper-based and as a result is slow and time-consuming.
But one Montreal company, Estateably Inc., is out to change how Canadians settle estates.
"People's lives are increasingly digital," says Estateably president and CEO Ari Brojde, but "estate settlement is stuck in old, antiquated processes that haven't changed in decades." Today, settling an estate can take up to two or even three years. The process requires that an executor bring together multiple participants while assuming personal liability if something goes off the rails, "all while failing to leverage new technologies," says Brojde.
Estateably offers a business-to-business platform for estate administration that replaces labour-intensive, hard-copy processes with automated workflows and cloud-based software.
"We're working to transform how estates are settled within the existing legal framework," says Estateably chief operating officer Alexander Wulkan, "by bringing digital tools to bear at each step of the way."
Article content
While setting up Estateably, Wulkan says he and Brojde identified "pain points" ripe for digital transformation, among them excessive manual data entry, steep learning curves for new employees in estate administration, tedious documentation and inefficient collaboration.
The Estateably platform, they say, provides digital, collaborative tools to help streamline each of these areas. "Just as the pandemic has spurred the planning side of the trust and estate industry to innovate and adopt much needed technological changes, the administrative side must be quick to follow or risk falling even further behind," says Brojde.
Lasting impacts of the pandemic
The changes in the estate industry during the pandemic are just the tip of the iceberg, says former military officer and tech executive Sharon Hartung, author of Digital Executor®: Unraveling the New Path for Estate Planning.
"Everything in the estate industry is a candidate for digitization," says Hartung.
"To the extent that every organization had to develop their own Y2K plan or dot-com bubble plan to navigate the technical challenges of the past, so too will the industry need to develop a digitization plan to address the monumental changes that are about to unfold."
Hartung believes that the impact of COVID-19 on the estate industry is ultimately part of a larger, shifting global paradigm in which Canadians will become as comfortable with the conversation about the end of life as they are about retirement. As a result, she says, Canadians will want to make plans earlier in life and document with greater clarity their advance care directives.
In the end, she says, our experiences with the pandemic will lead to Canadians questioning and attempting to gain assurance that their advance care and end-of-life wishes will be met – with increasing digitization across the estate industry the logical and necessary next step to meeting these expectations.