Inheritance mishaps from the rich and famous
No one learns the lessons of poor estate planning better than people with wealth and a reputation at stake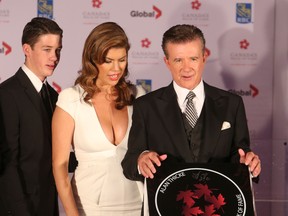 Article content
No one likes to contemplate their own death. But for the rich and famous, especially those with new fortunes to protect, it's critical to take the time to safeguard both the money and last wishes.
Advertisement
This advertisement has not loaded yet, but your article continues below.
Article content
Here are a few estate planning oddities and mishaps, starting with people who died without making proper provisions to protect their hard-earned wealth.
Aretha Franklin – sisters shouldn't do it for themselves
To ensure respect, make sure you have a valid will. Musical legend Aretha Franklin had too many.
Three handwritten wills were discovered in her Detroit home after Franklin died in 2018 at age 76. Recently, a fourth unsigned will turned up in a lawyer's office.
The multiple wills have resulted in complications and unintended results among Franklin's family as they contain conflicting instructions about her wishes for her estate, estimated to be worth $6.7 million USD.
James Gandolfini – whacked by the taxman
When actor and producer James Gandolfini, famous for his role as the distinctive Mafia boss Tony Soprano on the long-running cable television series The Sopranos, died suddenly at 51, his estate was worth an estimated $70 million in 2013.
In the very public examination of his will and its aftermath, the Internal Revenue Service is said to have taken more than half of his total net worth. Estate tax pros say millions could have gone to his family instead of Uncle Sam.
His lawyers, though, say it wasn't about saving taxes. Gandolfini had been married twice. He was trying to provide for his teen son from the first marriage, the infant from the second marriage and a younger wife.
Suffice to say, he could have used a few more years to craft a better plan to protect his estate and deal fairly with offspring and other family members. Tony Soprano, perhaps better than the actor who brought him to life, understood the effects of an untimely demise.
Advertisement
This advertisement has not loaded yet, but your article continues below.
Article content
Alan Thicke – as long as we got each other
The estate battle that followed the 2016 death of Alan Thicke, 69, a Canadian actor and star of the 1980s sitcom Growing Pains, gives a cautionary example of a squabbling blended family.
Two of his three sons sued their stepmother, Thicke's third wife, fearing she would seize control of the $16 million estate by invalidating her prenuptial agreement.
A settlement was eventually reached, but Thicke could have more clearly communicated his estate plans with his sons and made sure the plans were current and didn't conflict with earlier documents, such as the contested prenup.
Nora Ephron – heartburn and sibling strife
Nora Ephron, who died at 71 in 2012, was the eldest of four sisters, all writers, but she was arguably the most successful. Married to Carl Bernstein, a journalist who exposed the Watergate scandal, she became famous by writing about their marriage breakdown.
After the divorce she left print journalism and turned to Hollywood, writing and/or directing the hits Silkwood, When Harry Met Sally…, Sleepless in Seattle and Julie & Julia.
Ephron left most of her $27 million estate to her third husband and two sons from her marriage to Bernstein, but she also gave $500,000 to her sister Delia, with whom she had collaborated on many projects, $100,000 to her sister Amy, but only $25,000 to her sister Hallie.
That left some to speculate why one sister merited so much less. The lesson? Unless you want your last will and testament to stoke controversy, reconsider the effects of leaving a tidy sum to some family members but only a token to others.
Advertisement
This advertisement has not loaded yet, but your article continues below.
Article content
Gene Roddenberry – lofty last wishes and family infighting
Gene Roddenberry, another famous screenwriter and creator of Star Trek, included instructions in his last will and testament that resulted in a portion of his cremated remains being launched into space six years after his death at 70 in 1991, making sure that he would "boldly go where no man has gone before."
Anticipating infighting over his then $500-million estate, Roddenberry left instructions that any of his heirs – three children from two marriages – who disputed the will would be disinherited.
His daughter, Dawn Roddenberry, did take a run at the no-contest clause. After a couple of court rulings, she was disinherited, losing $500,000 left to her by her father and all claims on the Star Trek estate after the death of her father's second wife.
Mark Gruenwald – a fantastic last wish
Another pop-culture genius, Mark Gruenwald, writer and editor of Captain America and other Marvel Comics titles, asked that his ashes be mixed with the ink used to print a comic. His request was carried out on an issue of Squadron Supreme. After his death at 43 in 1996, his widow Catherine Schuller-Gruenwald said her husband's last request "was a natural extension of his curiosity mixed with discovery mixed with imagination."
Charles Millar – father of the Stork Derby
Probably no bequest made in Toronto is more famous than the unusual 1928 will of lawyer and financier Charles Millar. It consisted of several good-natured practical jokes and one final caper.
Advertisement
This advertisement has not loaded yet, but your article continues below.
Article content
The childless bachelor, 72, left $568,106 to the mother who would give birth to the most children in Toronto in the 10 years following his death. Newspapers dubbed it the Stork Derby.
In 1938, four mothers split the prize. They had each given birth to nine babies in 10 years, with one of the weary contestants vowing to practise birth control thereafter.
Leona Helmsley – left Trouble behind
Leona Helmsley, 87, a billionaire hotelier dubbed "The Queen of Mean" for her treatment of employees, served 19 months for tax evasion before she died in 2007.
After a life of notoriety, she commanded headlines from the grave when it became known that she had left $12 million to her Maltese, Trouble.
The behest was especially rich considering that Helmsley had cut two of her grandchildren entirely out of the will for "reasons which are known to them." Her other two grandchildren were given their inheritances only if they regularly made visits to their father's grave.
A judge later reduced the millions left to Trouble to $2 million, and he moved several millions from the dog's trust fund to the two grandchildren not named in the will. Trouble died in 2011 at the age of 12; the remainder of his fortune was donated to charity.
Helmsley's doggie largesse, though, has left a lasting debate: When setting up a trust fund for a beloved pet, how much is too much?
Get the latest stories from Canadian Family Offices in our weekly newsletter. Sign up here.