Recognizing and preventing financial abuse is a key duty of family advisors
Being discreet is the modus operandi of family offices, but this can also provide cover for economic abusers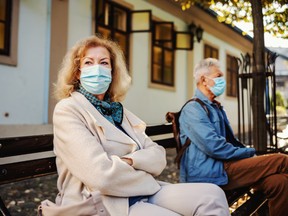 Article content
The ability to handle financial complexity and be discreet are hallmarks of a successful family office. Unfortunately, these same characteristics can allow economic abusers to weaponize the structure, using it to hide money from a spouse or monitor the spending of a partner.
Article content
Family office professionals can take several steps to protect family members from economic abuse, or economic abuse allegations.
What is economic abuse?
Economic or financial abuse occurs when one party exerts control over another by stealing their money, limiting their access to money or controlling their ability to earn. It's a common means of coercive control used by abusers and can be directed toward an elderly parent, child or spouse.
Spousal economic abuse occurs in an estimated 25 per cent of relationships, and it often accompanies emotional and physical abuse. Economic abuse is the primary reason people do not leave violent relationships, and a wide wealth gap between spouses creates vulnerability to this type of abuse.
The issue of economic abuse is becoming more widely understood, and the newly amended Divorce Act in Canada recognizes it as a form of family violence.
Common methods used by abusers include:
Limiting access to bank accounts and credit.
Hiding money in companies, trusts, cryptocurrency or offshore accounts.
Limiting or monitoring spending.
Forbidding a partner to work or sabotaging work efforts.
Putting debts in a partner's name.
Ruining a partner's credit rating.
The role of the family office
Family offices often use complex financial structures such as trusts, holding companies and offshore accounts to safeguard assets and minimize taxes. These structures can leave some family members vulnerable to abuse, particularly those who have married into the family and may have pre- or post-nuptial agreements limiting access to funds.
Article content
Family office professionals are well-positioned to spot economic abuse and, if allegations are made, the family office structure may be scrutinized.
The Akhmedov divorce and other high-profile, high-net-worth divorces have illustrated the global reach of the family courts, and the family office structure is not impenetrable. There are several best practices family offices can put into place to ensure they are acting in the best interests of each member of the family and are not unwittingly contributing to abuse.
Best practices suggestions
 Clear governance policies. One of the major benefits of a family office is the governance function that determines how the office is structured and how decisions are made. Decision-making is often shared among family members, boards and advisors so that no one person can have too much control. Family offices should ensure that their decision-making mechanisms take the risk of economic abuse into account and find ways to offset power imbalances.
Asset transfer guidelines. If a family office member starts wanting to move assets around or limit spousal access to accounts, that can be an indication of economic abuse. Even if certain assets like inheritances or pre-existing trusts would likely be excluded from marital property calculations, it's important that everything be tracked and disclosed. Family courts are committed to protecting marital assets and can put worldwide freeze orders into place if they suspect any impropriety.
Financial literacy training. Economic abusers often use financial complexity as a justification for excluding their spouses from financial decisions. Family office professionals routinely work with adult children and grandchildren to help them learn to steward their family's wealth and should extend this training to spouses. When everyone in the family office is financially literate, it helps prevent both abuse and abuse allegations.
Awareness of monitored spending. Economic abusers often police a partner's spending as a means of coercive control. Family office professionals may see signs of economic abuse if they are being asked to report on one party's spending, pressure a spouse into signing documents, limit access to funds to an "allowance," or cancel credit cards. It's perfectly acceptable to set a budget or agree to limit spending, but if one party is controlling another's spending or incurring debts to exert control, that's economic abuse.
Balancing the needs of the family and individual family members. While a family office works for the good of the family as a unit, it also works for the good of individuals within that family. No matter how much money a family has collectively, it is important that all adult members of a family have some economic independence. Family offices need to have stated values and governance policies that support the family members as individuals within the larger group.
Commitment to transparency. A major benefit of the family office structure is privacy, but the best defense against economic abuse or accusations of economic abuse is transparency. It's important that all members of the family within a family office have access to financial information. In the case of divorce, full financial disclosure of the divorcing parties will be demanded by the courts, and the family office should have disclosure guidelines in place. In high-net-worth divorce, the use of forensic accountants is common, so transparency is critical.
Article content
The family office is designed to safeguard the financial success of a family for generations. By finding ways to recognize and eliminate economic abuse, family office professionals can help every member of the family have financial independence, steward their wealth and create a successful legacy.
Jennifer Lawrence, MBA, is a CDC Certified Divorce Coach®, CDC Divorce Transition and Recovery Coach™, Certified Divorce Specialist, and a Certified Divorce Financial Analyst® professional. She draws on 30 years of experience in corporate training, investment banking and management consulting. She's the author of The Designed Divorce: How to Preserve Your Wealth and Peace of Mind in Divorce and Engage the Fox: A Business Fable About Thinking Critically and Motivating Your Team. In her private divorce coaching practice, she helps women facing high-net-worth divorce handle the process with elegance and ease. Based in Oakville, Ont., she works with clients across Canada and the U.S.